Falcons veteran Dwight Freeney's advice for younger players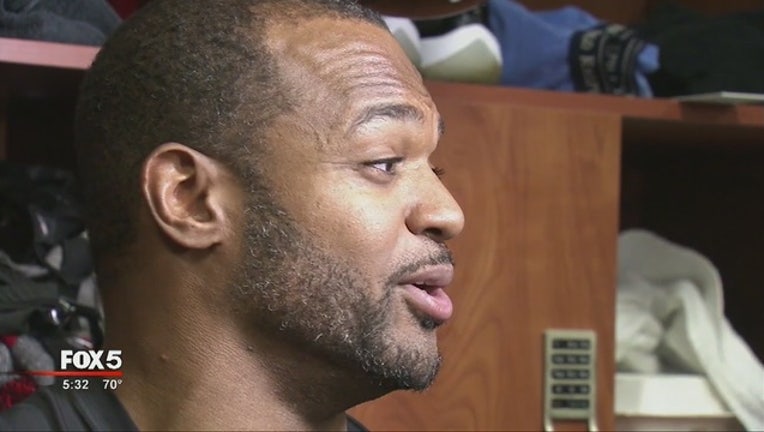 FLOWERY BRANCH, Ga. - There are a lot of young players on the Atlanta Falcons, so it pays to have some veteran leadership, especially on defense. Enter Dwight Freeney, who has stepped up into that roll this year big time.
The 36-year-old defensive end was a Super Bowl champion just five years into his NFL career, with the Colts in Super Bowl XLI. Fast-forward ten years, Freeney makes it back to the big game, this time with the Falcons.
Freeney said if the young guys ask for his advice, he'll try to give it, but it's not that easy for something like this.
"You know it's kind of hard. You can explain it all you want, you know. But there's nothing like actually experiencing it. Running through that tunnel, hearing your team name, seeing the flashes upon kickoff," said Freeney.
RELATED: Falcons holding out Julio Jones, Alex Mack with injuries
Freeney believes taking things on step at a time and focusing on what needs to happen now.
"This is Wednesday, right? We're not playing the game today. Don't worry about the game today. Bury yourself in that process and then when you look up, it's going to be next week. And when you look up again, it's going to be Super Bowl Sunday."
Super Bowl LI will give Freeney a chance to connect with an old friend. The veteran is quite familiar with New England Patriots quarterback Tom Brady. The two have been going head-to-head, according to Freeney, since 1999 when Freeney was a Syracuse and Brady was at Michigan. Freeney said of course he got a sack in during their college days.
PHOTOS: Atlanta Falcons practice for Super Bowl
FOX is the only place to watch Super Bowl LI if you don't have a ticket to NRG Stadium in Houston. Prepare for all-day coverage on Feb. 5 with kickoff around 6:30 p.m.
NEXT ARTICLE: Super Bowl legacy continues for Matthews family