At 41, Atlanta's Matt Bryant finally makes it to Super Bowl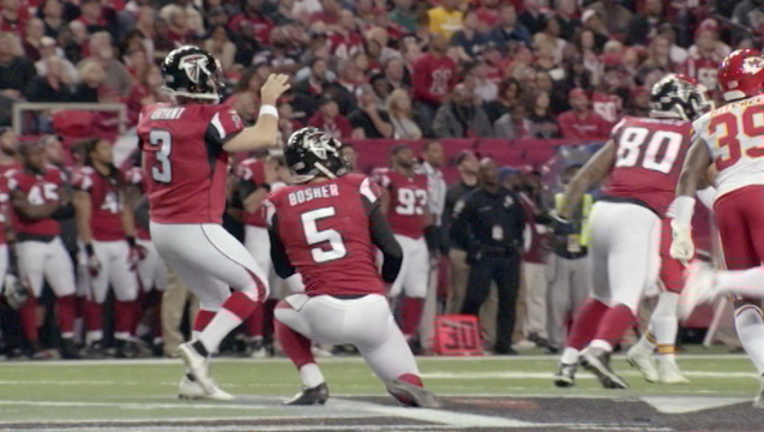 HOUSTON (AP) - When Matt Bryant trots on the field to attempt a field goal, often with the game on the line, he wants his mind to be filled with nothing but positive vibes.
Sometimes, he'll imagine he's sitting on the floor, playing with his seven children.
"When you're with your kids, there are no negative thoughts," Bryant said with a wistful look. "It kind of takes the edge off the moment."
That might come in handy Sunday, when he'll be kicking in the biggest game of his life.
At 41, Bryant finally made it to the Super Bowl with the Atlanta Falcons.
"It's taken a little while," he said, grinning. "But better late than never."
Certainly, no one in the big game is more mindful of his good fortune than Bryant, who endured a long and trying journey filled with professional setbacks and personal tragedy to become one of the oldest players in Super Bowl history.
He didn't even get a chance to kick in the pros until he was 27, so he worked at a pawn shop and as a personal trainer to make ends meet. He's been cut by five NFL teams, not to mention the Arena Football League's Iowa Barnstormers. His resume includes two entities that no longer exist: NFL Europe and the United Football League.
As discouraging as all that was, it paled in comparison to what happened at home. In 2008, his 3-month-old son, Tryson, died of sudden infant death syndrome.
"You appreciate things more, especially your own children," Bryant said Wednesday.
On the field, he's the ultimate late bloomer.
Bryant was selected for his first Pro Bowl this season after leading the league in scoring with 158 points. He connected on 34 of 37 field goals - six of them traveling at least 50 yards - and all but one of his 57 extra-point attempts.
"He deserves it. He has deserved it before," Falcons quarterback Matt Ryan said. "He's one of the guys that we rely on in critical situations. If you can just get the ball to the number that he talks about at end-of-game situations, you just know that he's going to put it through the pipes."
Of course, Bryant wasn't able to play in last weekend's all-star game.
He's got a far more important game in Houston.
"When we found out that he was going to be going to his first Pro Bowl, I called him and asked, 'Matt, have you ever been to the Pro Bowl?'" Falcons coach Dan Quinn recalled.
Bryant sounded underwhelmed.
"Do you want it?" Quinn asked, a bit incredulously. "And he said, 'Only if we're not in the Super Bowl.' So, way back even in December, I knew where his mindset was at."
Rest assured, Bryant never takes anything for granted.
He's got a firm grasp on the precariousness of a kicker's life.
"In three seconds, you can go from living in the penthouse to the outhouse," he said. "There's nothing in the middle in my world."
Bryant has come up with all sorts of mental tricks to keep himself focused. He walks around the sideline with a towel draped over his head, explaining that "it blocks out a lot of things that are around me." In addition to his children, he often thinks of his late father when attempting a kick, remembering what a huge impact he had on his son's life.
He's "standing behind me, like during a baseball game when I was in high school," Bryant said. "Instead of swinging the bat easy and hitting through the ball, he's yelling at me to go for it, to hit it over the fence."
For the most part, Quinn and the coaching staff leave Bryant alone.
"He's one of the more mentally tough competitors we have on our team," Quinn said. "One of the things I admire most about him is he treats every kick the same. So, when you see Matt in practice, when you see him go through his routine, extra points, different spots along the field when we get into Wednesdays and Thursdays at practice, every kick's the same, every routine's the same."
How strong is Bryant mentally?
One day after Tryson's funeral , Bryant suited up for Tampa Bay and booted three field goals in a victory over Green Bay.
"People ask me, 'Did you ever think about not playing in that game?'" Bryant said. "But at the end of the day, I know I would've taught him to just do your best no matter what. That's how I was able to go out there and glorify his name."
If Sunday's game comes down to his right foot, Bryant will be ready.
After all that he's been through, it's just another kick.
"It's part of the job requirement," he said nonchalantly. "If you really get caught up in the moment, maybe it could change something. I don't want anything to change. I want to stay the same. Keep my head down and kick through the ball."
___
Follow Paul Newberry on Twitter at www.twitter.com/pnewberry1963 . His work can be found at http://bigstory.ap.org/content/paul-newberry .
___
For more NFL coverage: www.pro32.ap.org and www.twitter.com/AP_NFL