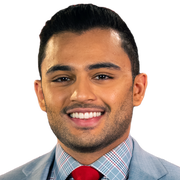 Sudu Upadhyay joined the Fox 5 Sports team in August 2023 as a sports multimedia journalist, but this isn't his first stint in the "Bunker." Sudu previously served as a producer, multimedia journalist, and fill-in anchor/host for FOX 5's Atlanta Falcons programming during the 2020 NFL season. Sudu is the producer and co-host of Bulldogs Now, alongside former University of Georgia quarterback and Fox 5 sports anchor DJ Shockley, and a producer / reporter on Bulldogs Final and Georgia All Access.
Prior to his current role at FOX 5, Sudu worked for WWE as a commentator and host for shows on USA Network, Peacock, and Snapchat, along with ring announcing duties for WWE live events, and as a panel host at WrestleMania 38.
Sudu also spent three years at WMC-TV in Memphis, Tennessee, as a sports anchor and reporter, completing assignments at the NFL and NBA Draft, NBA Playoffs, World Golf Championships, NCAA Men's Basketball Tournament, and Goodyear Cotton Bowl Classic.
Born in Kathmandu, Nepal, Sudu moved to Oxford, Mississippi, at five years old and fell in love with Ole Miss football. Although he wanted to follow in the footsteps of his hero Eli Manning, Sudu's self-described "lack of athleticism" pushed him into sports broadcasting. Sudu attended the University of Mississippi, serving as sports director and station manager for NewsWatch Ole Miss, and graduated in 2016 with a degree in Broadcast Journalism.
Sudu's greatest sports memories are the New York Giants' wins over the New England Patriots in Super Bowl 42 and 46, the San Antonio Spurs' NBA titles in 2003, 2005, 2007, and 2014, along with the Atlanta Braves' World Series win in 2021. Sudu is also a fan of Chelsea Football Club and has found an appreciation for Atlanta sports teams since moving to ATL in 2020.