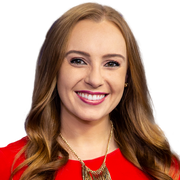 Kelly Price
Sports Reporter
Kelly Price joined the FOX 5 Sports team in 2019 and is a sports reporter and fill-in sports anchor. In the fall, she hosts "Rise Up Tonight," a late-night-style talk show that covers the Atlanta Falcons through the lens of Atlanta culture, and she is a regular contributor to all of FOX 5's Falcons programming. Outside of the Falcons, baseball is Kelly's favorite sport, so the Braves' clubhouse celebration after they clinched the NL East in 2019 remains her favorite work memory in Atlanta so far. Covering her first Daytona 500 in 2020, before COVID-19 took hold, will also remain a top memory, especially after her coverage was nominated for an Emmy.
Kelly came to Atlanta from WGBA, the NBC affiliate in Green Bay, Wisconsin, where she most memorably covered the Packers and deep playoff runs for the Milwaukee Brewers and Bucks. Before that, she was a reporter/producer for the Florida Gators.
Kelly grew up in Tampa, Florida, and is a proud Journalism graduate of the University of Florida — but she promises to play nice in Dawg country! During her collegiate career, she spent time in New York City with New York 1 and with WTVT in Tampa, and also freelanced for newspapers and TV stations in Florida.
The latest from Kelly Price
After the Five Stripes went a franchise-record eight straight games without a win, the team's leadership decided it had seen enough of Gabriel Heinze.
The oldest racing surface currently on the NASCAR Cup Series schedule will be getting a facelift after this weekend's Quaker State 400.
Three Team USA weightlifters who train in Suwanee are entering the final countdown for the postponed 2020 Tokyo Olympics — the postponed summer games for which they've waited longer than they ever could have imagined.
For the third time this postseason, the Hawks also took Game 1 on the road, handing Milwaukee its first home loss of this year's playoffs on Wednesday night.
The Falcons confirmed Sunday afternoon they are trading Julio Jones to Tennessee.
The chances that Braves pitcher Mike Soroka made it back onto a mound in 2021 were getting slimmer and slimmer.
After months of trade rumors swirled around Julio Jones, it appears the perennial Pro Bowl wide receiver's days are numbered in Atlanta.
Hawks interim head coach Nate McMillan has been fined $25,000 by the NBA "for detrimental public comments asserting bias by the NBA relating to the 2020-21 Playoffs."