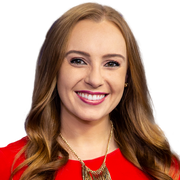 Kelly Price
Sports Reporter
Kelly Price joined the FOX 5 Sports team in 2019 and is a sports reporter and fill-in sports anchor. In the fall, she hosts "Rise Up Tonight," a late-night-style talk show that covers the Atlanta Falcons through the lens of Atlanta culture, and she is a regular contributor to all of FOX 5's Falcons programming. Outside of the Falcons, baseball is Kelly's favorite sport, so the Braves' clubhouse celebration after they clinched the NL East in 2019 remains her favorite work memory in Atlanta so far. Covering her first Daytona 500 in 2020, before COVID-19 took hold, will also remain a top memory, especially after her coverage was nominated for an Emmy.
Kelly came to Atlanta from WGBA, the NBC affiliate in Green Bay, Wisconsin, where she most memorably covered the Packers and deep playoff runs for the Milwaukee Brewers and Bucks. Before that, she was a reporter/producer for the Florida Gators.
Kelly grew up in Tampa, Florida, and is a proud Journalism graduate of the University of Florida — but she promises to play nice in Dawg country! During her collegiate career, she spent time in New York City with New York 1 and with WTVT in Tampa, and also freelanced for newspapers and TV stations in Florida.
The latest from Kelly Price