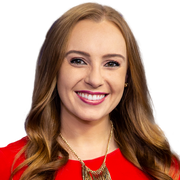 Kelly Price
Sports Producer
Kelly Price joined the FOX 5 Sports team in 2019, working as a sports producer focused on digital sports coverage, as well as on-air reporting. Kelly came to Atlanta from WGBA, the NBC affiliate in Green Bay, Wisconsin, where she most memorably covered the Packers and deep playoff runs for the Milwaukee Brewers and Bucks. Before that, she was a reporter/producer for the Florida Gators. Kelly 
Kelly grew up in Tampa, Florida, and is a proud Journalism graduate of the University of Florida - but she promises to play nice in UGA country! During her collegiate career, she spent time in New York City with New York 1 and with WTVT in Tampa, and also freelanced for newspapers and TV stations in Florida.
Kelly is so excited to explore Atlanta and will take any and all recommendations for things to do, see, eat and drink! When she isn't working, she's cooking a new recipe with veggies from her garden, taking a bike ride on the Beltline, playing tennis or taking in some sunshine by the pool with a good book.
The latest from Kelly Price
There are lots of changes fans will see at Truist Park on Opening Day, starting with mobile ticket entry, a new bag policy and mandatory face masks.
Atlanta currently holds the fourth and 35th picks in the 2021 NFL Draft. Let's dive in to some first-round picks from the latest mock drafts floating around the Internet.
Two odd jobs and a short CFL career were just a few of a series of challenges that shaped Harris' work ethic and perspective along his path, which has now led him to the Atlanta Falcons.
There isn't a "most likely to work in NASCAR" senior superlative at Lovejoy High School, but two classmates who graduated in the Class of 2002 have since worked their way to the highest levels of NASCAR.
Josh Shipplett's passion for watching pit stops as a kid turned into his job -- he's now a tire carrier for the No. 11 Toyota of Denny Hamlin.
The Atlanta Braves are welcoming back fans — at 33 percent capacity — for 2021 games for the first time since October 2019.
The Atlanta Hawks announced Monday that Lloyd Pierce has been relieved of his head coaching duties.
For the Falcons hoping to attract top free agents, the new Emory Orthopaedics & Spine Center at Flowery Branch is the latest "wow factor" in their recruiting pitch.
Georgia Bulldogs fans: Mark your calendars for April 17 -- officially the date for the annual G-Day intrasquad game at Sanford Stadium.