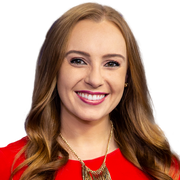 Kelly Price
Sports Producer
Kelly Price joined the FOX 5 Sports team in 2019, working as a sports producer focused on digital sports coverage, as well as on-air reporting. Kelly came to Atlanta from WGBA, the NBC affiliate in Green Bay, Wisconsin, where she most memorably covered the Packers and deep playoff runs for the Milwaukee Brewers and Bucks. Before that, she was a reporter/producer for the Florida Gators. Kelly 
Kelly grew up in Tampa, Florida, and is a proud Journalism graduate of the University of Florida - but she promises to play nice in UGA country! During her collegiate career, she spent time in New York City with New York 1 and with WTVT in Tampa, and also freelanced for newspapers and TV stations in Florida.
Kelly is so excited to explore Atlanta and will take any and all recommendations for things to do, see, eat and drink! When she isn't working, she's cooking a new recipe with veggies from her garden, taking a bike ride on the Beltline, playing tennis or taking in some sunshine by the pool with a good book.
The latest from Kelly Price
With the new NFL year getting underway, the Falcons agreed to terms with defensive tackle Tyeler Davison on a three-year extension.
Georgia Bulldogs junior Rayshaun Hammonds announced he will be entering the NBA Draft.
Wide receiver Laquon Treadwell comes to Atlanta, grateful for a "fresh start" and looking to get past a slow start to his career.
When LaRoy Reynolds moved back to Gwinnett County in January, he just hoped he would get another shot with the Atlanta Falcons. A few months later, he's getting just that.
The incoming class of NFL hopefuls are trying to make the most of a unique and unprecedented pre-draft process.
The Atlanta Track Club is planning for the 2020 Peachtree Road Race to happen as scheduled on July 4, and registration will continue until March 31, unless the field is not full when registration is set to close.
Falcons guard Jamon Brown is helping his hometown community of Louisville, Ky.
Miami is where Justin McCray originally calls home, but the new Falcons offensive lineman told FOX 5 Sports Monday night that he's excited to make a new home in Atlanta.
The Falcons continued to add pieces to their offense Sunday night: OL Justin McCray and WR Laquon Treadwell.