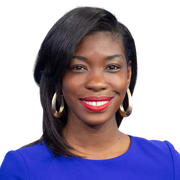 Janelle King
Georgia Gang Panelist
Janelle King is a rising star in the world of conservative politics in Georgia. Janelle's position within the movement brings a diverse perspective to conversations about the future of the Republican Party. She puts her belief into practice as the former Deputy State Director for the Georgia Republican Party, and as co-founder of Speak Georgia. Republicans won the race for the Governor's office in 2018 with support from the grassroots and data management leadership of Janelle. 
Janelle is a consultant to the G.O.P. for community engagement, public affairs, and diversity initiatives. Her success in that role results from the consistent demonstration of her ability to forge relationships between state and national elected officials, top donors and G.O.P. leaders.  
Janelle is also a board member for The League of Women Voters Atlanta-Fulton Chapter, Vice President of Political Affairs and board member for the Atlanta Young Republicans, and former Community Affairs Director/Board Member of the Georgia Young Republicans and former Chair of the Georgia Black Republican Council.
She is a native of New Haven, Connecticut and graduate of North Carolina Agricultural and Technical State University with a Bachelor of Science degree in Psychology; she also holds a master's degree in Industrial and Organizational Psychology from Capella University. She is married to her greatest ally and love Kelvin King and is bonus mom to Christian Ward.