Woman who shot two at apartment complex arrested, police say
ATLANTA - Investigators with the Atlanta Police Department said they have made an arrest in connection to the shooting of a woman inside her southeast Atlanta apartment.
Andrea Rivers, 43, was arrested for murder and three counts of aggravated assault with the intent to murder. She was booked into the Fulton County jail late Tuesday.
According to police, officers responded to a report of gunshots at the Forest Cove Apartments on Thomasville Boulevard, SE sometime after 9 a.m. Tuesday morning.  When investigators arrived, they found a man and a woman with gunshot wounds. 
Paramedics transported the man to the hospital in stable condition, but the woman died at the scene.
"Unfortunately, we lost a life this morning," said Atlanta Police Maj. D'Andrea Price.
Family members said the female victim had been letting the mother of her brother's child stay at her apartment.  The man kicked the woman out of the apartment and they got into an argument about whether she had all of her belongings.  
"My daughter didn't have time to get from the window. When you shot through that window, you killed my child," said Keesha Jordan, the victims' mother.
Jordan said it was the woman's mother who opened fire, though police have not yet released the names of anyone involved.
"My sister is a good person. She work hard. She take care of her children," said LaShundra Hicks, the victims' younger sister. "She is a single mother and now we got to go tell her children that they're not ever see their mama no more."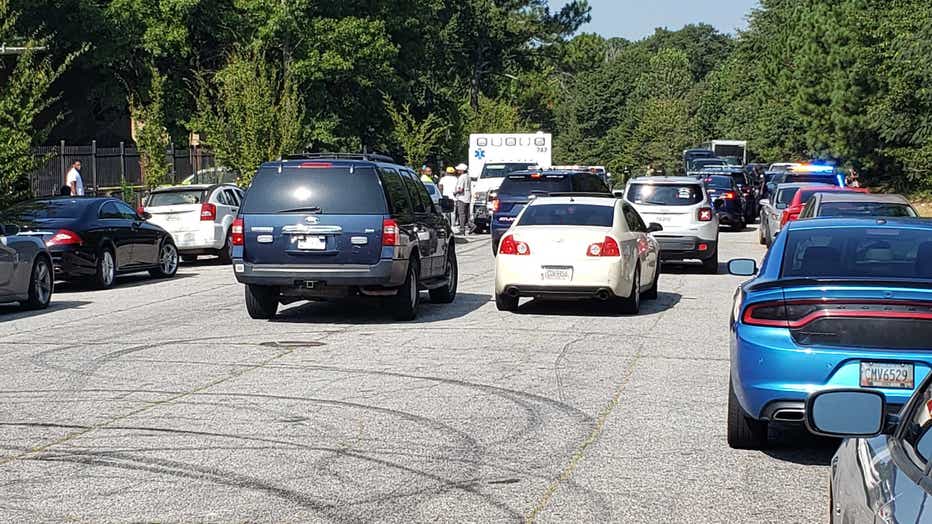 Police said a woman in southeast Atlanta is being treated for multiple gunshot wounds. (Photo: FOX 5 Atlanta)
Hicks said her sister had five children ranging in age from 5 to 16 years old. 
"We do have a suspect that we're looking for at this time, but I do not want to release that information right now as we would like to do our due diligence to be able to find her through our means before we place that in the custody of the media," explained Maj. Price.  
Atlanta Police confirmed a second shooting at the complex just before 1 p.m. was related. In that case, officers said a man was transported to the hospital after being shot in the foot.
Rivers was being held in the Fulton County jail without bond as of Tuesday evening.
WATCH: FOX 5 Atlanta live news coverage
_____
Sign up for FOX 5 email alerts
Download the FOX 5 Atlanta app for breaking news and weather alerts.