Weight loss drug comes with success, side effects for Georgia woman
ATLANTA - Felicia Zorn, of Holly Springs, started exercising a few months before undergoing a gastric bypass in May 2022.
And the 36-year-old mother of two boys also tried something else, Wegovy, an injectable weight loss drug, she says, helped curb her appetite.
"You start to notice almost immediately, like within a week of taking it, your body starts to adjust and adapt to the medicine, and so you start to feel full, the cravings start to go away," Zorn says.
Injected once a week, Zorn says Wegovy helped her lose 50 pounds before her operation.
"I was able to finally start doing what doctors have said to do for so long: I have smaller meals and then snack along the way, because it helps with your portion control," Zorn says.
Zorn's doctor Mitzi Rubin, medical director of Wellstar Health System's Center for Best Health, says Wegovy slows gastric emptying, helping the user feel full more quickly.

"We always say it stops that 'food noise.' You're not thinking about, 'Well, gosh, what am I going to do for dinner when you've just had breakfast," Rubin explains. 
"The other thing that was really cool is she felt like she had control for the first time. She didn't feel out of control, and it allowed her to be successful."
Still, Zorn says, the medication came with some gastrointestinal side effects.
"I would have pretty intense nausea in the morning, and there would be some days I'd be in the shower and, just like the wave would hit me and, you know, am I going to make it," Zorn says.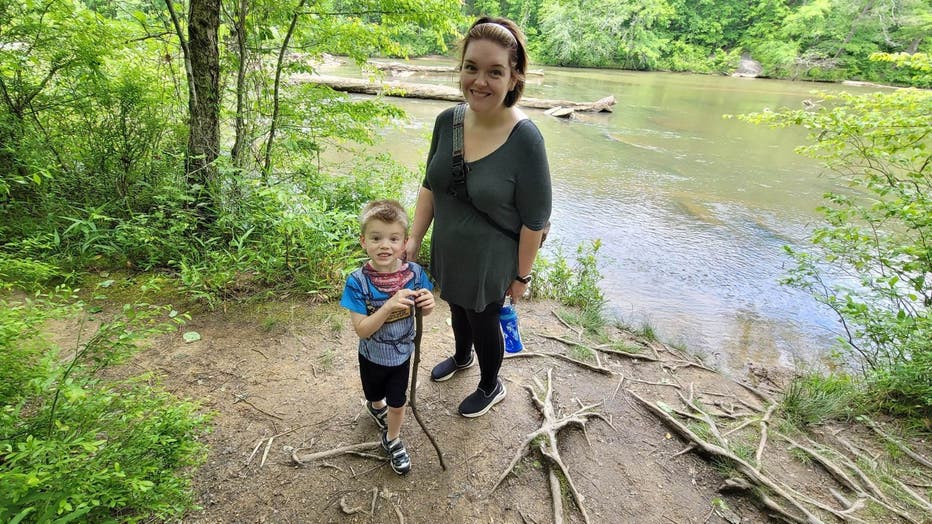 Felicia Zorn has lost 150 pounds with the help of medication, weight loss revision surgery and counseling. (Felicia Zorn photo)
Dr. Rubin says GI side effects have been pretty common in her patients.
"Probably the number one (side effect) is nausea," Rubin says.  "Number two, in my experience, is constipation."
Zorn says the side effects were usually short-lived, and they could dial back her dosage, if they needed to.
A year post surgery, down an additional 100 pounds, Zorn is still using Wegovy, because she says it's helping her get to her goal.

"It's just an extra piece that hold me accountable, and helps me feel like I am doing everything that I possibly can do to be the healthiest version of myself," Zorn says.