Watch: Motorcyclist pushes Massachusetts trooper into oncoming traffic
WAKEFIELD, Massachusetts - Police said they have arrested a man seen on a dashcam video pushing a trooper into oncoming traffic last week. 
According to Massachusetts State Police (MSP), the incident unfolded on an Interstate 95 off-ramp in Wakefield, Massachusetts, on July 5. 
In the video, shared by police, the officer approaches the suspect, who was allegedly operating his bike erratically. The trooper repeatedly ordered the rider to turn off his bike's engine and dismount. 
The man then turns on the bike's ignition again after it had been shut off. He drives forward with the trooper in front of the handlebars and front wheel.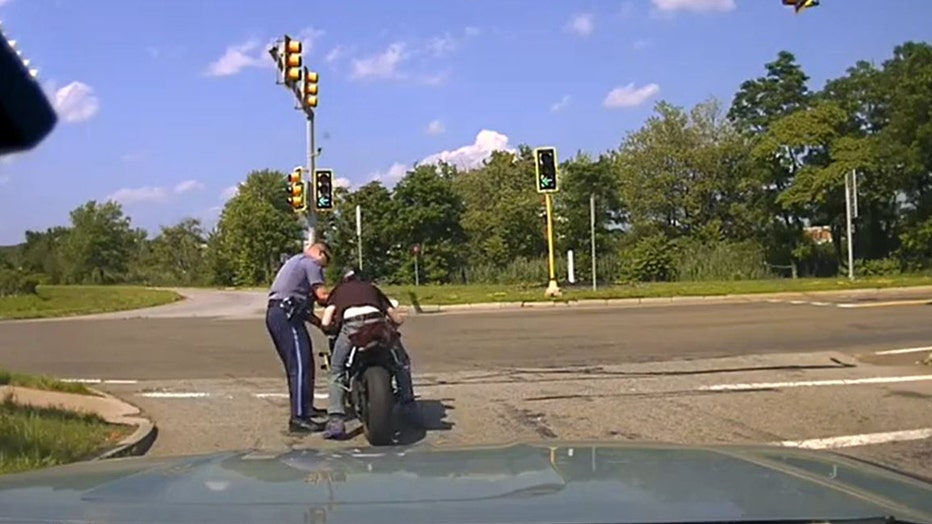 In the video, the trooper repeatedly ordered the rider to turn off his bike's engine and dismount. (Credit: Massachusetts State Police via Storyful)
Police said the man "attempted to run over" the trooper who had approached him, pushing the officer into oncoming traffic before fleeing.
The trooper was able to disengage from the motorcycle as it continued forward, which allowed him to narrowly avoid being hit by a pickup truck passing through the intersection.
"These incidents were brazen, and deliberately violent assaults perpetrated by motivated offenders on public servants who were engaged in their duties to protect our roads, our communities, our citizens, and our visitors," said Col. John Mawn Jr., superintendent of the Massachusetts State Police. "We work very hard to ensure that violence directed against any victim – police officer or civilian – is answered with a swift and thorough response, and that was exactly what was done in these two investigations."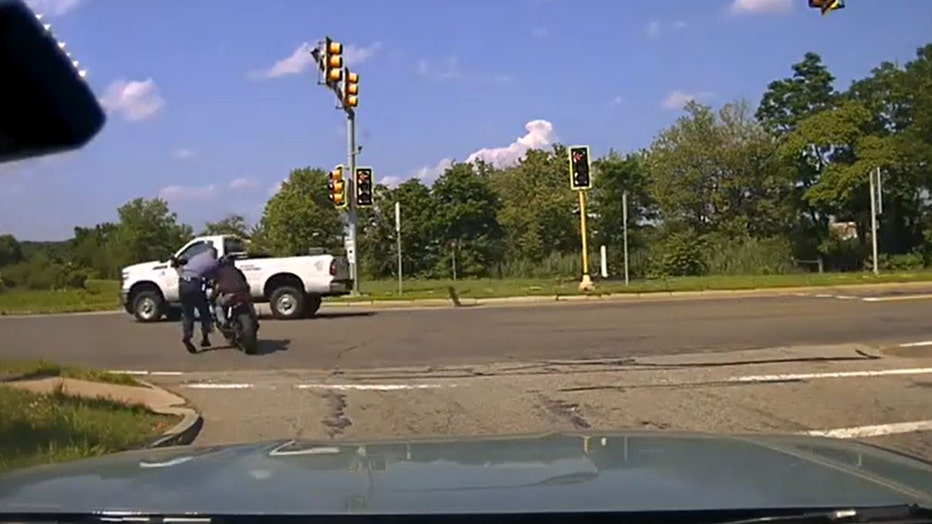 In the video, the man pushes the officer into oncoming traffic with his motorcycle before fleeing. (Credit: Massachusetts State Police via Storyful)
On Friday, July 7, members of the State Police Detective Unit found the suspect, identified as Colin James Webb, 19, and arrested him for the assault. 
Webb was arrested on a dozen charges including assault and battery on a police officer, assault with a dangerous weapon and negligent operation of a motor vehicle. 
RELATED: Calm police chase turns intense in LA
This news comes on the heels of another violent assault on an MSP Trooper on the 1-495 in Tewsbury which also happened last week. 
Hernan Aybar Romero became violent and assaulted a trooper as he was being put into handcuffs. The suspect was able to re-enter his vehicle and speed away. The trooper was later treated and released from a local hospital. 
Police tracked Romero to an apartment in the town of Lawrence. He was arrested and is currently being held pending arraignment on several charges.
This story was reported from Los Angeles.