Walker County Emergency Services involved in cave rescue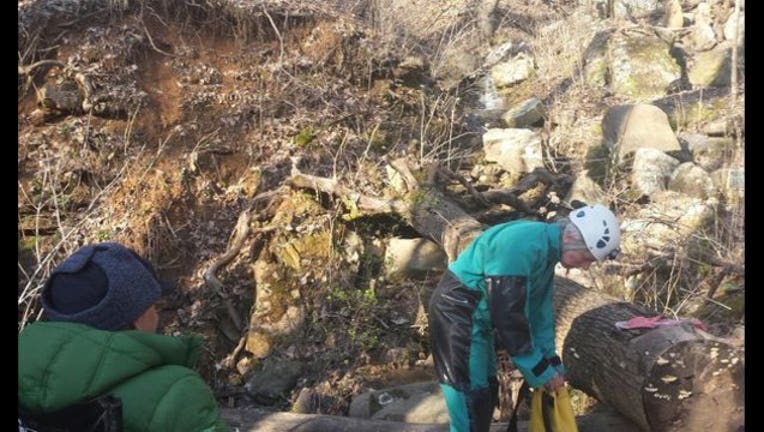 article
WALKER COUNTY, Ga. - At approximately 5:45 a.m. this morning, Walker County Rescue with the assistance of the Chattanooga-Hamilton County Cave/Cliff team began the rescue operation of a 22 year-old male in Ellison's Cave on Pigeon Mountain in Northwest Georgia.  Ellison's Cave is the 12th deepest cave in the U.S.  It contains Fantastic Pit, which at 586 feet, is the deepest underground pit in the continental U.S.     
The patient and another caver had been in Ellison's Cave approximately seven hours when the patient became ill while he was about 100 feet off the floor climbing out of Fantastic Pit.  His caving companion climbed up to him in the large waterfall of the pit and managed to lower the patient back to the floor of the cave after much struggling.  The caving companion then exited the cave to call for help. 
Rescuers, including medical personnel and a rigging team, arrived on scene and entered the cave at approximately 7:00 a.m.  A haul system was rigged and the patient was hauled out of Fantastic Pit.  He was then walked through the cave to the bottom of another 125-foot pit known as the Warm Up Pit where another haul system was rigged. 
The patient was safely brought out of the cave at approximately 12:45 p.m. and his care was transferred to EMS.  A total of 45 rescuers from agencies including Chattanooga-Hamilton County Rescue, Walker County Rescue, and Georgia Department of Natural Resources were on scene, with 26 rescuers working inside the cave during the operation.
Medical status of the patient is unknown at this time, although no injuries were reported.