Viral video: Colorado mom reveals ex-husband's sex abuse of daughter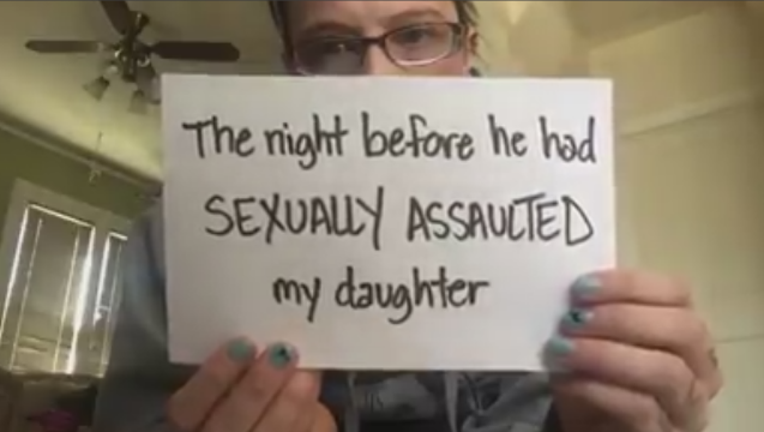 article
A Colorado mom shared how her teenage daughter was sexually abused by her husband in a very poignant Facebook video and it went viral.
Catherine St. Germain, 34, said she posted the video to get support during a difficult time in her life.
"I keep saying I didn't do anything brave my kid did," St. Germain said. "She spoke out against the person who sexually assaulted her within 24 hours."
The video shows St. Germain silently holding up note cards, telling her daughter's story. At age 15, her daughter was raped by St. Germain's ex-husband, Aaron Scott, a man she had known for more than 20 years.
"Most of the times the perpetrator is someone that the victim knows," said Germain.
Scott was an ex-cop and a Navy veteran, whom she trusted.
"On paper, my ex looked fantastic…a Navy vet, a police officer and he had three kids of his own," said St. Germain. "I think that's the ideas we have as moms…I need to check the sex offender site and watch out for that creepy guy on the corner…but it's usually the uncle or a coach - those are the people we don't think about because we trust them."
She said she hopes the video sends a powerful message to people, especially mothers, everywhere.
"I hope that's what people take away from the video. To take a second and gut check that instinct to…watch closely the interactions that your kids have with everyday people," she said.
St. Germain says her daughter, now 18, is doing well and will be graduating from high school in July.
"She's a phenomenal kid and I'm so proud of her," she said.
Her video has been shared more than 62,000,000 times.
SEE ALSO: Goose mourning loss of mate refuses to leave Woodstock shopping center