Vendors want money back after BeREGGAE Music & Arts Festival promoter allegedly lied
ATLANTA - Vendors who paid to be at the BeREGGAE Music Festival back in August say they want their money back after alleging the promoter lied about the reason for canceling the last day of performances. 
Adrian Mitchell, owner of "Shack Attack Burgers" food truck, reached out to FOX 5 after trying for weeks to get BeREGGAE festival organizers to refund his deposit. 
"It was a major hit, and I'm still suffering from that. I paid $2,400, including tax, to be at that event, you know, and it was advertised as 'rain or shine'...plus food and employee...so, I would say we were at round about $3,000-3,500 total," Mitchell said. 
He said he had high hopes when he brought his truck to the festival, instead he says he just ended up losing a lot of money when the Sunday portion of the festival was abruptly canceled. 
On Aug. 13, FOX 5 crews saw empty stages, confused vendors and festival goers who didn't know the festival had been canceled.
FOX 5 spoke to festival organizer Eric Barnes that day, who said they had canceled because weather had made the park too muddy and had also caused some trees to come down. 
"The reason why we are not executing it today is simply because of safety," Barnes had said.   
'BAMBOOZLED': POPULAR ATLANTA REGGAE FESTIVAL CANCELED BUT VENDORS, ATTENDEES MISS THE MEMO
However, Mitchell heard differently from an Atlanta police captain later that evening, who told him that Barnes had failed to pay off-duty Atlanta Police officers for security, which was required for the festival permit.
"It had nothing to do with the rain, it had nothing to do with weather, period," Mitchell said. 
FOX 5 had heard this same thing from other vendors that same day in August and asked Barnes about it at the time. 
He claimed that wasn't the case. 
However, emails given to FOX 5 by the city of Atlanta show that he did know about this. 
City staff emailed Barnes the morning of Aug. 13, informing him they had revoked the festival's permit because he hadn't paid the officers. 
He immediately emailed back saying they were canceling because of bad weather. 
FOX 5 reached out to Barnes several times to ask about this, but he hasn't responded yet. 
Mitchell has asked Barnes for a refund for weeks now. 
However, it wasn't until after FOX 5 reached out to Barnes that he sent Mitchell and other vendors a long message Monday evening, which Mitchell shared. 
In it, Barnes writes that although vendors signed an agreement that said there would be no refunds, he would be giving out partial refunds to vendors to compensate for the canceled third day of the festival. 
However, he also said that for various reasons they have no timeline on when vendors will receive those refunds. 
"That's not how business is done," Mitchell said.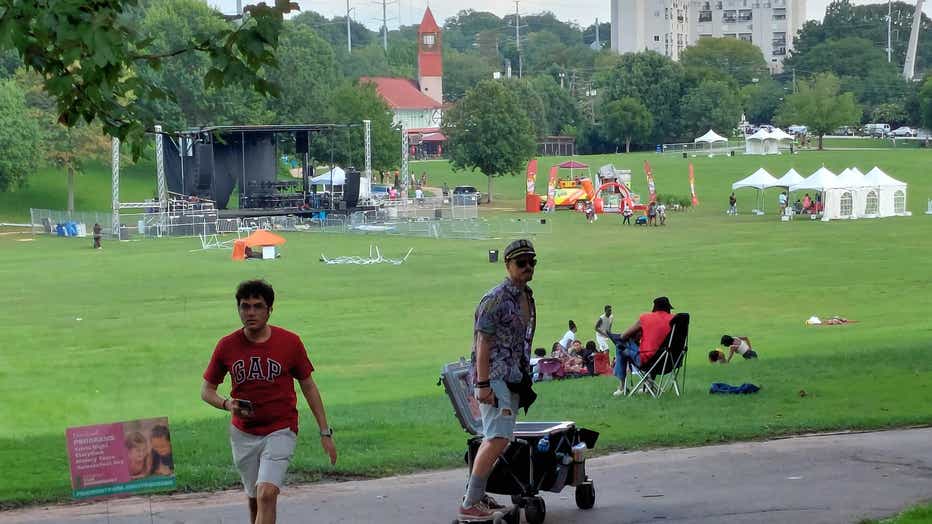 Angry vendors and disappointed attendees packed up their things at Piedmont Park after learning the BeReggae Festival they were there for had been canceled. (FOX 5 Atlanta)
Barnes also claims in the message that they "released" the APD officers Saturday night due to inclement weather. 
However, the email correspondence between him and the city of Atlanta shows that City staff told him he couldn't hold the event Sunday morning because he had failed to pay officers and says nothing about him releasing officers from their security detail. 
Mitchell says he feels like he's going to have to take Barnes to court in order to get his money back. 
And hope this serves as a cautionary tale to other vendors. 
"Some light needs to be shed on this situation...if it says, 'no refund, no exceptions,' those are the ones you might want to watch out for," Mitchell said.