Sens. Ossoff, Warnock survey Hurricane Idalia damage in Valdosta, promise assistance
VALDOSTA, Ga. - Residents in Valdosta are spending their Labor Day weekend cleaning up debris from Hurricane Idalia's impact. Sens. Jon Ossoff and Raphael Warnock toured the area Sunday afternoon, vowing to step in and help.
"Since I've been here seven years, this is one of the worst Valdosta has came through," resident Gilbert Dundley told FOX 5.
Neighborhood after neighborhood in Valdosta, you'll find trees lining the side of the road and roofs covered in tarps.
Friendly neighbors helped each other out Sunday to clean up the mess and try to move on.
"[A] lot of trees, lot of debris, lot of fence posts picking up and damaged," Dundley noted. "There's a lot of work to be done."
Hurricane Idalia moved through Valdosta as a category two storm with maximum sustained winds of 105 miles per hour.
Over a thousand power poles in Lowndes County snapped, leaving 97% of the county in the dark. Slowly but surely, FOX 5 is told that power is being restored.

"These crews are working around the clock, and they've probably got those numbers down now somewhere in the 20 to 10% range," Bill Slaughter, the Lownes County Commission Chair told FOX 5.
Many residents had to throw away spoiled food. The Red Cross set up a relief site offering food and water to those who needed it.
Warnock and Osoff surveyed the damage Sunday, pushing for a federal disaster declaration for the county.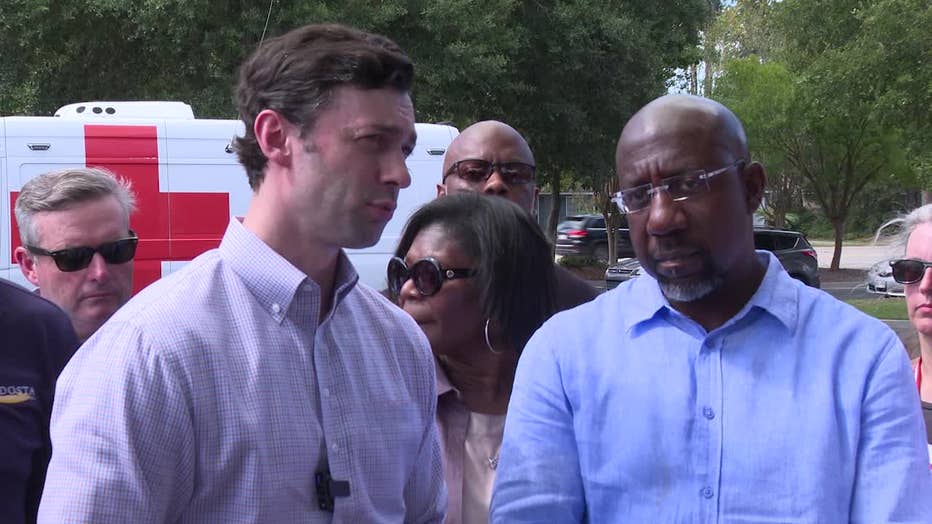 "FEMA and GEMA are undertaking joint damage assessments so that such a request when it comes from the state to the president is full complete and accurate," Sen. Ossoff said.

"If we get that, every bit of the cleanup, every man-hour, every overtime hour will be something that we can claim at the end of this," Valdosta Mayor Scott James Matheson said. "Otherwise, we wake up, and we're holding a 20-billion-dollar bill in our hand."
Residents told FOX 5 they were grateful for the help they've received so far and promised to continue helping one another make it through.

"I really want to thank everybody, every single neighbor, and people that aren't neighbors, that came here and made sure we had generators, gas," resident Jason Day said. "I mean, it's one of those things that make you well up with tears."