Tropical Storm Warning: Zeta causing widespread wind damage across North Georgia
ATLANTA - Zeta is now a Tropical Storm and bringing significant impacts to north Georgia. Several areas are experiencing damaging winds and localized flooding. Since this storm is moving at over 30 mph, we won't see these major impacts linger for long. 
Hurricane Zeta made landfall Wednesday evening around 5 p.m. Eastern near Cocodrie, Louisiana as a powerful Catagory 2 storm, according to Hurricane Hunter aircraft Wednesday afternoon. The storm has weakened as it races towards North Georgia.
North Georgia continues to be under a Tropical Storm Warning. Zeta is expected to dump heavy rain, tropical-storm-force winds with higher wind gusts, and while the probability of a spin-up tornado is low, it cannot be ruled out.
The warning includes: Banks, Barrow, Bartow, Carroll, Catoosa, Chattooga, Cherokee, Clayton, Cobb, Coweta, Dade, Dawson, DeKalb, Douglas, Fannin, Fayette, Floyd, Forsyth, Gilmer, Gordon, Gwinnett, Hall, Haralson, Harris, Heard, Henry, Jackson, Lumpkin, Meriwether, Murray, Newton, North Fulton, Paulding, Pickens, Polk, Rockdale, South Fulton, Spalding, Towns, Troup, Union, Walker, Walton, White, and Whitfield counties.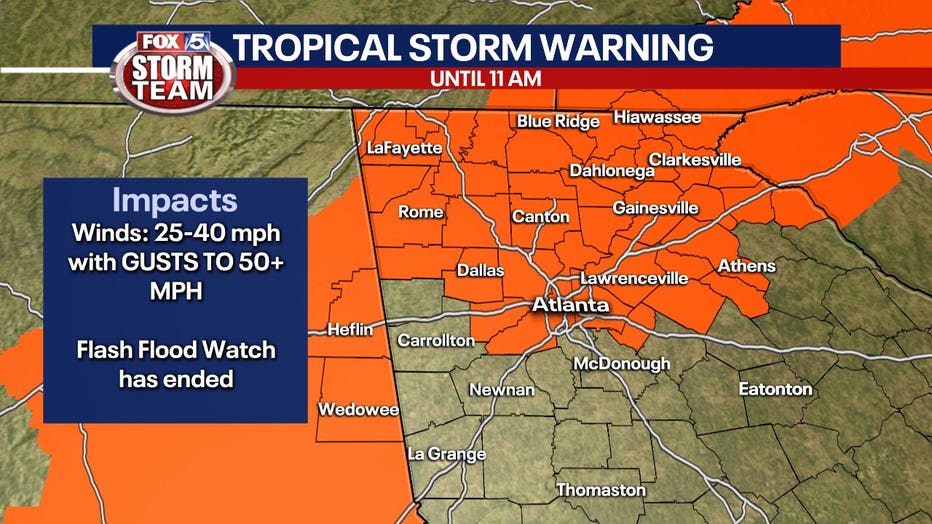 10/29/2020 (FOX 5 STORM TEAM)
As of  a.m. Thursday, Tropical Storm Zeta continues to move through Georgia and North Carolina. The center of circulation is about 50 miles west of Asheville, NC.
The storm's winds remain at 60 mph, but Tropical-storm-force winds can extend up to 175 miles from the center.
The storm is moving quickly, heading northeast at 39 mph.
CLOSINGS: Ge the latest school and business closings, cancelations, and delays
North Georgia is on high alert with the worst of the storm moving through now. 
While Zeta will weaken as it moves inland, it is an extremely fast-moving storm. This means it will still have a lot of energy as it moves into north Georgia, but the good news it will also mean the storm will not linger and we will see improving conditions after sunrise. 
The wind could prove to be the biggest factor. The FOX 5 Storm Team is expecting winds to be between 39 and 57 mph for a sustained period. A localized spin-up tornado cannot be ruled out, even though the chance is low.
Expect that power could go out as wind takes down trees and limbs. Lightweight porches, awnings, carports, sheds, and unanchored mobile homes could also be impacted.
Residents in Georgia should prepare for roads to be impassible early Thursday morning.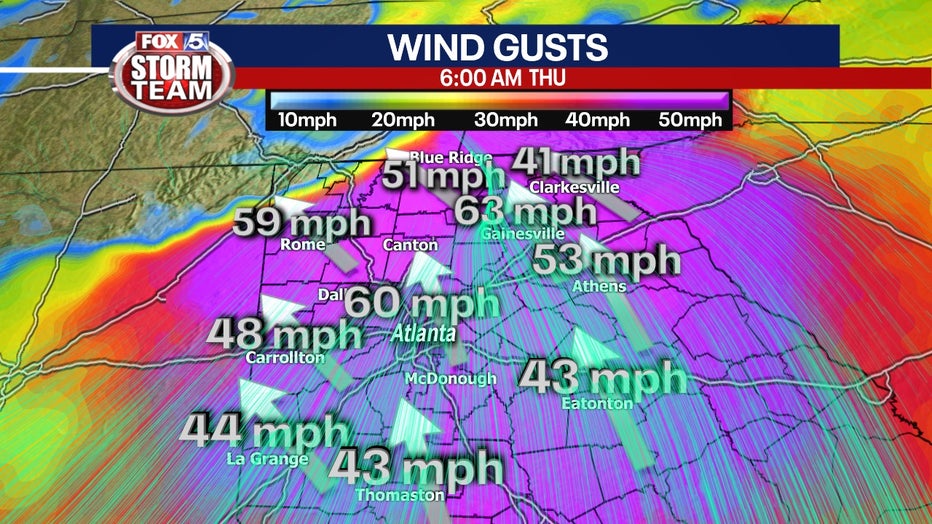 Oct. 28, 2020 (FOX 5 Storm Team)
Zeta will bring heavy rains that could lead to flooding. Highest rainfall totals have been in NE Georiga with nearly 3" in a six hour time period. That rain will quickly accumulate, swelling rivers, creeks, and other low-lying areas. It will also present continued hazards for drivers.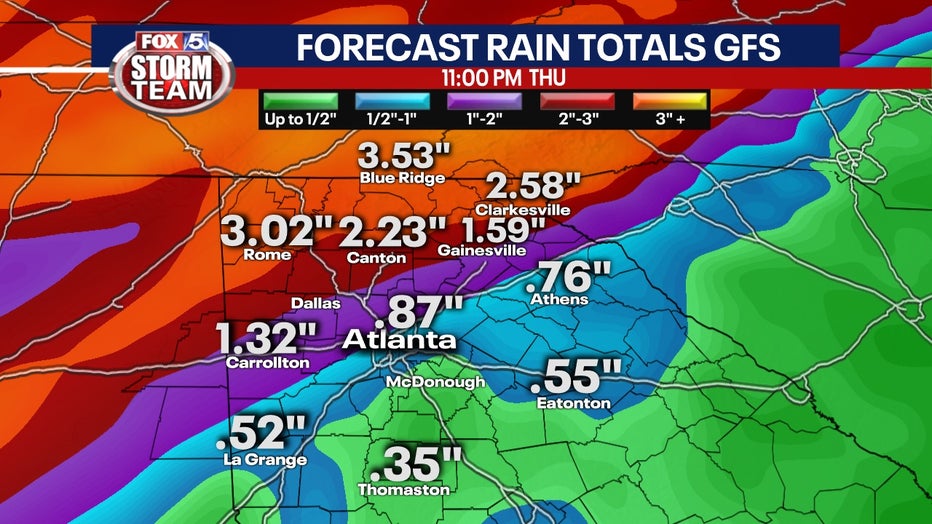 Oct. 28, 2020 (FOX 5 Storm Team)
It is best to prepare for the storm now. Make sure that all loose items are secured including trash cans, Halloween displays, politicals signs, etc... Make sure to have a plan in case there is a spin-up tornado or if the winds exceed what is forecasted. Charge cell phones and have numbers handy in case power goes out. 
And more importantly, make sure to have the FOX 5 Storm Team app downloaded on mobile devices with the GPS activated and the sound up. This will allow the app to send instant alerts informing of hazards, will allow you access to interactive radar, and a live broadcast of FOX 5 Atlanta.
To learn more tips about preparing for a tropical storm, visit the Centers for Disease Control and Prevention website.
Keep up with the latest by downloading the FREE FOX 5 Storm Team app and following @FOX5StormTeam on Twitter.