Transgender 'milestones' took decades; more lawsuits likely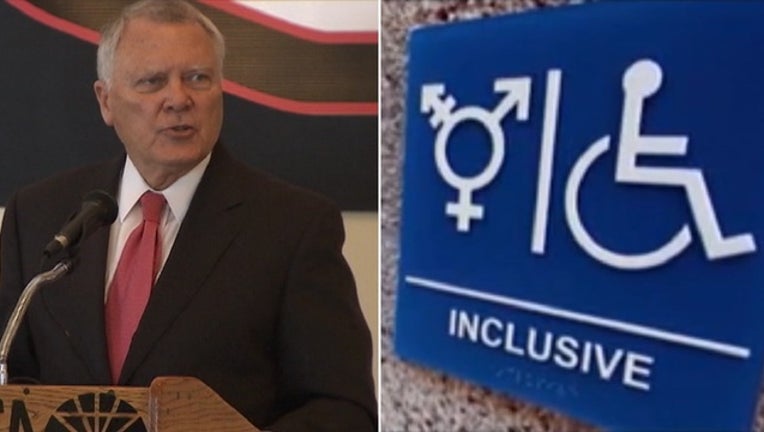 WASHINGTON (AP) — With two milestone developments in the federal government's policy on gender issues, last week was heady for transgender people and advocates.
First, an impassioned Attorney General Loretta Lynch announced the government was suing North Carolina for discriminating against transgender people. Later, federal officials issued guidance to public schools on accommodating transgender students.
But legal experts and advocates for the approximately 700,000 transgender people estimated to be living in the United States say last week's headline-grabbing developments reflect a slowly-evolving change in the law over more than a decade toward increased protections for transgender people.
"The trend is clearly toward recognizing that sex discrimination law protects against gender identity discrimination," said Suzanne B. Goldberg, director of the Center for Gender and Sexuality Law at Columbia University's law school.
Over the next few years there will likely be more cases on that question, advocates on both sides agreed.
Courts must decide whether decades-old federal laws that prohibit discrimination on the basis of a person's sex also prohibit discrimination based on a person's gender identity. The federal government says yes, but two important federal laws barring discrimination are not explicit. The laws are Title VII of the Civil Rights Act of 1964, which prohibits sex discrimination by employers, and Title IX of the Education Amendments of 1972, which prohibits sex discrimination in federally funded education programs and activities.
Adam P. Romero, a legal scholar at UCLA's Williams Institute, which does research on sexual orientation and gender identity law and public policy, predicted more rulings favoring the transgender community. The Supreme Court could ultimately take a case on the protections transgender people have under federal law, he said, but probably not soon because the law is "rapidly evolving" and the court generally doesn't like to take up an issue until it has had time to mature. The court might also feel it doesn't need to intervene at all if lower courts are moving in the same direction.
But Matt Sharp, legal counsel for the Arizona-based conservative legal group Alliance Defending Freedom, predicted the issue would reach the high court within a few years. He said lawmakers who wrote Title VII and Title IX never intended for them to cover gender identity, calling that a "fundamental redefinition of the law." If Congress wants to make a change it should pass legislation, he said.
In fact, before the late 1980s, transgender people didn't have much luck claiming civil rights protections under federal law. In 1977, one court of appeals ruled that Title VII of the Civil Rights Act didn't cover a woman fired for transitioning from Robert to Ramona. And in 1984, another appeals court used the same reasoning to rule against an Eastern Airlines pilot fired after transitioning from Kenneth to Karen.
But a 1989 Supreme Court case pointing in the opposite direction has proved to be a landmark, scholars said. In that case, Price Waterhouse v. Hopkins, a woman wasn't promoted in part because some partners felt she didn't act feminine enough. The court ruled that the Civil Rights Act barred not just discrimination based on a person's sex but also discrimination based on gender stereotypes.
Courts have subsequently found in favor of transgender plaintiffs alleging they were fired or not hired as a result of being transgender.
Vandy Beth Glenn was fired from her job with the Georgia General Assembly after announcing she intended to transition from male to female. When she sued in 2008 her lawyers called her case a longshot, she said, but the U.S. Court of Appeals for the 11th Circuit, which covers Alabama, Florida and Georgia, ultimately ruled in her favor in 2011.
"I feel like we've come so much further even since then. It's been pretty amazing," she said in a telephone interview.
Last month, the U.S. Court of Appeals for the 4th Circuit, which covers Maryland, North Carolina, South Carolina, Virginia and West Virginia, ruled in favor of a transgender Virginia teen who had been barred from using the boys' restroom at school.
Sarah Warbelow, legal director for the Human Rights Campaign — the national lesbian, gay, bisexual and transgender civil rights organization — called last week's developments milestones. The attorney general's speech announcing the federal government would sue North Carolina was a "huge public moment" and "one of those moments you know you've seen history in the making," she said.
Transgender rights activist Mara Keisling, executive director of the Washington-based National Center for Transgender Equality, agreed the moment was "really, really remarkable" but said the administration wouldn't have taken those actions if it weren't on solid legal ground. Still, she said, it was emotional.
"Trans people were crying all over the country," Keisling said. "To have the attorney general of the United States say: 'I have your back, DOJ has your back and the president of the United States has your back' — it was so important. It so necessary. People are still crying, crying with relief and amazement."
___
Follow Jessica Gresko on Twitter at https://twitter.com/jessicagresko . Her work can be found at http://bigstory.ap.org/content/jessica-gresko .