1 suspect arrested, 2 at large in armed robbery at Town Center Mall jewelry store, police say
KENNESAW, Ga. - Officers in Cobb County have arrested one suspect and continue to search for two others after an armed robbery at the Town Center Mall in Kennesaw on Thursday afternoon, police say.
It happened around 3:20 p.m. Cobb County police say officers rushed to the mall after a report of an active shooter. It was later learned it was an armed robbery.
Police say three masked suspects entered the A&M Custom Jewelry store inside the mall. During the robbery, at least one suspect was shot in the stomach area by an armed security guard, police confirmed.
The injured suspect was later identified as 24-year-old Marquavis Wilson. He was later hospitalized and arrested. 
"Three armed robbers had entered the store and robbed the store at gunpoint. We have reports that shots were fired inside the store," says Sgt. Wayne Delk, Cobb County Police Department.
The trio fled the scene before police officers arrived. The suspects took several custom watches from a display case. 
One employee was injured during the incident, but police say they suffered a non-life-threatening injury.
"We have one of the store employees who received some sort of superficial injury. It is not confirmed that that is a gunshot or some other injury," says Sgt. Delk.
Witnesses describe a chaotic scene and heard several shots before seeing people run for cover.
"I was on the upper level at Zumiez. I heard two gunshots. It sound kind of from a distance and then I kind of looked back and saw people running [in] the other direction. So, we ended up going to the back of the store, closing the gate, and then, like, barricading the door with boxes," shopper Patrick Rogers described.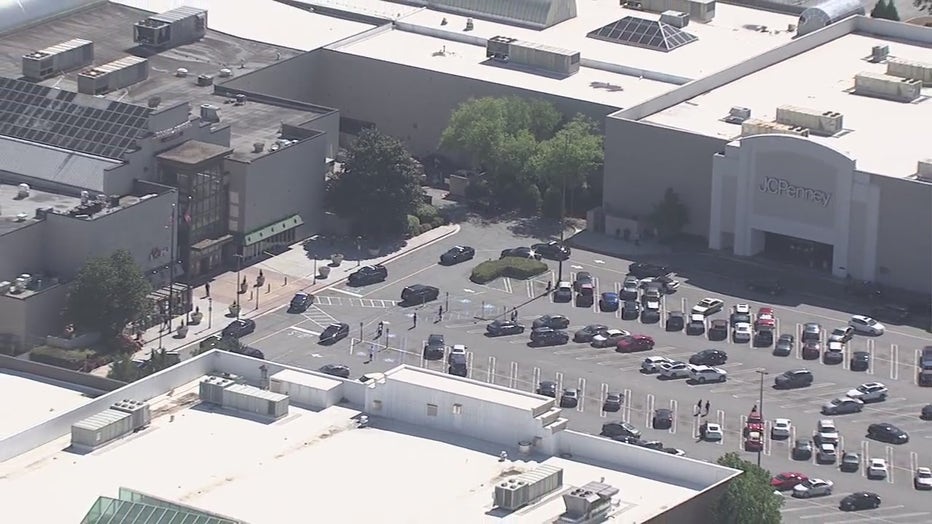 Cobb County police respond to a report of an armed robbery at the Town Center Mall in Kennesaw on May 6, 2021. (FOX 5)
Sean Banuelos and Alexis Tyson were in the store right next door.
"We heard the shots about four or five," said Banuelos.
"We all got down and crawled to the back and stayed there for a while," said Tyson.
They hid in the storage room with employees until the coast was clear, then ventured out to take a look. They say they could see a bullet hole in the wall and shell casings on the ground.
SKYFOX 5 flew over the scene just after 4 p.m. and saw a heavy police presence out the main north entrance of the mall. Crime scene tape could be seen around the entrance.
Descriptions of the two remaining suspects have not been released.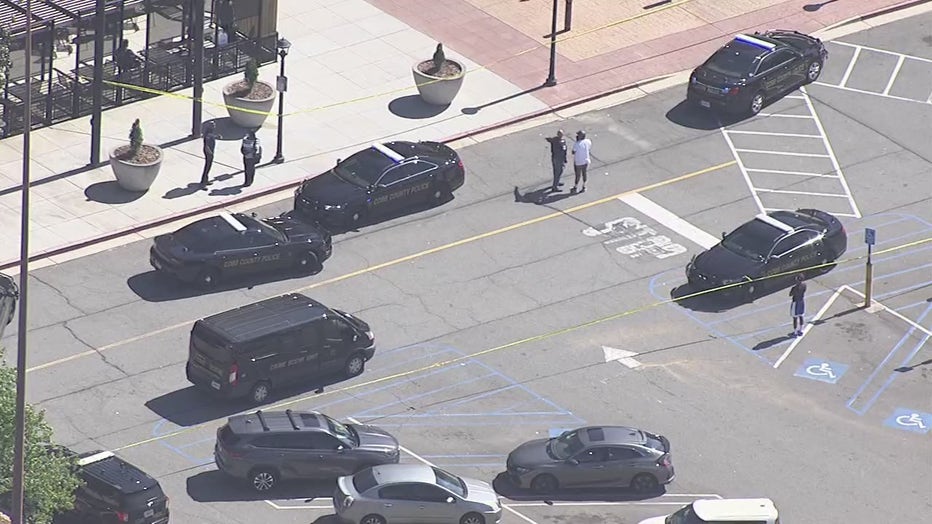 Cobb County police respond to a report of an armed robbery at the Town Center Mall in Kennesaw on May 6, 2021. (FOX 5)
Police said the mall remained closed throughout Thursday evening.
Anyone with information about the case is asked to call the Cobb County Crimes Against Persons Unit at 770-499-3945.
WATCH: FOX 5 Atlanta live news coverage
_____
Sign up for FOX 5 email alerts
Download the FOX 5 Atlanta app for breaking news and weather alerts.