Brian McKnight, Summerfest, and award shows: Things to do this weekend in metro Atlanta
ATLANTA - Kick off your summer with exciting plans for the entire family. Take your children to a Braves game, a festival, or the Immersive Disney Animation. Then, hang out with friends at a Brian McKnight concert or enjoy free drinks at the Virginia-Highland Summerfest. There's never a dull moment when your weekend is planned by FOX 5 Atlanta.
Each week, FOX 5 Atlanta will update viewers and readers on Things to Do in Metro Atlanta. 
Download the FOX 5 Atlanta App, and follow FOX 5 Atlanta on social media channels for weekly updates.
Atlanta Children's Film Festival
10:30 a.m. - 5 p.m. June 9-25
Emory University; 201 Dowman Drive, Atlanta
Get ready for the 16th annual Atlanta Children's Film Festival. This year, there are both in-person and online events you and your kiddos can enjoy. The theme is "Dreams to Action." If you're looking for ticket information, look no further. Everything you need to know is here.
Immersive Disney Animation
June 9 - Sept. 30
Armour Yards; 159 Armour Drive, Atlanta
An enchanting immersive Disney experience is coming to Atlanta's Buckhead neighborhood, allowing visitors to step into their favorite Disney stories. "Beyond the Lens: A Family Pop-Up Adventure" features interactive exhibits and photo opportunities, bringing the magic of Disney to life for fans of all ages. Learn more.
FOX 5 Atlanta's Paul Milliken checked it out ahead of time for you.
Eclectic Lawn Concert Series
7 p.m.- 9:30 p.m. June 9
Alpharetta Arts Center; 238 Canton Street, Alpharetta
Did someone say free entertainment? Pack a picnic, bring lawn chairs and spread out at the Alpharetta Arts Center Friday night. Every second Friday of the Month, musicians will perform for free. This weekend, The KT Collaborative is bringing jazz, soul and funk. It's perfect for a cute, low-cost date, a night out with the family or friends, or some much-needed alone time. Learn more.
Atlanta Gay Men's Chorus hosts "Returning to the Root"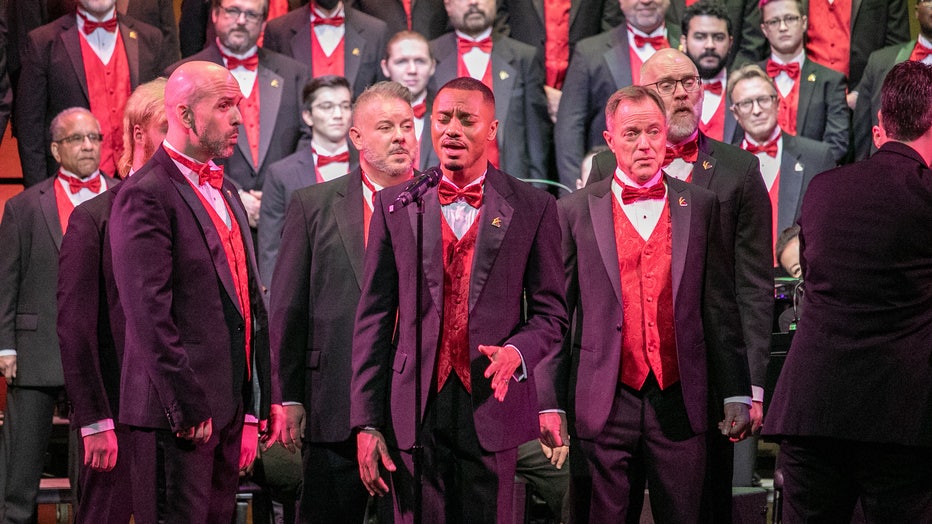 (Credit: Atlanta Gay Men's Chorus)
7:30 p.m. June 9
Atlanta City Hall; 5563 Trinity Avenue SW, Atlanta
7:30 p.m. June 10
Conant Performing Arts Center; 4484 Peachtree Road NE, Brookhaven
Atlanta's oldest LGBTQ+ organization is hosting two concerts this weekend. Join the Atlanta Gay Men's Chorus for a magical performance focused on "the concept of a loving relationship between people within a sacred context." Tickets are available here.
An Evening of R&B: Brian McKnight with Mindi Abair
7 p.m. - 11 p.m. June 10
Mable House Barnes Amphitheatre; 5239 Floyd Road SW, Mableton
R&B singing sensation Brian McKnight and renowned saxophonist Mindi Abair are set to take the stage in Mableton. It's a one-of-a-kind collaboration you don't want to miss. Tickets are selling out here.
American Entertainment Awards
The Atrium; 5479 Memorial Drive, Stone Mountain
1 p.m. - 7 p.m. June 10
The American Entertainment Awards are taking place this Saturday. Celebrities like Nappy Roots, LSU's Flau Jae, Dem Franchize Boyz, Tyler Perry and more and invited for the star-studded red carpet and award ceremony. Tickets are open to the public.
Fathers Matter ATL 3-on-3 Basketball Tournament
10 a.m. - 1 p.m. June 10
Exchange Recreation Center; 2771 Columbia Drive, Decatur
Call all fathers! Teams of three are invited to play for $50. First, second and third place will win cash prizes. Other attendees can enjoy food, health screening, entertainment and resources for the whole family. Tickets are available here.
Rise and Dine with the Animals
8:30 a.m. - 9:30 a.m. June 10
Zoo Atlanta; 800 Cherokee Avenue SE, Atlanta
Rise and dine with the gorillas at Zoo Atlanta this month. Proof of the Pudding is catering a full breakfast while attendees enjoy a front seat to their favorite animals getting ready for the day. Learn more.
Virginia-Highland Summerfest 2023
11 a.m. - 7 p.m. June 10
Virginia Avenue at N. Highland Avenue, Atlanta
Organizers are kicking things off next Friday night with live music and free drinks. If you can't make it on Friday, be prepared to spend your Saturday having fun in the hot, Georgia sun. This annual fundraiser is open to residents and visitors. Learn more.
Gun Show Lawrenceville
June 10-11
Gwinnett County Fairgrounds; 2405 Sugarloaf Parkway, Lawrenceville
Mark your calendar for the Lawrenceville gun show this weekend. This is an event designed for gun collectors and hunting enthusiasts. You'll find vendors showcasing guns, hunting supplies, military surplus and outdoor gear. Learn more.
Peachtree Corners Night Music Series
7 p.m. - 11 p.m. June 10
Peachtree Corners Town Center
Looking for a free experience in Peachtree Corners? Hit the Town Green at Town Center for a complimentary night of live music. It happens every second Saturday of the month through October. This weekend's theme is "Her Majesty's Request," so you can expect British Rock and Pop music. Click here for more local events in the area.
Little Big USA Tour 2023
7:30 p.m. - 11:30 p.m. June 11
The Loft; 1374 W Peachtree Street NW, Atlanta
The Russian band Little Big is set to make a stop in Atlanta this weekend, bringing an electrifying performance to the city. Tickets are still available here.
Braves vs. Nationals
This weekend, the Nationals are entering Braves Country. Every night, fans are in for an unforgettable experience at Truist Park. Tickets are being sold online here.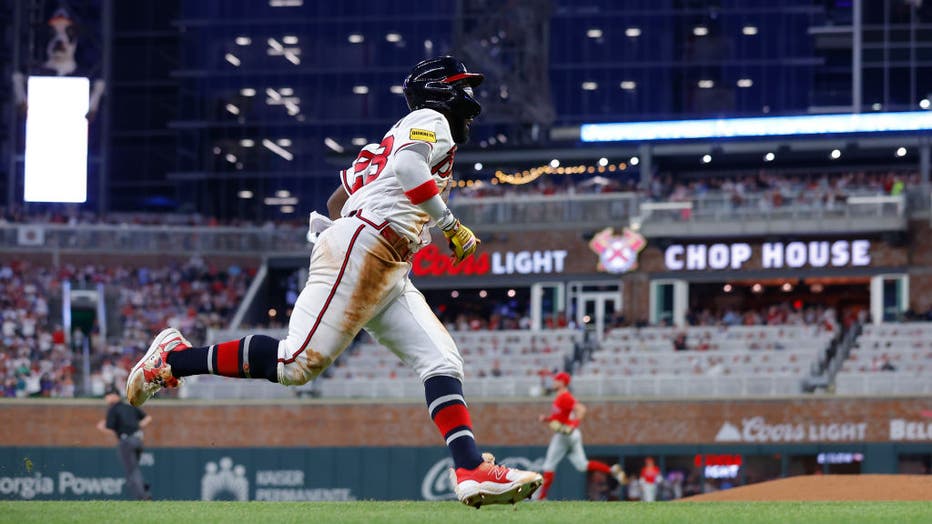 ATLANTA, GA - MAY 28: Michael Harris II #23 of the Atlanta Braves rounds third on his way to score off a Ronald Acuna Jr. triple during the fifth inning against the Philadelphia Phillies at Truist Park on May 28, 2023 in Atlanta, Georgia. (Photo by T
7:20 p.m. June 9
Giveaway: The first 12,000 fans through the gates will receive a free pair of Braves wayfarer shades.
Play Ball Weekend: Get your little slugger amped up before the big game on the streets of The Battery Atlanta. From 5:30 p.m. to 7:30 p.m., fans can "play ball" on Power Alley between Goldbergs and Yard House. The first 100 kids to play stickball will get a free MLB Franklin bat and ball set.
Friday Night Fireworks: After every Friday home game, fireworks illuminate the sky.
Pregame CMT Hot Prospect Summer Concert Series: Up-and-coming country artists will be performing live on the Georgia Power Pavilion Stage starting at 6 p.m.
4:10 p.m. June 10
Play Ball Weekend: From 2 p.m. to 4 p.m., kids can "play ball" on Power Alley between Goldbergs and Yard House. Again, the first 100 kids to play will get a free MLB Franklin bat and ball set.
Skin Cancer Awareness Day: Emory Healthcare is spreading awareness for skin cancer.
Braves Country 5K: With the purchase of a special ticket, you can register for a 5K and receive a race-shirt and a free game ticket of your choice from June 10 to June 18.
Live Music Series: Enjoy some live music on the Georgia Power Pavilion Stage starting at 2:30 p.m.
1:35 p.m. June 11
Giveaway: The first 6,000 kids through the gates will receive their choice of a free Braves arm sleeve or a softball hairbow.
Play Ball Weekend: From 11:30 a.m. to 1:30 p.m., fans can "play ball" on Power Alley between Goldbergs and Yard House.
Alumni Sunday: A couple of Braves alumni will be signing autographs. Meet infielder Terry Pendleton (1991) and second baseman Glenn Hubbard (1978) at the Georgia Power Pavilion starting at 11:30 a.m.
Kids Run the Bases: What do you do with post-game jitters? After the game, kids 14 and under can run the bases just like the Braves thanks to a partnership with Children's Healthcare of Atlanta.
Sneak Peek to Next Week
Atlanta Summer Beer Fest
4 p.m. - 8 p.m. June 17
Historic Fourth Ward Park; 680 Dallas Street NE, Atlanta
This 21 and up event is still selling tickets. Organizers say there will be live music, all sorts of beers, wines and seltzers and even food. Water is free! Plan to take the MARTA, an Uber, Lyft or cab if you're coming. Learn more.
Come back next week for a look at even more special events happening near you.
Keep up with the latest forecast by downloading the FREE FOX 5 Storm Team app and following @FOX5StormTeam on Twitter.