Teen Thanks Deputies Who Rescued Her from Bad Home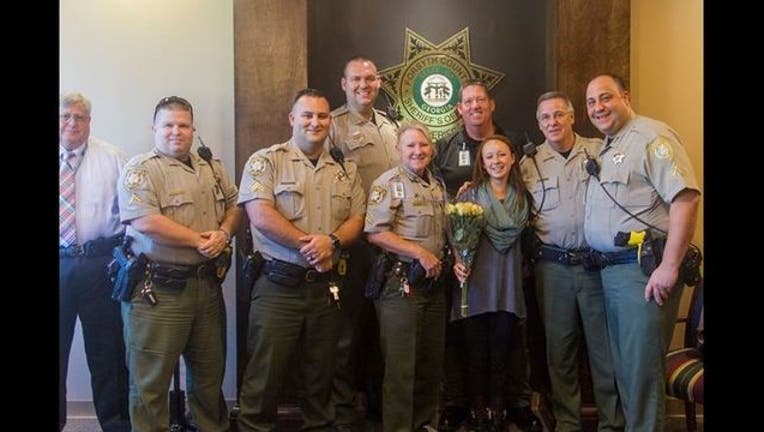 A teenage girl who was rescued a dozen years ago from a bad home has taken time to thank the law enforcement officers who rescued her.
The Forsyth County Sheriff's Office posted Paige's story on their Facebook page, with a photograph of her standing with some smiling deputies.
The post reads, "This young lady warmed our hearts" with her amazing story.
Below are excerpts of the post.
Exactly 12 years ago this past Sunday, Paige was "rescued" from a bad home. At 6 years old, Paige was growing up around drug use, criminal activity, and more. Forsyth County deputies found Paige in a drug house after her biological mother fled the home to avoid arrest.

That day, Paige was taken to foster mom, Mary Kay, and she hasn't left since. Mary Kay adopted Paige and they are an amazing family.

When Paige was about to turn 18, Mary Kay asked her what she wanted to do for her birthday. Instead of the type of party most 18-year-old girls would want, Paige only wanted one thing. She wanted to find everyone that helped her 12 years ago, thank them, and show them who she had become. She has been tracking down doctors, nurses, social workers, teachers, and more.

After working with Mary Kay (who helped us find out that Paige likes yellow flowers) we arranged to meet with Paige and hear her story. Paige shared her sparse memories of what happened 12 years ago. She told us about how her life is different today than what it could have been. Paige wanted to show us the positive outcome of her story because she knows we don't always get to see the people we help.

Paige, you will always have friends here at the Forsyth County Sheriff's Office. Thank you for sharing your story with us!