States dig in against directive on transgender bathroom use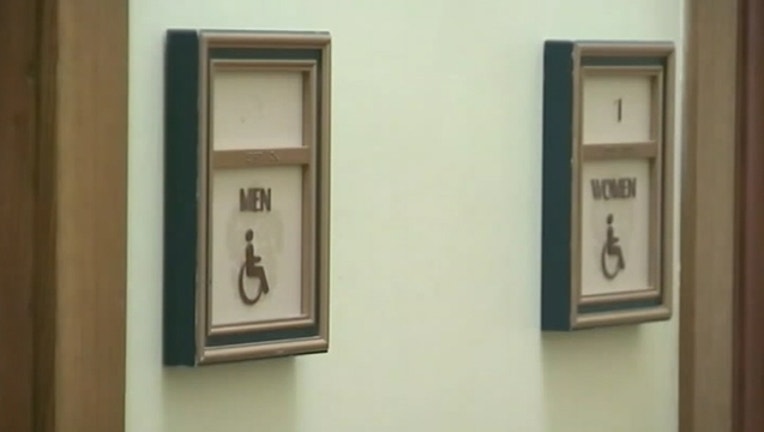 RALEIGH, N.C. (AP) — Politicians in Texas, Arkansas and elsewhere are vowing to defy a new directive from the Obama administration, which says transgender students at public schools have to be allowed to use the bathrooms and locker rooms that match their gender identity.
The lieutenant governor of Texas says his state is ready to forfeit billions of dollars in federal aid, rather than let the Obama administration dictate restroom policy. And the Republican governor of Arkansas is telling schools to ignore the directive, calling it "social engineering."
Governors and top leaders in several other conservative states issued sharply worded statements against the guidance but stopped short of telling schools to ignore it. The Republican leader of the North Carolina Senate says, "The last time I checked, the United States is not ruled by a king who can bypass Congress and the courts and force school-age boys and girls to share the same bathrooms and locker rooms."
But parents of transgender students are welcoming the directive. A woman who has a transgender son at a North Carolina high school says, "Somebody has to speak for the kids." Referring to suicides among transgender people, she said, "It's heartbreaking that these kids are losing their lives because they can't be accepted."
The guidance is not legally binding. The question of whether federal civil rights law protects transgender people has not been definitively answered by the courts and may ultimately be decided by the Supreme Court.
But schools that refuse to comply could be hit with civil rights lawsuits from the government, and the Obama administration could also try to cut off federal aid to schools to force compliance.
%@AP Links
215-a-13-(Kerri Kupec (KYOO'-pahk), communications director, Alliance Defending Freedom, in AP interview)-"in this conversation"-Kerri Kupec, with the Alliance Defending Freedom, says teenagers should not have to deal with the transgender bathroom directive during a very sensitive time in their lives. (13 May 2016)
<
211-a-12-(White House press secretary Josh Earnest, at briefing)-"will implement it"-White House press secretary Josh Earnest says schools will be glad to get this advice from the administration. (13 May 2016)
<
217-a-12-(Bob Farrace (fur-AYCE'), director of public affairs, National Association of Secondary School Principals, in AP interview)-"they are accepted"-Bob Farrace, with the National Association of Secondary School Principals, says transgender students are the most bullied group at school. (13 May 2016)
<
158-a-06-(Lieutenant Governor Dan Patrick, R-Texas, at news conference)-"the federal government"-Texas Lieutenant Governor Dan Patrick says he will be telling school superintendents in Texas to not follow the directive on transgender bathroom use. (13 May 2016)
<
APPHOTO TXMO102: Texas Lt. Gov. Dan Patrick speaks during a news conference at the Texas Republican Convention Friday, May 13, 2016, in Dallas. Texas is signaling the state will challenge an Obama administrative directive over bathroom access for transgender students in public schools. (AP Photo/LM Otero) (13 May 2016)
<