Sons of Confederate Veterans gather again for event at Stone Mountain Park
STONE MOUNTAIN - The Sons of Confederate Veterans gathered Saturday at Stone Mountain in observation of Confederate Memorial Day. 
For the second year in a row, the Southern Poverty Law Center sent a letter to the Stone Mountain Memorial Association, asking for the permit for the event be rescinded for the safety of park visitors and staffs. Local activists, including the Stone Mountain Action Coalition, have repeatedly called for the annual Confederate celebration to be canceled as well.
"The SMMA continues to provide a permit and a platform to the Sons of Confederate Veterans (SCV), a group that exists to keep the Confederacy's lies and propaganda alive. This year's keynote speaker, John Weaver, is a prominent preacher in the neo-confederate hate movement known for supporting succession, slavery, and segregation in the South.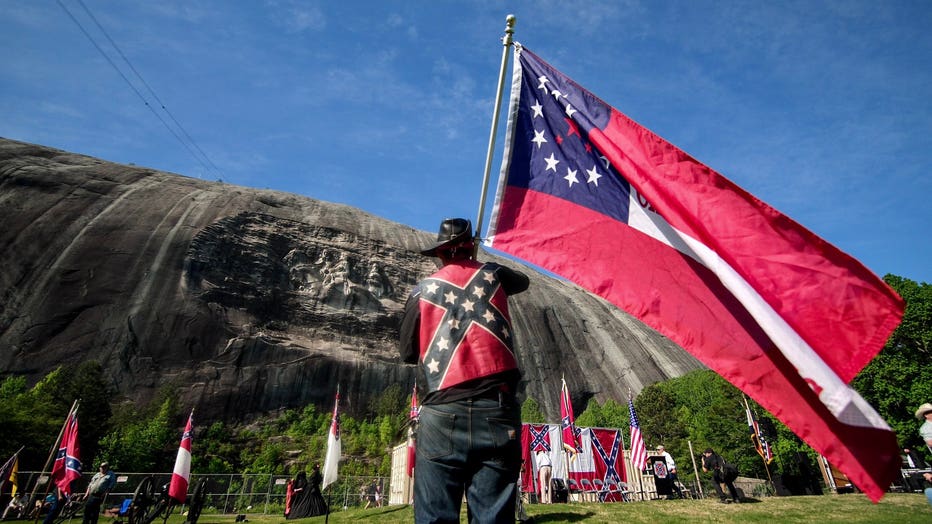 Sons of Confederate Veterans gather at Stone Mountain (Billy Heath/FOX 5 Atlanta)
"As the SPLC has repeatedly stated, allowing SCV to celebrate the harmful ideals of the Confederacy, namely support for white supremacy and slavery, wrongly validates the rhetoric of SCV and its keynote speaker. This sends a dangerous message that Stone Mountain Park is not a safe space for all people to gather free of discrimination or harassment," says the Southern Poverty Law Center.
Groups against the gathering have also asked Gov. Kemp to step in and end the tradition.
The group brought back the yearly event in 2022 after it was canceled in 2021 because of the COVID pandemic and being denied a permit. In 2020, there was a tense, daylong standoff between supporters and protesters. The event was also attended by protesters in 2022, but it was much less confrontational than 2020. The event was canceled in 2019 because it coincided with the 2019 Super Bowl in Atlanta and the park was closed. 
The Stone Mountain Action Coalition reportedly held a press conference at 9 a.m. at Community Books of Stone Mountain to stress the damage that such events reportedly do to the community. After the press conference, its members planned to march to Stone Mountain Park for a protest.
Sons of Confederate Veterans gather at Stone Mountain. Gathering protested. 
The Sons of Confederate Veterans is a neo-Confederate nonprofit organization of male descendants of Confederate soldiers that promotes the pseudohistorical Lost Cause ideology and white supremacy.
Although Stone Mountain is not connected to a Civil War battle, it has become symbolic of the era because of the 17,000-square-foot carving of Confederate leaders on the mountain.  
The Stone Mountain Memorial Association is responsible for overseeing the park. Abraham Mosley, who is a Black pastor, was appointed by Kemp to chair the association two years ago. He is the first Black person to chair the association. 
The Confederate Memorial Day is a holiday observed in several southern U.S. states that recognizes the 258,000 Confederate soldiers who died during the American Civil War.