Group refiles lawsuit over removal of Confederate monument outside Gwinnett Historic Courthouse
GWINNETT COUNTY, Ga. - The Confederate monument that once stood outside the Gwinnett Historic Courthouse is the focus of another lawsuit.
The monument to veterans of the Confederacy was in place in Old Courthouse Square in Lawrenceville, Georgia until Feb. 2021, when the Board of Commissioners voted to remove it. Since then, the monument has been stored away from the public. Last October, the Georgia Supreme Court upheld the decision to remove the monument. 
Now, the Sons of Confederate Veterans have refiled their lawsuit against the county, claiming that the decision to remove the monument was unlawful.
Last year, Gwinnett County NAACP President Penny Poole told FOX 5 the monument is a painful reminder of the past and a symbol of intimidation.
In that same spot in 1911, a Black man named Charlie Hill was lynched.
"The people who live here do not reflect those interests of Confederate monuments that stand as items as hate and distraction for African-Americans," Poole said.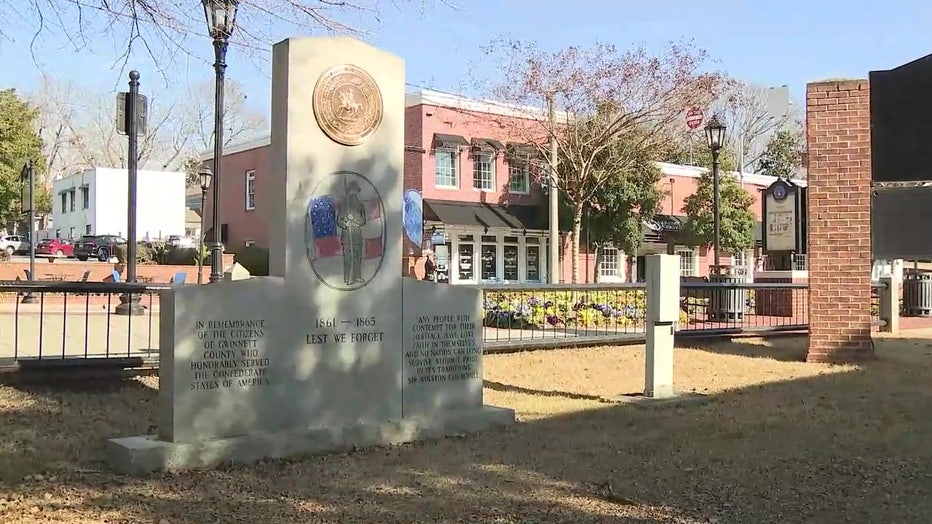 The Sons of Confederate Veterans have filed similar lawsuits in DeKalb, Henry, Newton, and Rockdale counties - all of which have been tossed out in court.
But Martin O'Toole, the spokesperson of the Georgia division of the Sons of Confederate Veterans, said he thinks the merits of the group's case in Gwinnett County are different, so they plan to keep fighting. 
"Well, it won't be the first time we've lost a battle. Maybe we're good Confederates in that respect," he said.
The group doesn't appear to be stopping with this case, saying in a news release that "more lawsuits are forthcoming" against what they called "errant government agencies who thought that they would act with impunity to pander to the mad crowds of iconoclasts."
Gwinnett County has not responded to the lawsuit at this time.