Reckless riders terrorize city, damage patrol car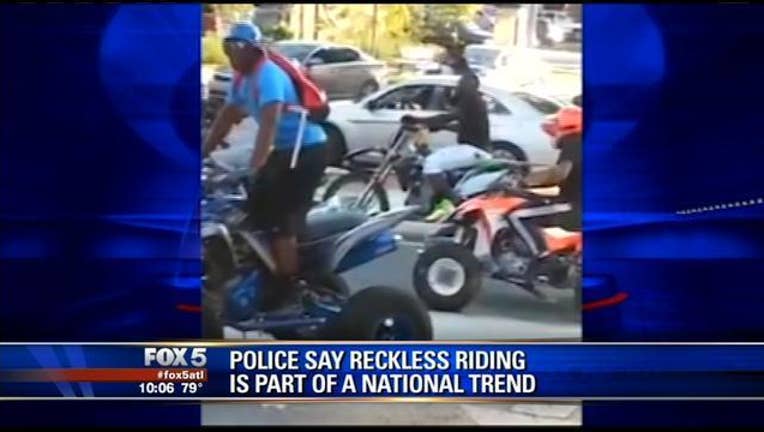 article
Molly Barney thought Hollywood had come to town.
"We thought it was a movie being filmed in Atlanta. It was that strange," she said.
But it was no movie. It was riders on ATV's and dirt bikes on city streets like the Castleberry Hill area.
Police say at Northside Drive and Marietta one of them stomped on and damaged a squad car and it's windshield after the officer from it was injured in a foot chase with the man.
"He had a minor injury to his leg. In the process of that, these individuals circled back to the patrol car, causing extensive damage to the car," said Atlanta Police Officer Ralph Woolfolk.
He says the group was part of a marauding pack of off road ATV's and motorcycles seen near Howell Mill and Huff Roads.
Eyewitness Molly Barney also saw them near Atlantic Station.
"It was a large group coming over the bridge being lead by a gentleman who was in an all up wheelie on his motorcycle, behind him maybe 200 other bikes," said Barney.
Police say there has been a new proliferation of riders on ATV's and dirt bikes committing major traffic offenses in many U.S. cities.
"Not only in the city of Atlanta but this is happening in cities through out the entire country. So we are obviously coordinating with our state partners," said Officer Woolfolk.
Here in Atlanta police tell FOX 5 they cited Demarcus Jordan for reckless driving and driving an off road vehicle on a city street . Police say they arrested Kirk Frost for lots of violations.
"One man was cited for running five traffic lights, for running on the wrong side of the roadway. He was also cited for reckless driving and driving on a city sidewalk," said Woolfolk.
Atlanta Police are asking anyone with information on these reckless riders to give them a call. They're also encouraging any one who may have been in the pack itself to contact them, even if anonymously.