Put apps on your back-to-school list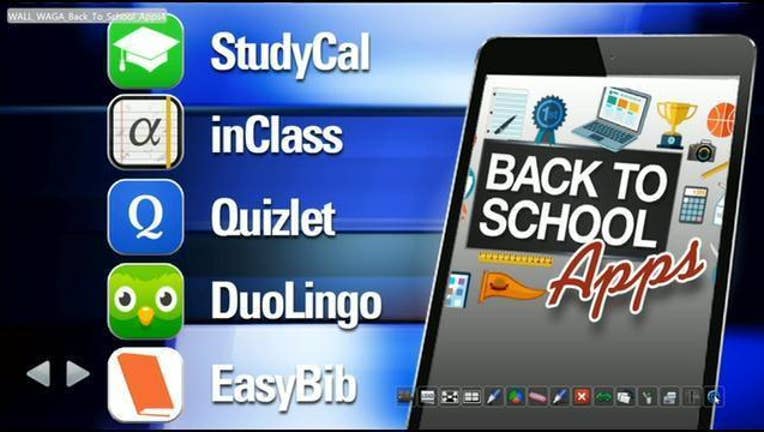 article
Most area children are either back to school now or headed there this week. And not all of the tools they need this year go into a backpack. Let's take a look at some back-to-school apps you might want to know about.

We have apps for students, teaches as well as mom and dad.  We'll look at apps for scanning, for scheduling classes and for studying.  You name it; there's an app for that.
 
Let's start with CamScanner. This is for anybody. You can scan documents on your phone. It saves and emails it as a JPG, a PDF and more. Super handy.

Mom and dad these are for the kids but really for you - KinderClock and LunchBag.

OK, let's start with the first one. How many times in the morning do you say, "We're late!" "Let's go!" Kids just don't always "get" time. So here's help. The KinderClock app is really a timer for the little ones.

This is how it works:  You set the timer, the appropriate number of ducks or soccer balls - whatever you choose - shows up. And the duck ticks off time, removing one duck at a time, until times up! It's a visual kids can use. It costs 99 cents.

Here's another way to make mornings easier - the LunchBag app. It's free and it was created by a 12-year-old boy. It's a lunch menu planner. It's great if you have kids who are now packing their own lunches. They can look at the day's menu and do it.

Now here are five homework and scheduling apps that can be helpful.  There's StudyCal for 2.99. It's a little pricey, and there is inClass which is free to help you remember your schedule, study dates and they include note sharing. Quizlet does what its name implies - it quizzes you on potential test material by using flashcards. Both students and teachers use this free app.
 
DuoLingo – I have this one, too, it's also a free tool to help you practice learning a second language. It reminds you to practice, a little or a lot, every day.

And finally, I wish they'd had this when I was a kid - EasyBib.It's an automatic bibliography generator.  You put in the keys words and it creates the details that make a bibliography a pain to do.

And that's a look at some apps we found. If you have a back-to-school fave, post it to my FB page at Dana Fowle FOX 5.