Prison worker reportedly smuggled escaped convicts tools in hamburger meat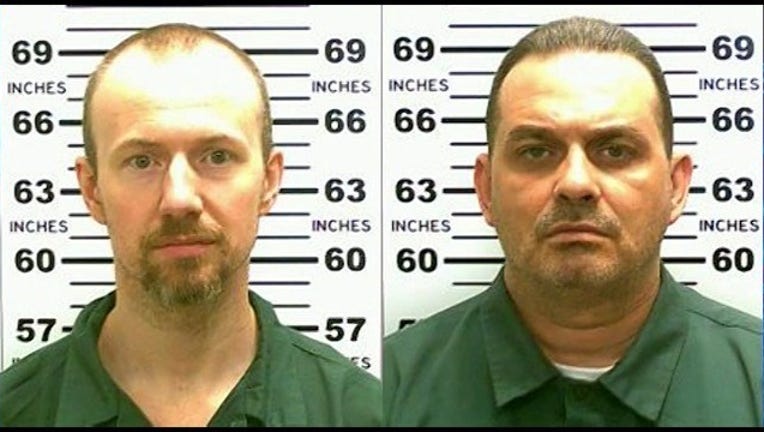 article
A prison worker accused of helping two convicted killers break out of a maximum-security New York jail earlier this month smuggled them vital tools that were concealed inside frozen chunks of hamburger meat, according to a report published late Monday.
Joyce Mitchell, 51, has been charged with felony promoting prison contraband and misdemeanor criminal facilitation in connection with the escape of Richard Matt and David Sweat from Clinton County Correctional Facility on the night of June 5-6. Court documents allege that Mitchell provided the men with hacksaw blades, chisels, a punch and a screwdriver bit in the weeks prior to the escape.
Law enforcement sources told the New York Post that Mitchell came up with the idea to sneak the tools into the jail masked by the frozen food.
Meanwhile, authorities said they had recovered items from a remote cabin in northern New York state, near the Canadian border, that may be linked to Sweat and Matt.
State Police Maj. Charles Guess said at a news conference that authorities had "specific items" from the Adirondack cabin some 20 miles west of the prison and sent them to labs for DNA and other testing. He would not elaborate on the items but characterized the latest search effort — one of many over the past 17 days — as a confirmed lead.
The New York Post reported that among the items recovered from the cabin was a pair of prison-issued boxer shorts. Other items included boots, bloody socks, and at least one set of fingerprints.
The Plattsburgh Press-Republican reported that the cabin is leased by a group of corrections officers, though there is no indication the escaped inmates knew this.
Terry Bellinger, owner of nearby Belly's Mountain View Inn, told the Associated Press that a hunter, identified by the Press-Republican as corrections officer John Stockwell, told him he saw a man run into the woods as he approached the camp Saturday on an ATV. When the hunter went into the cabin, he noticed two things out of place: a jug of water and an open jar of peanut butter on a table. Bellinger said the hunter went to his restaurant, where he talked to police for several hours.
"He was visibly shaken. He wanted a glass of water," Bellinger said. DNA results received by police Sunday confirmed that at least one of the inmates had been at the cabin.
John Stockwell's wife, Nancy, described the cabin to the Press-Republican as having few amenities. The cabin is powered by a generator and it is equipped with a sink, a gas stove, and wood stove, and an outhouse. However, it does not have a phone.
Sweat, 35, was serving a life sentence without parole for killing a sheriff's deputy. Matt, 48, was doing 25 years to life for the 1997 kidnapping, torture and hacksaw dismemberment of his former boss.
Authorities say she had talked to the inmates about killing her husband, Lyle, who also works at the prison. Andrew Wylie, Clinton County district attorney, said Joyce Mitchell told authorities that she and Matt discussed having Matt and Sweat go to her house after they escaped to kill Lyle Mitchell.
Monday's search area is about 20 miles east of Mitchell's home in Dickinson Center.
The Associated Press contributed to this report.