Petland Kennesaw accused of selling sick pets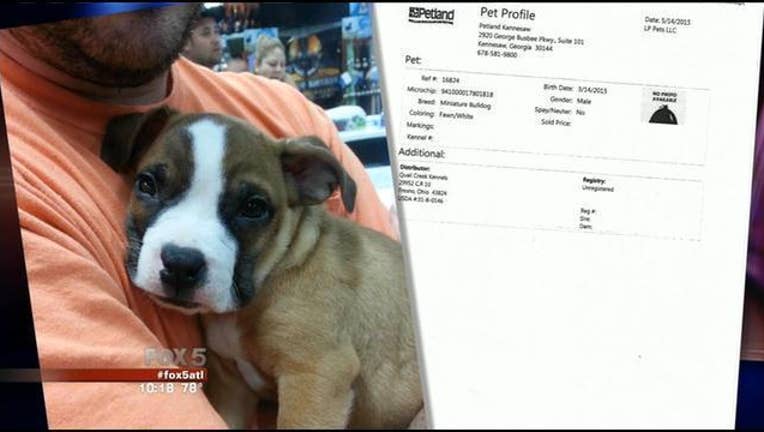 article
Not many people can resist the gravitational pull of a puppy.
But former customers of the Petland in Kennesaw claim the popular Cobb County pet store sold them puppies with serious diseases.
The Georgia Department of Agriculture has lifted a quarantine order put in place after a puppy sold at the Kennesaw Petland was diagnosed with distemper.
That was Kacie Crowley's puppy.
"I don't trust a single word they told me in the store," she said. "I never want to go back there again."
Kacie fell head first for Frank, listed by Petland as a miniature Bulldog brought to Georgia from Quail Creek Kennels in Ohio at 8 weeks old.
At 11 weeks Frank headed to his new home.
At 12 weeks he had tested positive for pneumonia, kennel cough and distemper, the vet saying Frank was close to dying.
"Basically, it's every day," lamented Kacie. "I just go to work in paranoia and come home in paranoia that I'm going to come home to a dead dog."
Kacie became the latest Petland customer to file a complaint accusing the hugely-popular pet store of selling her a sick animal.
A FOX 5 I-Team analysis of Georgia Department of Agriculture and Better Business Bureau records reveals recent complaints about a puppy with mange, a puppy with bronchial asthma, animals so sick they required $1000's in vet care.
The Kennesaw Petland is a family-run franchise with family photos prominently displayed on their website. Owner Brad Parker says they've sold more than 20,000 pets over the last 15 years with only a small fraction ever getting sick.
"Like any living animal, they can develop illnesses," he said. "They can get colds."
But critics such as Paws for a Cause now stage regular protests outside the store. Many others have posted their own horror stories on a Facebook Page called "Shut down Petland in Kennesaw Georgia."
"By the next morning her hair was falling out," remembered Charnelle Smith. "And it was like in chunks. I'd put her on my shirt and it would be like hair everywhere."
Just weeks after Charnelle brought home Meiko, her vet diagnosed the Yorkie-poo with pneumonia, severe weight and hair loss and difficulty breathing.
I could see her microchip bulging from her hairless skin.
"It's a green chip and it shown visibly through her skin at the time," said Charnelle.
Petland Kennesaw's owner declined an on-camera interview, saying he couldn't talk about Meiko or Frank while their claims were being handled. Brad Parker says they always pay medical bills if a customer agrees to take a sick pet to the store's preferred veterinarian.
"My type of business is the safest place for anyone to buy a pet. We're the only place that's regulated by the government, state and federal. We're the only places that have a warranty in place and stand behind our dogs. And we do everything we're supposed to do."
Upset customers aren't impressed.
Randy: If you couldn't see that he was sick, how could Petland know that he was sick?
Kacie: Well, because obviously I was only with him a short period of time. And Petland claimed they had him for two weeks.
Attorney Tamara Feliciano represents both customers.
"It's the health of these animals once they're getting to Petland that is of concern," she said.
The state ordered a quarantine at Petland when Frank was diagnosed with distemper, results confirmed by UGA's vet school. Petland said it quarantined 13 other dogs, many that arrived with Frank from that out-of-state breeder. No other puppies tested positive for distemper.
The state lifted the quarantine last week.
But we spotted an obvious health problem when we paid an undercover visit to Petland Kennesaw. Workers and customers handling puppy after puppy without washing their hands.
"In a pet store environment, how important is it to have customers wash their hands in between handling puppies?" I asked Briaricliff Animal Hospital veterinarian Dr. Clay Phillips.
"Very, very important," he answered. "Washing your hands is the biggest thing you can do."
Petland's owner agrees. Brad Parker said it's policy for all his staff to use hand sanitizer between handling puppies and to encourage customers to do the same.
The day of our undercover visit, the Kennesaw Petland was jammed with excited children and curious adults. No sales people told us to wash up. Instead, we got handed puppy... after puppy... after puppy... plus a couple of cats.
Finally, we took it upon ourselves to use the hand sanitizer. We also noticed staff handling multiple puppies without washing up, either, passing various puppies to eager children walking around the sales floor.
Petland's owner admitted his staff needs more training to understand the importance of germ control.
"For distemper, flu or really for any virus, it's fairly easy to catch for sneezing, being on the hands, not cleaning properly," stressed Briarcliff's Dr. Phillips. "I would hope a pet store, shelter or anything else would have the same protocol from one dog catching something from another dog, especially a puppy."
Frank is recovering from his bout with distemper. His vet says we won't know for years whether the bug he caught has already caused neurological damage.
"I basically feel as though they sold me a sick puppy," Kacie said. "Basically, half a puppy because he's not healthy."