Peachtree Road Race 2023: Remainder of race canceled due to weather
ATLANTA - The remainder of the Peachtree Road Race has been canceled due to a bout of bad weather that swooped into Atlanta late Tuesday morning.
The cancelation came near the end of the event, which had thousands of runners and walkers head to Peachtree Street for one of Atlanta's biggest Fourth of July traditions.
Americans Daniel Romanchuk and Susanna Scaroni were the first winners to cross the finish line, taking the top spots in the men's and women's wheelchair division race shortly after 7 a.m.
This was Romanchuk's sixth consecutive win in the category, tying him with Craig Blanchette for the most wins for a male elite wheelchair racer.
"We had a pretty big group until the bottom of the downhill, which was a little bit different than normal," Romanchuk said. "It was a different and exciting year."
In the women's elite division, Hailyu Fotyen Tesfay pulled ahead of the pack to get her first win at the race with an unofficial time of 30:47.7.
Tesfay beat the favorite and 2022 year winner Senbere Teferi, who shocked the crowd when she accidentally took a wrong turn moments before the finish line. Teferi ended up coming in third.
A final burst of speed led Charles Langat to take the men's elite division with an unofficial time of 27:42.  
Race participants spent much of the weekend preparing, while organizers spent Monday finalizing preparations for the big day.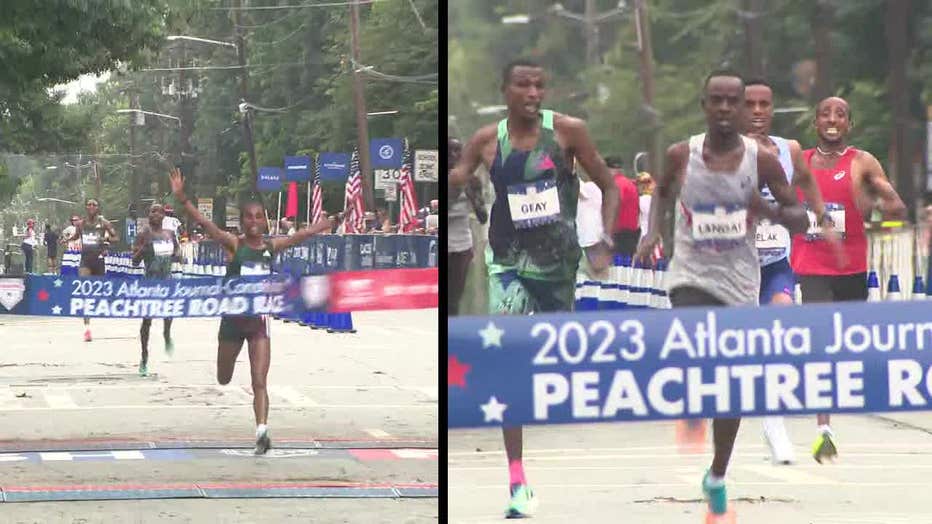 OLDEST WHEELCHAIR-USER IN PEACHTREE ROAD RACE SHARES INCREDIBLE STORY ON WILLPOWER
"Just putting those final pieces in place at the finish line six miles from here," Kenah explained. "I'm standing right here at the start line, and we'll start about midnight."
This year's race is set to bring out more than 50,000 participants. Even more are expected to turn out for the virtual race. It's the largest turnout since before the pandemic.
"We're grateful we can still call ourselves the world's largest 10K," Kenah said.
The course begins near Lenox Square Mall and Phipps Plaza and runs a little more than six miles passed SCAD and through Midtown to end on 10th Street.
AFTER 53 YEARS, PEACHTREE ROAD RACE LEGEND TO CROSS FINISH LINE 1 LAST TIME
Drivers can expect to see road closures along the six-mile stretch beginning at 4:30 am.
Streets that'll be partially blocked include: Lenox Road, Peachtree Dunwoody Road, Oak Valley Road, Prichard Road, Kingsboro Road, Lakeside Road, Wieuca Road, Phipps Boulevard and portions of Buckhead Loop.
"Anyone who is driving anywhere and you are crossing over Peachtree, make sure you do that before 5 a.m. because after that, you're going to have difficulty," Kenah explained.
With a heat wave brought on by the month of July, organizers said runners should dress accordingly, stay hydrated and pace themselves.
"We expect the typical Atlanta conditions for tomorrow and that's hot and humid," Kenah said. "Last year, we did have two very serious cardiac arrests on the course. Thankfully, both were good outcomes but that's one of the reasons that we talk about in these hot humid conditions to take it slow…we don't want to see you at our medical tent."
Kenah said reminders about the race conditions deemed a "code yellow" will be posted throughout the course where runners can see them.
The start line at Lenox Square closes at 8:40 a.m. The finish line near Piedmont Park will close at 10:45 a.m., so Peachtree Road should be back open to traffic by 11 a.m.
(Billy Heath/FOX 5 Atlanta)
Whether you're heading to the starting line in Buckhead to put your feet to the pavement on July 4th or cheering on family and friends at the finish line at Piedmont Park, here's your guide to navigating Atlanta before and during the race:
Peachtree Road Race road closures
The starting area at Peachtree Road between Lenox Road and Lenox Parkway will be closed beginning at midnight on Tuesday. All other area closures will start at 4:30 a.m.
Peachtree Road from Lenox Road to Peachtree Dunwoody Road
Around Lenox Road from Peachtree Road to Lenox Road
Lenox Road from Peachtree Road to Ferncliff Road
Buckhead Loop from Peachtree Road to GA 400
Phipps Boulevard from Buckhead Loop to Wieuca Road
Wieuca Road from Old Ivy Road to Roxboro Road
Roxboro Road from Kingsboro Road to Peachtree Dunwoody Road
Prichard Road from Roxboro Road to Oak Valley Road
Lakeside Road from Pritchard Road to Kingsboro Road
Kingsboro Road from Roxboro Road to Lenox Road
Oak Valley Road from Peachtree Road to E. Paces Ferry Road.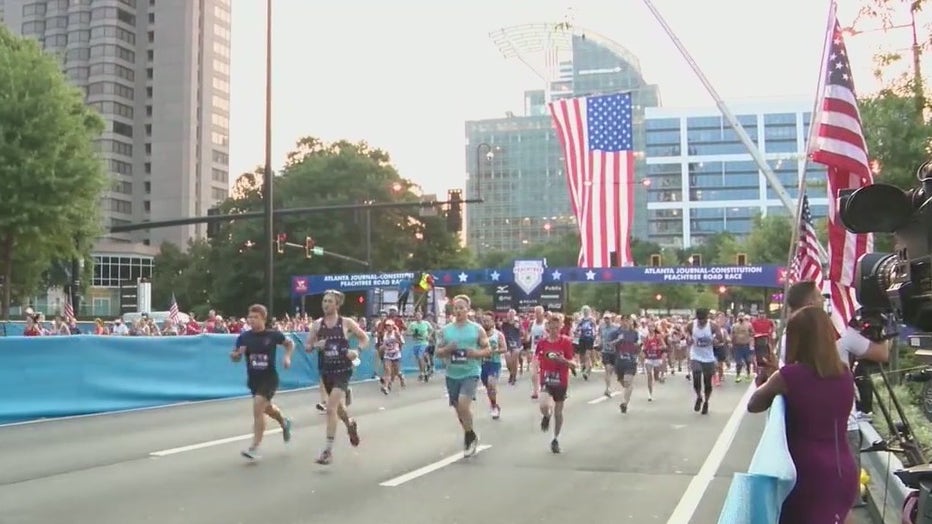 The Atlanta Police Department will close the course to cross traffic once the start area is secure, APD will begin to close the course starting at 5:00 a.m. Around that time, all cross traffic across Peachtree Street and 10th Street will be prohibited.
These streets will be closed near the finish line:
10 Street from Charles Allen to Monroe Drive until 5 p.m. Tuesday
10th Street from Myrtle to Charles Allen until 1 p.m. Tuesday
10th Street from Peachtree to Myrtle until 1 p.m. Tuesday
Monroe Drive from Kanuga to Virginia 5:30 a.m. to noon Tuesday
8th Street from Monroe to Peachtree Street beginning at 7:15 a.m. and ending at noon Tuesday
Peachtree Place from Peachtree Street to West Peachtree beginning at 8 a.m. and ending at noon Tuesday.
Peachtree Road Race parking
Atlanta Track Club members were able to purchase starting line parking online. The lot is located close to the starting line at the Alliance Center Parking Deck at 3424 Peachtree Road. Take the Lenox Road exit off of Ga. 400 North or Ga. 400 South at 5 a.m.
If you've purchased the parking, you should have received a hang tag and a prepaid parking ticket for exiting the parking deck
Participants and spectators are encouraged to use MARTA, which will begin service early on race day.
Lenox Station on the gold line is closest to the starting line. Midtown or Art Center stations provide the most convenient access to the finish line.
This year's special MARTA Breeze Card is a sticker made just for the Peachtree Road Race that can be scanned like any normal Breeze card. If you've purchased the card, you either have the sticker placed on your runner bib that was mailed to you or you will receive it at the Peachtree Health & Fitness Expo.