After 53 years, Peachtree Road Race legend will cross finish line 1 last time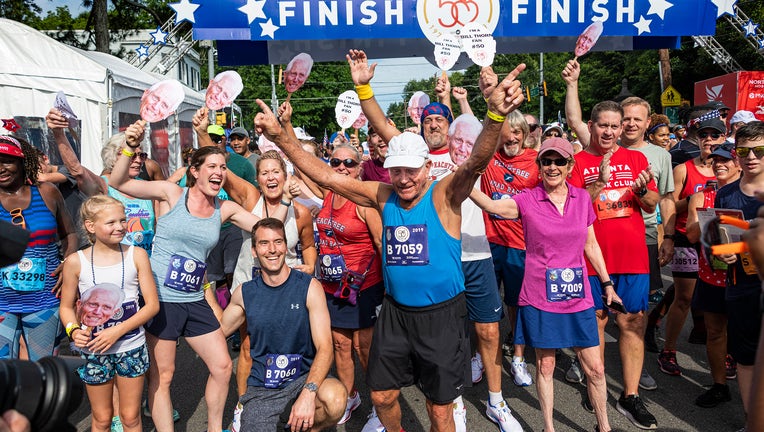 article
ATLANTA - A Peachtree Road Race legend is hanging up his running shoes after 53 years of crossing the finish line.
Bill Thorn is one of the "Original 110" finishers who began the Atlanta Fourth of July tradition of running the Peachtree Road Race in 1970. At 92 years old, he's the only person who has run every single race.
Of those finishers, only Thorn and Don Gamel were still running every year over the decades, but Thorn became the last man standing in 1993.
"It's been really exciting over the years, but there comes a time when you have to let go," said Thorn
This year, Thorn will be honored as the race's Grand Marshal. He'll be chauffeured the 6.2-mile course and dropped off at the finish line to cross on foot one last time.
"There is only one way to stop worrying about not finishing, and that is to just be finished," said Thorn. "I'm going into a new era."
To honor the longtime runner, the race will engrave his name on the Peachtree Cup, usually only reserved for race champions. 
While through the years Thorn has dealt with health conditions - ankle sprains, foot pains, and even prostate cancer - he has remained consistent. Not even the COVID-19 pandemic or his need for a walker due to balance issues has stopped him from his beloved race.
"No one else will ever be able to say they did the first 50," he said.
In 2019, he crossed the finish line with four generations of his family.
"It could've been just a fad," Thorn said that year. "But as you go along through the years, people like Julia say to me every once in a while to 'keep going,' and that was really encouraging, and so it just became a year after year thing."
That same year, Thorn retired from his job as a coach at Fairburn's Landmark Christian School, where he coached for 64 years.
Along with the trophy honors, the race will also put up a signing wall at the Peachtree Health & Fitness Expo presented by Publix, where race participants can write Thorn a note congratulating him for his years of participation.