Parents killed in home invasion while children inside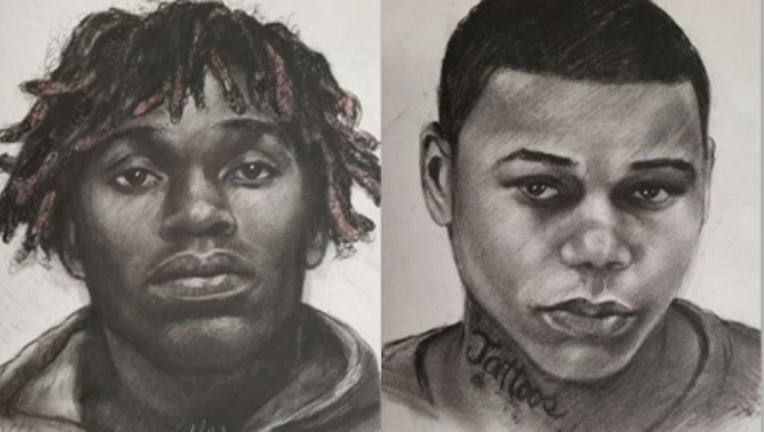 CLAYTON COUNTY, Ga. - A manhunt is on for the two suspects who shot and killed two parents in their Clayton County home, while their children were inside. 
Police said the men in sketches released Wednesday afternoon are responsible for the killings of Dectric Searcy,42, and Scherell Venisee, 37.
WATCH: Police seek answers in horrifying crime

Police said shortly after midnight Monday, the victims were ambushed by the men at their home off Chester Lane in Ellenwood. Police said at least one of the men shot Searcy and Venisee while they were in the garage, then both men fled. 
Investigators describe suspect number 1 as a black male in his late 20's to early 30's with a "skinny/weak" build. He is clean shaven with red or pink tips on twists in his hair. 
Suspect number two is around 5'8" or 5'9" with tattoos on the side of his neck and a low cut hair style. He is described by police as a black male in his mid 20's with no noticeable facial hair. 
Officers tell FOX 5, they believe the murders could possibly be drug-related, as a felony amount of illegal substances were found in the home.
Neighbors in the Wood Estates community said they were terrified and heartbroken by the crime.
"It really bothered me when I heard the news. My condolences go out to the family," said neighbor Mario Houston, who runs barber shop IC Cuts out of his home, and serviced Searcy as a client. 
Neighbors said they plan to add more surveillance cameras and alarms to their home, as they are concerned the suspects may return to the neighborhood. 
If you have any information on either of these suspects, police urge you to contact Crime Stoppers Atlanta at 404-577-TIPS. 
NEXT ARTICLE: Authorities seeking information on skeletal remains