Oscars 2023: List of best picture nominees and what our critics thought
LOS ANGELES - Nominations for the 95th Academy Awards have been announced, and the lineup features a much more commercially-successful group of films than in previous years. We're looking at you: "Top Gun: Maverick," "Elvis" and "Avatar: The Way of Water." 
Sure, many movie-goers still flocked to their streaming services for the latest movies, but the year also appeared to focus on re-opening movie theatres and the return to better feature films.
"Everything Everywhere All at Once," a sci-fi adventure, led the nominations for the Oscars, picking up 11 nods. "The Banshees of Inisherin" and the German-language "All Quiet on the Western Front" each had nine.
Below are a list of the Best Picture nominees and FOX Television Stations' critic reviews of them.
'The Fabelmans'
Spielberg and his co-writer Tony Kushner (who previously scripted "Munich," "Lincoln" and last year's "West Side Story" remake for the filmmaker) linger in Sammy Fabelman's (Mateo Zoryon Francis-DeFord) childhood as he becomes obsessed with shooting movies. His mercurial pianist mother recognizes this fixation as a calling, while Burt (Paul Dano), his more practical-minded engineer father, sees it as more of a neat hobby. But much of "The Fabelmans" takes place later, in Sammy's teenage years, after Burt's career moves them from New Jersey to Arizona (and, later, California).

FULL REVIEW: 'The Fabelmans' review: Spielberg's spellbinding, unsentimental origin story

That ambiguity over the "why" of making movies — even spectacular ones — is part of the movie's significant metatextual dimension. In a way, it complements the way Spielberg's films, especially in the second half of his career, have been misinterpreted through the filter of what audiences and critics expect from him — a filter that has sometimes blocked out his complexities and nuances.
'The Banshees of Inisherin'
With fantastic early buzz out of the Venice and Toronto film festivals, the dark comedy "The Banshees of Inisherin" shaped up to be a major player this awards season. 
EARLIER: Six fall movies that could score big this awards season
Particularly for Colin Farrell, who stars as an Irish man named Pádraic who's shocked when his lifelong pal Colm (Brendan Gleeson) suddenly ends their friendship. Confused, Pádraic sets about trying to repair the relationship at any cost — even as Colm delivers a hefty ultimatum. And while that might sound like a simple premise, it could be something special in the hands of writer/director Martin McDonagh ("Three Billboards Outside Ebbing, Missouri"), who previously made magic with Farrell and Gleeson in the 2008 dark-comedy crime thriller "In Bruges." 
Women Talking
Based on a novel by Miriam Toews, "Women Talking" has deceptively simple premise: Eight Mennonite women meet in secret in a hayloft to discuss acts of gendered violence that have been committed in their isolated religious community.
RELATED: Top 10 movies of 2022 revealed: 'The Fabelmans,' 'Nope' make list
What follows is an urgent, poignant discussion about how to reconcile faith, forgiveness and community with trauma, accountability and self-determination. It's a "conversation about how to remake a broken world," according to writer/director Sarah Polley. And with a star-studded cast that includes Frances McDormand, Rooney Mara, Claire Foy, Jessie Buckley and Ben Whishaw, "Women Talking" has already emerged as a critically acclaimed standout of the festival season — one that could very well ride that wave to awards season gold. 
TÁR
People magazine praised another personal favorite that also sharply divided critics, the daring, but overly long "TAR." "Cate Blanchette gives a thundering performance that would make Beethoven roll over," wrote critic Tom Gliatto. 
"To know Lydia Tár is not to love her, exactly, but the mercurial conductor is impossible to stop thinking about," David Sims of The Atlantic agreed.
Todd Field's film, his first in 16 years, focuses on Renowned musician Lydia Tár, who is days away from recording the symphony that will elevate her career. When all elements seem to conspire against her, Lydia's adopted daughter Petra becomes an integral emotional support for her struggling mother.
Everything Everywhere All at Once
"Everything Everywhere All at Once" encompasses concepts as vast as the entire multiverse and as intimate as a middle-aged woman (Michelle Yeoh's Evelyn Wang) reconnecting with her fractured family — even if she has to do so by tapping into every possible version of herself from the vast web of universes that connect us to every decision we never made.
WATCH INTERVIEW: 'Everything Everywhere All At Once' directors on the power of Michelle Yeoh
It's a film as dizzying in its ambition as it is hilarious, with filmmakers Daniel Kwan and Daniel Scheinert leveraging all the high-tilt chaos they perfected in music videos like DJ Snake and Lil Jon's "Turn Down for What?" to launch audiences into a world where anything is possible — and just might happen right in front of you.
Top Gun: Maverick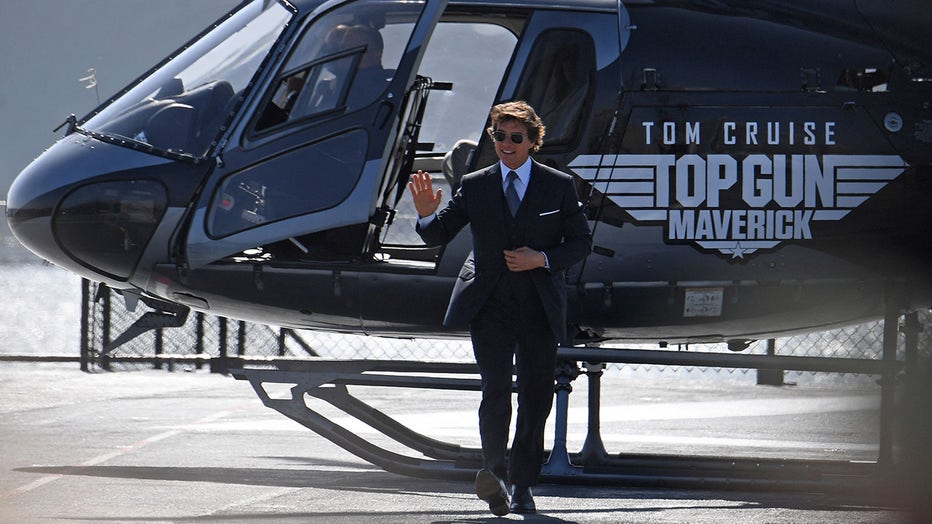 US actor Tom Cruise arrives in a helicopter to the world premiere of "Top Gun: Maverick!" aboard the USS Midway in San Diego, California on May 4, 2022. (Photo by Robyn Beck / AFP) (Photo by ROBYN BECK/AFP via Getty Images)
More than three decades later, the sequel "Top Gun: Maverick" offers a double dose of nostalgia — both for that 1980s original and for the halcyon Americana it evoked in the first place. 
FULL REVIEW: 'Top Gun: Maverick' review: 'Top Gun 2' is a gloriously corny nostalgia fest
It's a pleasure to report that the film largely works on both accounts, at least if you're willing to set aside any sort of moral questions about its inherently propagandistic nature. (The bad guys here are once again a nameless, faceless country known only as "the enemy.") Director Joseph Kosinski is so committed to nostalgia that he even opens the film with a beat-for-beat recreation of the original's opening credits, Kenny Loggins' "Danger Zone" and all. It's a move as carefully calibrated as any of the top-line fighter jets Tom Cruise pilots throughout the movie. And there's a fist-pumping joy to watching an old-fashioned action blockbuster fire on all cylinders, even if its storytelling ambitions aren't quite stratospheric.
Elvis
The absurdity is part of the point of "Elvis." It's important to know that going in, otherwise the film's frenetic opening act might be completely off-putting instead of just mildly overwhelming. Having established his signature glittering style with movies like "William Shakespeare's Romeo + Juliet," "Moulin Rouge!" and "The Great Gatsby," director Baz Luhrmann now turns his camp-flavored maximalism to the King of Rock 'n' Roll, Elvis Presley. And while the result is profoundly uneven, the highs are too high (and too outrageous) to be missed.
FULL REVIEW: Movie review: 'Elvis' somehow has both the best and worst performances of the year
More than just a game-changing musician, Luhrmann sees Elvis as a mythic American figure or maybe even a full-on superhero — and he positions the tone of his film accordingly, somewhere between Orson Welles' "Citizen Kane" and Sam Raimi's "Spider-Man" trilogy. It's exhilarating and exhausting in equal measure, and even Luhrmann's rhinestone-infused touch can't quite maintain control of this 159-minute behemoth. The film veers wildly from moments of transcendent style-becomes-substance originality to one boring music biopic convention after another. (One scene is set to a Doja Cat diss track; another features one of the most perfunctory "tragic marital breakup" scenes in biopic history.) Perhaps that's why "Elvis" somehow contains both one of the best music biopic performances ever captured on film — and one of the worst.
All Quiet on the Western Front
The Netflix adaptation of "All Quiet on the Western Front," the classic novel about the horrors of World War I, was directed by a German man and is in the German language.
The film tells the gripping story of a young German soldier on the Western Front of World War I. Paul and his comrades experience first-hand how the initial euphoria of war turns into desperation and fear as they fight for their lives, and each other, in the trenches. The film from director Edward Berger is based on the world-renowned bestseller of the same name by Erich Maria Remarque.
Avatar: The Way of Water
Set more than a decade after the events of the first film, "Avatar: The Way of Water" begins to tell the story of the Sully family, the trouble that follows them, the lengths they go to keep each other safe, the battles they fight to stay alive, and the tragedies they endure.
RELATED: 'Avatar 2' makes box office waves with $134M domestic debut
In the 13 years since the first film, "Avatar" has also been the butt of jokes for the perception that the biggest movie of all time, one that has made nearly $3 billion, has left a relatively minor footprint in the culture. But even so, critics have largely been on board with "The Way of Water," not just for the visuals but also for improving on the story of the first. It holds a 77% positive rating from critics on Rotten Tomatoes.
Triangle of Sadness
In "Triangle of Sadness," the first English-language film from Swedish "Force Majeure" director Ruben Östlund, Dean and Harris Dickinson play a celebrity fashion-model couple on a cruise for the ultra-rich that descends into chaos. It also stars Woody Harrelson as the ship's captain.

RELATED: Charlbi Dean, star in 'Triangle of Sadness,' dies at 32

The film won the Palme D'Or at Cannes in May and opens in the U.S. and most of Europe in October. The movie is a dark take on the uber wealthy, and Östlund keenly exposes this with humor and satire. 
When are the Oscars?
The Oscars will be held on Sunday, March 12, at the Dolby Theatre in Los Angeles. The ceremony is set to begin at 8 p.m. ET and will be broadcast live on ABC.
Who is hosting the 2023 Oscars?
Jimmy Kimmel will take the stage to co-host the ceremony who previously hosted the Oscars in 2017 and 2018.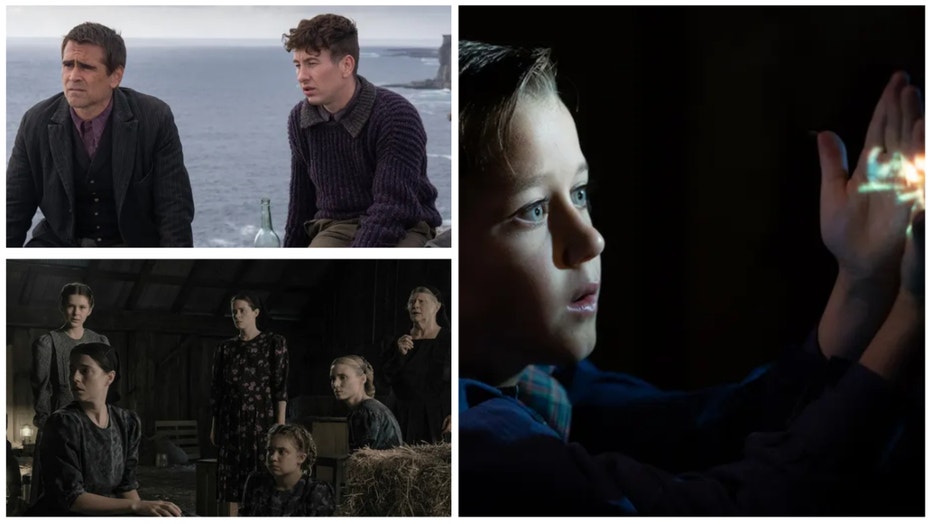 "Everything Everywhere All at Once," led this year's nominations for the Oscars, picking up 11 nods. "The Banshees of Inisherin" and the German-language "All Quiet on the Western Front" each had nine.
"Jimmy is the perfect host to help us recognize the incredible artists and films of our 95th Oscars. His love of movies, live TV expertise, and ability to connect with our global audiences will create an unforgettable experience for our millions of viewers worldwide," said Academy CEO Bill Kramer and Academy President Janet Yang. "With Kimmel, Weiss and Kirshner's fresh perspective and masterful guidance, the Oscars will celebrate its rich 95-year history, the collaborative nature of moviemaking, and our diverse, dynamic and deeply creative community of filmmakers."

Allison Shoemaker, Caroline Siede and FOX TV Stations contributed to this story.