Online account set up for slain Gwinnett County family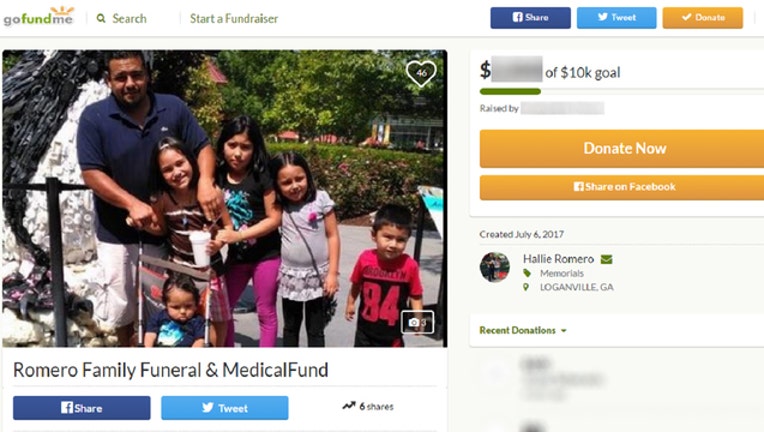 GWINNETT COUNTY, Ga. - Family members of the man and four young children who officers found stabbed to death in Gwinnett County Thursday morning are trying to raise money for the sole survivor and to pay for funeral expenses for five other loved ones.
App users: View full article here
Gwinnett County Police said Martin Romero, 33, Isabela Martinez, 10, Dacota Romero, 7, Dillan Romero, 4, and Axel Romero, 2, were stabbed to death by Isabel Martinez, 33, their wife and mother. The sole survivor, identified by family members as Diana, is expected to remain in the hospital for at least two weeks recovering from the violent attack.
On a GoFundMe page set up for the victims, family members wrote:
"My name is Hallie Romero and I am a member of the family. Our family has suffered the tragic loss of five members of our immediate family. The burden of funeral costs is a lot for our family, and any help would be greatly appreciated.
%INLINE%
"The sole survivor of this tragic event, Diana who is pictured above, is still in the hospital and expected to stay there for another 2-3 weeks to recover from her injuries. Your donations would cover any medical costs incurred from the hospital as well as the funeral costs for the five deceased.
"God Bless, and we thank you from the bottom of our hearts for any and all help."
Isabel Martinez is expected to remain in a Gwinnett County Jail cell charged with multiple counts of murder and aggravated assault.
Anyone who would like to donate can do so by going to gofundme.com/romero-family-funeral-medicalfund.
RELATED: Police: Mom in custody after husband, 4 children stabbed to death