Offset and Quavo reunite for tribute to Takeoff at BET Awards
LOS ANGELES - Former Migos members Quavo and Offset reunited for a powerful tribute to their fallen bandmate and family member Takeoff at Sunday's BET Awards.
It's been over seven months since Takeoff, whose given name was Kirsnick Khari Ball, was killed by gunfire outside a private party at a Downtown Houston bowling alley. Two others were injured in the shooting.
Police believe the shooting happened after a high-stakes dice game at a private party. There was an argument that occurred after the game that erupted into gunshots.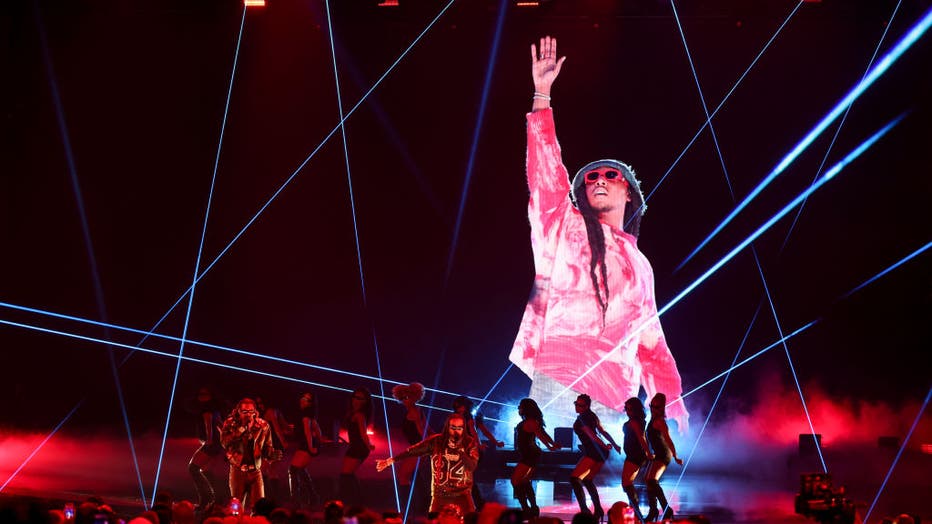 Quavo and Offset of Migos perform in front of a photo of Takeoff at the BET Awards 2023 held at Microsoft Theater on June 25, 2023 in Los Angeles, California. (Photo by Christopher Polk/Variety via Getty Images)
Takeoff was an unarmed and a bystander, investigators said. 
QUAVO HONORS TAKEOFF ON LATE MIGOS MEMBER'S 1ST BIRTHDAY SINCE DEADLY SHOOTING
Despite friction between the pair - including a rumored fight before a tribute to the late rapper at the Grammys - Offset and Quavo surprised the crowd with a performance of "Bad and Boujee" in front of an image of Takeoff.
"BET, do it for Take," the duo shouted near the beginning of their set, as their backdrop switched from the image of a space shuttle to one of Takeoff pointing in the air.
The set marks the first performance for the Migos bandmates together since Takeoff's death.
Offset's wife Cardi B showed her appreciation for the touching moment on Twitter, writing, "I can't take It right now," along with crying emojis.
"Proud of the boys," she wrote.
Other highlights from the award show included Busta Rhymes taking home the lifetime achievement award and Patti LaBelle honoring the late Tina Turner with a performance of the singer's hit "The Best,"
Who is Patrick Clark, Takeoff's alleged killer?
A month after the deadly shooting, officials arrested and charged Clark with murder.
Investigators say they reconstructed the shooting to confirm ballistic evidence. 
"Through that, we were able to deduce that Patrick Clark is the lethal shooter in the case; that's why he's charged with murder," Burrow said.
According to court documents, shortly after Takeoff's death, Clark "applied for an expedited passport by submitting a travel itinerary for an upcoming flight to Mexico." 
Records show Clark had a large amount of cash. Prosecutors argued he was a flight risk.
The Associated Press and FOX 26 Houston Digital contributed to this report.