Officer expected to recover after being struck by suspect's car, police say
CLARKSTON, Ga. - A suspect accused of striking a Clarkston police officer with a car is in custody, police say.
The suspect evaded police, who later found him in DeKalb County. Police have not identified that suspect.
The Clarkston Police Department officer has since been released from the hospital and is expected to make a full recovery. 
Police said officer William Hilton has been with the Clarkston Police Department since January and was treated for minor injuries at Grady Memorial Hospital.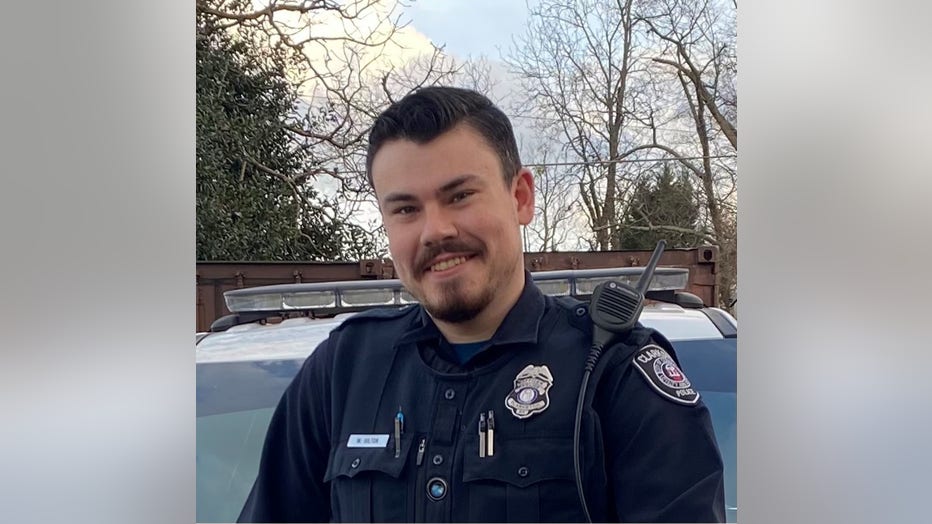 (Clarkston County Police Department)
Police said the officer responded to a domestic violence call at approximately 12:40 a.m. on Sunday at the Clarkston Station Apartments on Montreal Creek Circle.
The officer found an armed suspect at the scene.
The suspect attempted to leave in their car. Police said they instructed the suspect to stop before the car accelerated and struck the officer.
Police said another officer fired one round toward the car.
Police said they later tracked the suspect using their license plate. DeKalb County Police located the car in Stone Mountain. 
Police said DeKalb County Police SWAT executed warrants for the suspect's arrest. Police took them into custody without further incident. 
The suspect is charged with aggravated assault of a law enforcement officer and two counts of criminal damage in the second degree — stemming from the original domestic dispute.
WATCH: FOX 5 Atlanta live news coverage
_____
Sign up for FOX 5 email alerts
Download the FOX 5 Atlanta app for breaking news and weather alerts.