Officer buys groceries for man in need, lifts veteran's spirits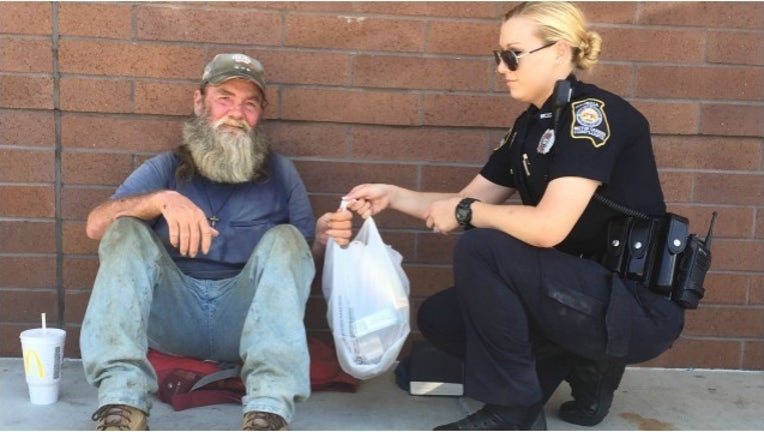 article
COVINGTON, Ga. - A Georgia officer's act of kindness not only helped out a man in need, but lifted the spirits of a Georgia veteran dealing with a family crisis. 
Kory Wilson, a veteran U.S. Army sergeant from Newborn, found out on Tuesday that his sister and niece had been involved in a terrible accident near Nashville. Following the news, Wilson met up with his father at a QT gas station in Covington on Interstate 20. 
As they were waiting to learn more about their loved ones, Wilson said they felt stressed out in the 100-degree heat. The two decided to sit underneath a tiny tree to get some shade as they waited. 
That's when Wilson said he saw a Georgia Department of Public Safety Motor Carrier Compliance officer walk out of the gas station and toward a man, who appeared to be homeless.
"She took one knee and extended her arm, with a bag of groceries," Wilson told FOX 5's Katie Muse.  
Wilson said the kind gesture instantly calmed his nerves.
"I went from being stress out to this calmness as I watched her." 
The officer has been identified as MC01 Alicia Boyce. According to Wilson, she chatted with the man for a few minutes. 
"After about three minutes I told my dad 'I will be right back'. I walked over and thanked her for her service and also for the kind deed," Wilson said. 
As Wilson walked away, he decided to take a picture. 
"It was touching to me to watch this random act of kindness, but especially see it from an officer, that so many view as the enemy this day in time." 
Wilson, who served in the Army for six years, said his sister was flown to a hospital following the wreck. She has been in the ICU ever since, but is expected to recover.