Obama to cite progress on veterans' issues in Monday speech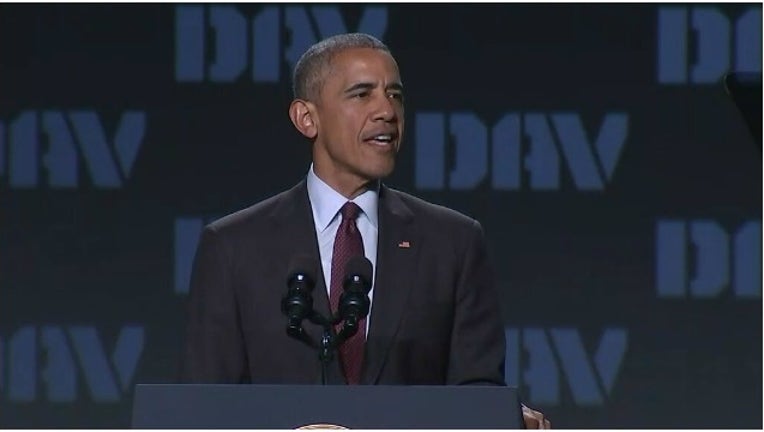 article
WASHINGTON (AP) — In a valedictory address to veterans during a presidential campaign in which their issues have been front and center, President Barack Obama will argue that getting ex-military members the health care and benefits they've earned is a national promise that "can't be broken." He'll also tout administration progress on reducing homelessness among veterans.
Obama will also announce that the administration is halfway toward building a massive database on veterans' health when he addresses the annual convention of the Disabled American Veterans service organization Monday in Atlanta, the White House said.
The president, who leaves office January, plans to use the appearance to recap how he has tried to help former military members, moving beyond headline-grabbing scandals over lengthy wait-times for veterans seeking medical care. Outrage over those delays cost Obama's first Veterans Affairs secretary, retired Army Gen. Eric Shinseki, his job.
Care for America's veterans is a top issue in the presidential campaign, with the nearly 21 million veterans in the U.S. making up a critical voting bloc that Democrat Hillary Clinton and Republican Donald Trump are vying for in November's election. Both Trump and Clinton spoke at the recent Veterans of Foreign Wars convention.
Trump has repeatedly blasted the VA under Obama; Clinton has been less harsh. Both promise to overhaul the department, including its health care delivery. Trump has proposed allowing veterans eligible for VA health care to take their ID cards to any doctor or facility that accepts Medicare to get immediate care. Clinton would make changes to the existing system.
Despite the problems and bad publicity, demand for VA health care continues to grow, increasing 13 percent in the past year, said DAV Executive Director Garry Augustine.
"We know that even though the access is a problem, health care in the VA is very good," Augustine said in an interview.
But he said the health care side "remains to be fixed" and noted the recent conclusion by a congressionally mandated commission that the department continues to have "profound deficiencies" in delivering health care to millions of veterans. VA already has been making changes in line with the commission's recommendations. Augustine said he'd like veterans to be allowed to seek outside care from an approved system of private doctors who know how to treat veterans.
Augustine also expressed concern, shared by the White House, over a backlog of appeals.
While a backlog of disability claims that neared 610,000 in 2013 has been whittled to below 80,000, more than 450,000 appeals are pending. Veterans wait an average of three years for a decision, which the White House called "unacceptable."
"We want to get them both down," Augustine said, referring to both backlogs.
Overall, though, Augustine said veterans appreciate the support they have received from Obama. He cited increased spending on veterans, expanded and better health care for female veterans, tax credits for hiring veterans and strides toward reducing veterans' homelessness, among other issues.
"We feel the president's been very supportive during his administration and we appreciate that," he said.
At the convention, Obama will announce that overall veteran homelessness has been cut nearly in half, by 47 percent. That's still short of his long-held goal of getting it to zero by 2015.
The White House also gives credit to first lady Michelle Obama and Vice President Joe Biden's wife, Jill, for using their initiative on military families to challenge mayors and county officials nationwide to end veterans' homelessness.
Obama will also announce that half a million veterans have voluntarily given blood samples and health data for a long-term government research program. The goal is to enroll 1 million veterans as part of the president's initiative to make "precision medicine," or tailored treatment, a reality.
VA Secretary Bob McDonald, an Army veteran and former president and CEO of Procter & Gamble who succeeded Shinseki, told The Associated Press in an interview that "the president's got a lot to be proud of." He cited the increased spending and demand for VA health care, progress toward cutting unemployment and homelessness, and efforts to streamline claims and appeals.
McDonald argued against privatizing the VA.
When all of us signed up, we signed up with the belief and an obligation that we were going to put our lives on the line, and in exchange for that the country was going to help support us," he said. "I see that from this president. He is going to make it clear ... that this commitment is a national responsibility and a promise that can't be broken."
___
Associated Press writer Kevin Freking contributed to this report.
___
Follow Darlene Superville on Twitter: http://www.twitter.com/dsupervilleap