Music producer strikes a chord during coronavirus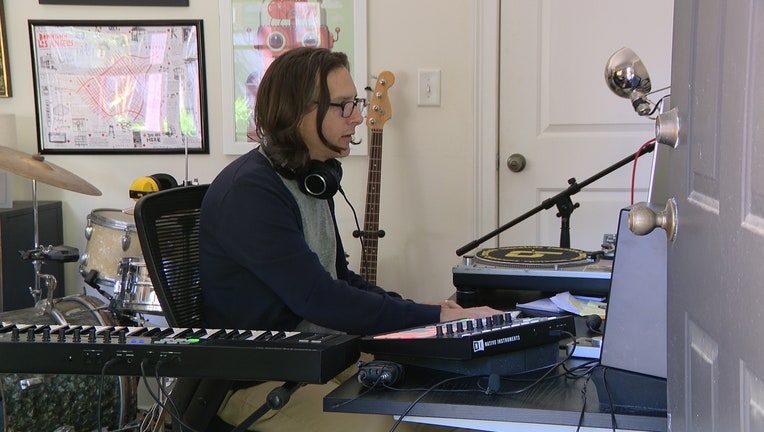 article
ATLANTA - Tough times can sometimes inspire artists to put their skills to work. In the case of one Grant Park musician, his time at home during the coronavirus outbreak is helping others with their own musical goals.
BJ Alden is a music producer, a freelance editor at NBA TV and is also a member of the band "JohnBoy and SurroundSound." His band had just released an album and planned a tour before COVID-19 started interrupting daily life. With shows postponed and his work at NBA TV limited, Alden decided to start a new project.
He posted on NextDoor, the community message board app. He asked people in Grant Park and surrounding neighborhoods if his skills as a music producer could be of any assistance.
"I didn't really have any expectations. It was kind of a whim post, you know?" said Alden.
Sign up for FOX 5 email alerts
This short note seemed to strike a chord. More than a dozen people responded, sending Alden a variety of different music files. 
"They started coming in faster than I expected," said Alden. "It was this vast array of skill levels and talents and backgrounds and types of people and styles of music."
Alden used the music he received in several ways. Some people sent him small samples of instruments being played, which he added other instruments to, making them fuller pieces of music. He also was sent songs that were recorded at home, which he worked on to make more polished and professional. That process included collaboration with other neighbors, who provided mixing and mastering help with the new tracks.
"I feel closer to my neighbors than I really have in the regular routine of my work life, even though we're not connecting on a face-to-face level," said Alden. "It's almost deeper than that because it's on an artistic level. They're collaborators now, and I hope they always will be."
Download the FOX 5 Atlanta app for breaking news and weather alerts.
Alden says he hopes this kind of work can continue even after COVID-19 becomes more under control and life starts getting back to normal.
If you are interested in getting in touch with Alden or submitting music, visit his website: BeatStudies.com
To hear music from Alden's band, JohnBoy and SurroundSound, visit their Facebook page or their website.
App users click here for live updates
Know how the COVID-19 outbreak is impacting Georiga
Best prevention measures:
Wash your hands often with soap and warm water for at least twenty seconds.
If soap and water are not available, use an alcohol-based hand sanitizer.
Avoid touching your eyes, nose, and mouth with unwashed hands.
Avoid close contact with people who are sick.
Stay home when you are sick.
Cover your cough or sneeze with a tissue, then throw the tissue in the trash.
Clean and disinfect frequently touched objects and surfaces
RESOURCES:
Symptoms, testing and how to prepare amid growing COVID-19 outbreak
Who is most susceptible to coronavirus? COVID-19 not just affecting older people
Coronavirus cleaners: These products will kill COVID-19, according to the EPA
Coronavirus and pets: Your cat or dog probably can't get COVID-19, WHO says
Will sick leave protect me if I get ill from coronavirus? 5 questions answered
RELATED: CoronavirusNOW.com, FOX launches national hub for COVID-19 news and updates.
Live map: Tracking coronavirus in Georgia
-----