Members of international theft ring busted: Forsyth County Sheriff's Office apprehends trio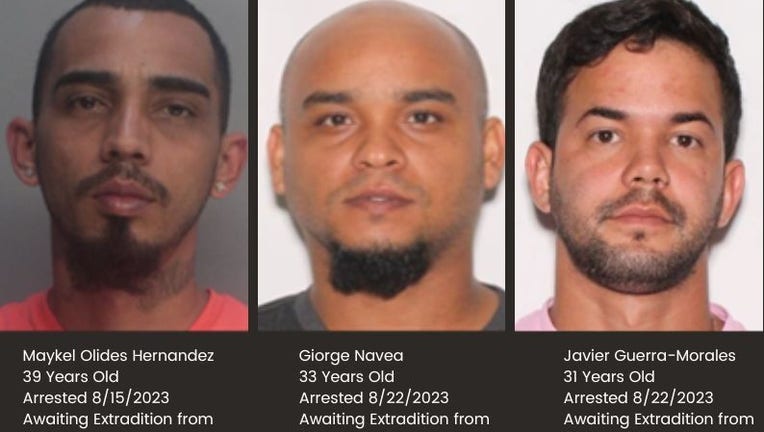 article
FORSYTH COUNTY - The Forsyth County Sheriff's Office (FCSO) has announced the apprehension of three individuals believed to be part of an international theft ring responsible for a series of burglaries and criminal activities across several states.
In a press release issued Thursday, the FCSO revealed that Maykel Hernandez, Giorge Navea, and Javier Guerra-Morales have been arrested on charges related to burglary, smash and grab incidents, and criminal damage to property. These arrests stem from a daring heist attempt at Simon D. Jewelers, located at 2915 Peachtree Parkway, which triggered a swift response from Forsyth County deputies on Dec. 30, 2022.
Upon arriving at the scene, officers discovered signs of forced entry through the business's roof. Thanks to their rapid intervention and the store's security measures, the suspects were prevented from executing their theft plans.
The investigation led FCSO detectives to suspect that the apprehended trio was linked to a larger South American theft group. These criminal networks have exhibited a pattern of targeting businesses and residences across the metro Atlanta area, with their reach expanding to over a dozen states, as per FCSO findings.
Notably, the arrested individuals are also under suspicion for involvement in burglaries and attempted break-ins in local cities such as Marietta, Canton, Alpharetta, and even Knoxville, Tennessee. FCSO has been working in close collaboration with the concerned law enforcement agencies in these areas, sharing information and extending assistance to piece together the activities of the suspects.
Sheriff Freeman praised the diligent work of the Property Crimes Unit, stating, "This is another excellent example of good police work and even better Detective work by our Property Crimes Unit. We are steadfast in our pursuit of these South American Theft Groups and these criminals are quickly learning, South America is where they should have stayed." Sheriff Freeman emphasized the FCSO's commitment to ensuring the safety of citizens, asserting that the boundaries of pursuit and arrest would not be constrained by geographical borders.