Marietta Police track murder suspect across multiple states
MARIETTA, Ga. - Marietta Police say the investigation into a homicide came together in an unusual way. Police say it took law enforcement in two states, plus a woman tracking the movement of her car, for all the pieces to come together in this murder investigation. 
"You have two different jurisdictions working 500 miles apart working simultaneously without realizing it," said Marietta Police Officer Chuck McPhilamy.
Police say a man was found dead in a Marietta motel room last week. Someone stabbed 37-year-old Dearest Morris to death.
"While detectives are on scene and working to contact the medical examiner, they receive a phone call from Virginia stating they have a woman who may be involved in an incident that took place in Marietta," said Officer McPhilamy.
What detectives didn't initially know but later determined, 30-year-old Kieyotta Cooper had visited Morris in his room at the Hospitality Inn on Delk Road earlier in the day. At some point, she took off in a car that a friend of Morris' had loaned him. The car had a GPS-tracking device and the owner of the vehicle got an alert her car was heading into Virginia. 
"The vehicle owner sees it traveling all the way into Virginia and sees it settling in to one area and contacts Virginia authorities," said Officer McPhilamy.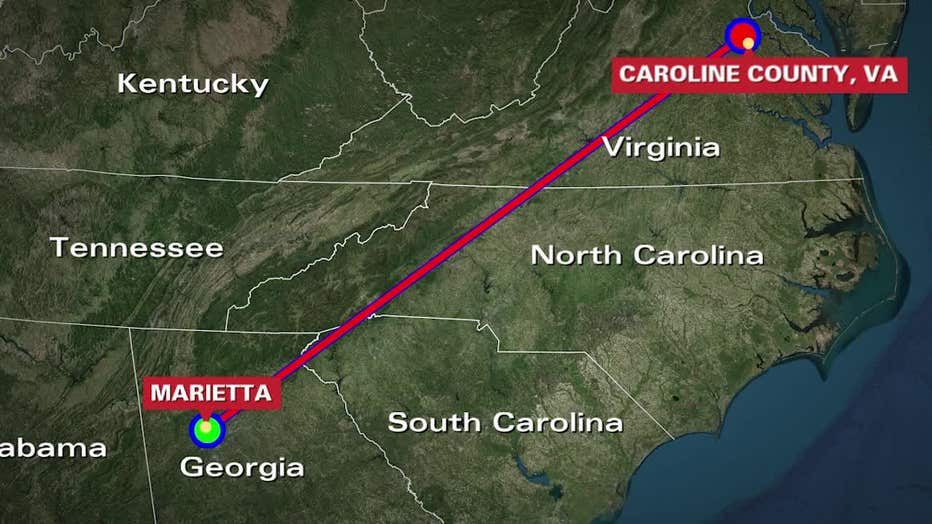 Law enforcement in Virginia pulled over the car and after talking to Kieyotta Cooper, who was behind the wheel, knew something wasn't right. 
"The facts aren't adding up right and they have suspicion she was involved in something that could be as heinous as a homicide," said Officer McPhilamy.
Law enforcement in Virginia called Marietta detectives who were still on the scene at the motel, and police say that's when all the pieces to this murder investigation began falling into place. 
"This is a classic case of two different sets of detectives 500-plus miles apart working together seamlessly to solve something in an unbelievably short amount of time," said Officer McPhilamy. 
Cooper is currently in Virginia facing a number of charges there, including reckless driving. She will later be extradited to Georgia where she will face a number of other charges, including murder.