Marathon Inspiration: A Touching Story Perseverance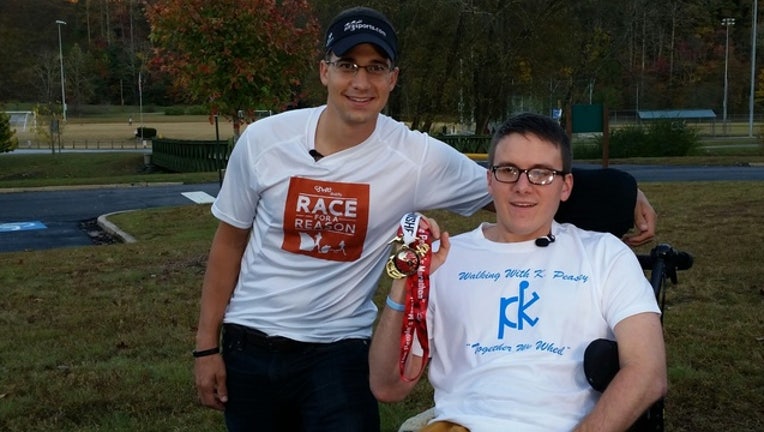 article
DAHLONEGA, Ga. - It's a story of inspiration, reaching goals and overcoming obstacles. Jon Crais and Thomas Odom finished the Marine Corps Marathon together. For anyone, 26.2 miles is an accomplishment, but for Jon, it was a dream come true.
Jon ran track in school. But for the past 22 months he hasn't been able to take a single step on his own. A violent car crash left him with a severe brain injury. Jon missed running, but then he met Thomas Odom through ConnectAbility, a non-profit that helps those with disabilities thrive.
Thomas is an avid runner and after a couple of training sessions they showed up at the starting line of the marathon. Thomas running hard, pushing Jon in his race chair. Jon making jokes and keeping Thomas energized the entire way.
With just a half mile to the finish, they made a pivotal decision. "I asked Jon if he wanted to walk it and he was all for it," said Thomas.
The two stopped just short of the finish line. Several U.S. Marines who were nearby helped stabilize the chair and assisted Thomas as he helped Jon out of the chair. Together they walked across the finish line as the crowd cheered.
"My mom was so loud, I could hear her screaming," said Jon.
Jon showed off his Marine Corps Marathon medal. It's his first marathon medal, but he says it certainly won't be his last.
"I want to do it every year," said Jon.
Thomas said he plans to be right there with him.
"I've run a lot of races, but for me this was different, this was life changing, I don't see ever stopping something like this," said Thomas.