Man seen being beaten by Gwinnett police on video sues for damages
GWINNETT COUNTY, Ga. - A man who was seen being punched and kicked by Gwinnett County police officers on video in 2017 is suing Gwinnett County, former Gwinnett Police Chief Butch Ayers and the officers involved in the incident.
Demetrius Hollins said he now suffers from PTSD, four years after the then 22-year-old was beaten and kicked by former Gwinnett County Police Officers Michael Bongiovanni and Robert McDonald.
"I would like to thank those who stood up for me, right beside me through this tough time," Hollins told reporters during a Wednesday news conference at his attorneys' office.
The complaint, filed Sept. 10, seeks compensatory damages for injuries Hollins sustained in the altercation, punitive damages and attorney fees. 
Cell phone cameras captured the April 2017 incident.  Hollins was driving when he was pulled over by Sgt. Bongiovanni who then reached inside of Hollins vehicle and elbowed him in the face, pulled him out of the car and punched and elbowed him in the face again. Bongiovanni then forced Hollins out of his vehicle and slammed him to the ground, arrested him and then tased him.
As Hollins was handcuffed and lying face down on the ground, Officer McDonald, approached and kicked Hollins in the head. At the time, Hollins was not armed.
"Imagine if what happened to Demetrius had not been captured on video," said Hollins' attorney Justin Miller. "He would've been in jail; he would've been convicted.  These officers would've still been on the street doing the same thing to somebody else."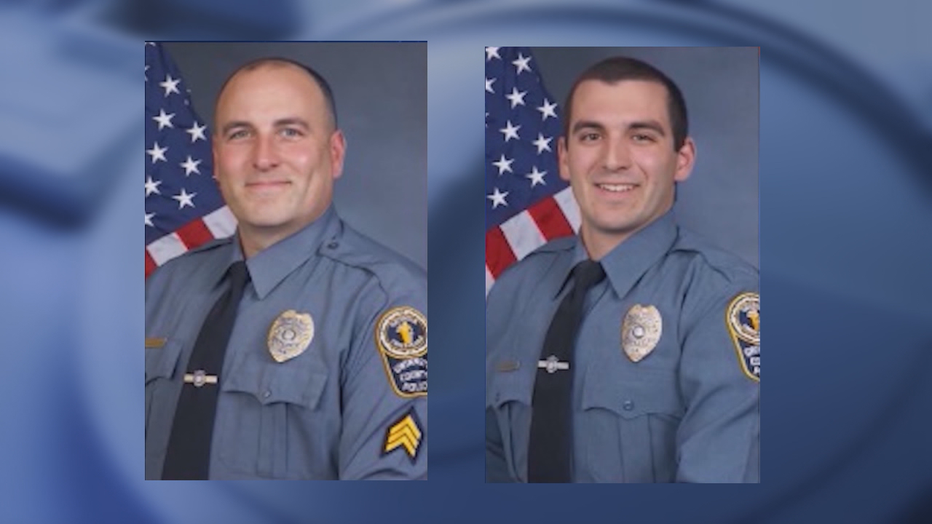 Former Sgt. Michael Bongiovanni and Officer Robert McDonald.
Bongiovanni and McDonald were terminated and charged with multiple crimes. Both men were sentenced to 10 years probation.  Hollins thanked prosecutors who handled the case.
"I believe the Gwinnett County DA office did their best for prosecuting two officers that terrorized me that day," Hollins said. "I'd like to thank people that stood up, fought for me in that tough time. I like to believe the more that we come together as a nation, great things will happen."
WATCH: FOX 5 Atlanta live news coverage
_____
Sign up for FOX 5 email alerts
Download the FOX 5 Atlanta app for breaking news and weather alerts.