Lawrenceville Mom to Receive Kidney Thanks to FOX 5 Viewer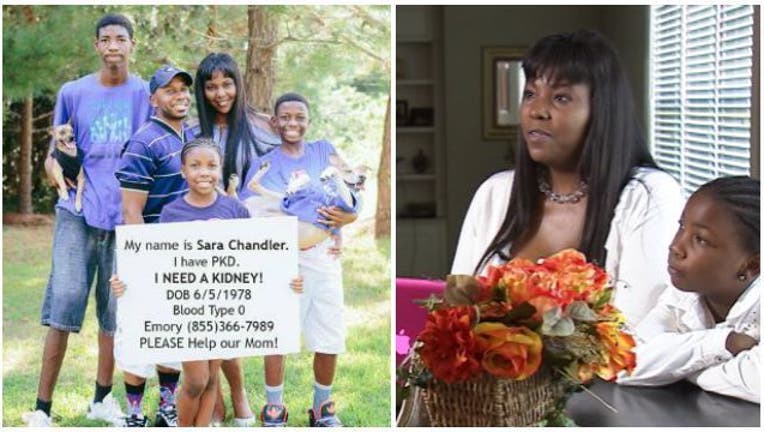 article
A FOX 5 viewer is donating her kidney to a Lawrenceville mother on Tuesday.
Sara Chandler was born with a genetic kidney abnormality (PKD) and doctors had told her she had roughly two to three months to find a matching donor. One of Chandler's friends reached out to photographer Brandy Angel, who takes photos of people in need of any sort of help and features the pictures on Be The Change and Facebook.
"I love people. That's what I do," Angel told FOX 5. "I feel like everybody deserves compassion and help because we are all at that position at some point in time in our life." 
Angel snapped some photos of Chandler and then reached out to FOX 5 News. Soon after sharing Chandler's story along with Angel's photos on our Facebook page, our Ron Gant met with the two women and we featured Chandler's kidney search on Good Day Atlanta and FOX 5 News.
"I can beat this," Chandler told Gant. "I've beat so many things in my life. I've overcome so many objectives and this is not going to stop me."
Two weeks after airing her story on FOX 5 News, Chandler's prayers were answered.
"The woman had already completed testing to donate to a stranger and when she saw Sara on the news she knew that was her person and they were a match," Angel said. 
"So I got a phone call today and have just learned that I have an approved kidney donor!!! How amazing is that??!!! In just Two weeks after my segment aired on FOX 5 Atlanta!!! I am beyond blessed and so very thankful for all of you support and prayers!!!" Chandler said on Facebook.
Chandler went on to also thank Gant for sharing her story and helping it go nation-wide.
"For those of you that are going through ANYTHING. Remember ALWAYS to pray and stay positive," said Chandler. "That's the best antidote for life."
Chandler's transplant surgery will take place Tuesday afternoon at Emory University Hospital in Atlanta. 
Please continue to keep Chandler in your thoughts. She said she's still in need of donations. If you would like to donate to her GoFundMe account, click here. 
View Chandler's Facebook page "Our Mommy Needs a Kidney - Sara's Search for a Living Kidney Donor."