Labor Day festivities in metro Atlanta and beyond | 2023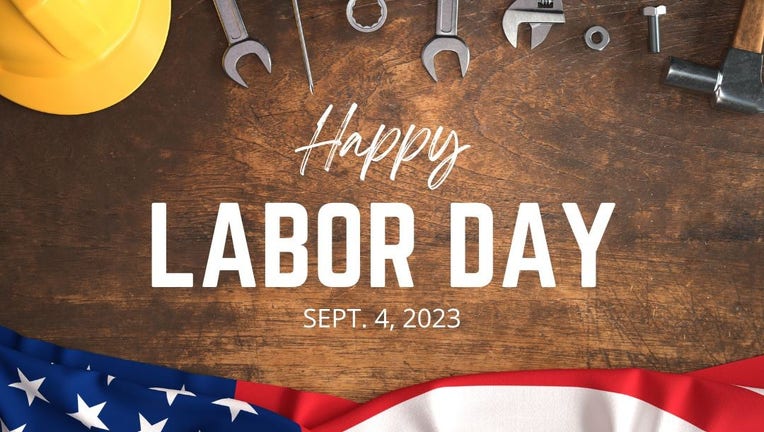 article
ATLANTA - Labor Day is an annual celebration of the social and economic achievements of America workers. The first Labor Day parade was held in 1882 in New York City. It became a federal holiday in 1894 and happens the first Monday of each September. Many Americans have the day off and celebrate with parades, festivals, barbecue and food and parties. Here's a list of some of the festivities in metro Atlanta and beyond. 

Dragon Con is happening Labor Day Weekend (Aug. 31-Sept. 4) in downtown Atlanta. It's the leading multimedia, pop culture convention in the nation and features the latest in science fiction and fantasy gaming, comics, literature, art, music and film. The annual parade will begin at 10 a.m. Sept. 2 on Peachtree Street. There is also an award show. 
The ATLWKNDR Festival is happening Aug. 31 though Sept. 4. There will be performances by DJ Beloved, Ramon Rawsoul, DJ Kemit, Salah Ananse and more. There will also be a Prince tribute party on Aug. 31; a birthday celebration for Kim Lightfoot at Westside motor Lounge on Sept. 1; a store listening party at Moods Music on Sept. 2; a day party on Sept. 2 at Westside Motor Lounge; House in the Park at Grant Park on Sept. 3; and a farewell party on Sept. 4. 
Atlanta Black Pride Weekend will feature a variety of events including a Caribbean fête, a white party (with a splash of color), a yacht party, a pool party, and more. 
The Aflac Kickoff Game at Mercedes-Benz Stadium is recognized as the official beginning of college football season. Georgia Tech will meet Louisville on the field in the Atlantic Coast Conference opener at 7:30 p.m. Sept. 1. 
Canyon Ladies are performing on Labor Day Weekend during Atlanta Botanical Garden's Cocktails in The Garden series from 5 to 8:30 p.m. Sept. 1. Must be 21. 
The Georgia Country Music Fest, Georgia's largest 3-day red dirt country music fest, is happening Sept. 1-3 at Jim R. Miller Park in Marietta. The festival will feature 30 artists on 3 stages. Headliners include Koe Wetzel, Cody Jinks, Turnpike Troubadours and Jamey Johnson. 
The Whiskey Run is happening Sept. 2. Start at New Realm Brewing Company on the BeltLine. Choose from a half-marathon, 10K or 5K. Whiskey sampling after the event. 
The Welcome to South Cobb Festival -- Mableton Edition is happening 11 a.m. to 9 p.m. Sept. 2 at RiverLands Gateway park in Mableton. There will be performances by local and national artists, food trucks, vendors, custom-crafted beverages, a water zone and more. 
Celebrate 50 years of Hip Hop Sept. 2 and 3 at Fourth Ward Historic Park on Dallas Street. The 14th annual Atlanta Hip Hop Day Festival will feature DJ SCREAM of The Big Facts Podcast & DJ Swamp Izzo of Cash Money Records! Other performers include Playa Poncho & Friends, MAKO Girls, Armitius, Cartier CAASH, 912KEEM, DJ Unk and LoTyler. 
The 37th annual Art in the Park in the historic Marietta Square is happening Sept. 2-4. The event will feature more than 200 professional artists, vendors, and food. Chalk Spot, an interactive street art display for children, will benefit the Marietta High School Visucal Arts Department. There will also be live music. 
Stone Mountain's Labor Day Weekend celebration will feature the BMX Stunt Show, their all-new Music Across America Drone & Light Show and a special extended fireworks finale for all three nights (Sept. 2-4). 
Taste of Soul Food Festival is happening across from the Mercedes-Benz Stadium from noon to 9 p.m. Sept. 2 and 3. The two-day festival features food, live music and games. 
The two-day Camp Creek Soul Festival Labor Day Weekend Edition at Princeton Lakes on Sept. 2 and 3 will feature live performances, comedians, food and dancing. 
The El Pum Pum Latin Festival is happening Sept. 3 at Lakewood Amphitheater. There will be appearances by Chencho Corleone, El Alfa, Zion & Lennox, Jay Wheelers, Ryan Castro, and more. 
The Summer in the South Film Festival is happening Sept. 3 at Wild Heaven West End Brewery & Gardens. There will be independent film screenings, Q&As with filmmakers, live panels with professionals in the film industry, and networking. 
Cascade Skating on Martin Luther King Jr. Drive is hosting a Labor Day Skate for all ages from 6 to 9 p.m. Sept. 4. There will be a festive atmosphere with a live DJ and music. 
The Avenue Peachtree City is hosting its annual Labor Day 5K Race on Sept. 4. Proceeds will benefit Midwest Food Bank of Georgia. The race will take runners on a route, which includes a combination of a street and cart path, beginning and ending at The Avenue Peachtree City. In addition to the 5K race, the event will offer a free Tot Trot for children six years old and younger. Registration is $25 in advance, $30 day of. 
Underground Atlanta is hosting a Labor Day all-white party from 3 to 10 p.m. Sept. 4. Wear your best all-white outfit (mandatory) and enjoy food, games, music and fireworks. Tickets include free BBQ and one free drink. 
Park Tavern in Piedmont Park and Atlanta Blues Society are hosting WRFG's 38th annual Labor Day Blues Barbecue from 1 to 7 p.m. Sept. 4. The annual fundraiser features barbecue plates and performances by EG Knight, Kat Riggins, William "Blues Man" Reed & the Juke Joint Dukes, and Jackson & the Nightcaps. $20 for adults. 
The Battery Atlanta is hosting a OLG (Old Lady Gang) Labor Day Celebration from 9 p.m. to midnight Sept. 9. Attendees are invited to wear their best OLG career (flight attendant, athlete, secretary, cafeteria lady, teacher etc.) outfit. Or, come dress as you would for your normal job but make it OLD.  
FOOD SPECIALS
Milton's Cuisine & Cocktails in Alpharetta will celebrate Labor Day by offering 1/2-priced filets from 5 to 9 p.m. 
OUTSIDE METRO ATLANTA
Callaway Gardens in Pine Mountain is hosting a 3-day celebration featuring hot air balloon glows. There will also be fireworks. 
If you would like to submit information for this list, email joyce.lupiani@fox.com.