Tragic end to Kennesaw SWAT situation: Man found deceased after standoff with police
KENNESAW, Ga. - A SWAT situation in Kennesaw Monday afternoon ended tragically when officials realized their suspect had taken his own life.
Kennesaw and Cobb County Police responded to a home in the Legacy Park subdivision of Kennesaw for a barricaded person.
"We received a call from a male that was armed, making threats," said Kennesaw Police Officer David Buchanan.
Police raced to the home and made contact with the man who was inside.  They soon learned there were several children in the home as well. Police were able to get all the kids out safely.
Knowing the man was armed, they also evacuated nearby homes in the 4100 block of Kentmere Main in Kennesaw's Kentmere at Legacy Park neighborhood.
Police had blocked off part of the street to civilian traffic. SKYFOX 5 flew overhead.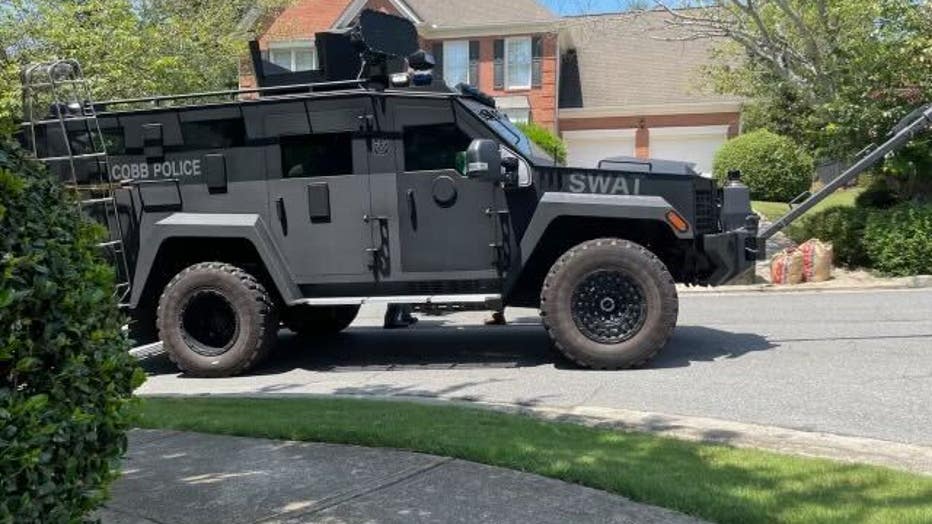 "We brought in Cobb County Police to assist, we have animal control here for animals that are inside the house, Metro Atlanta EMS if there are medical needs," said Officer Buchanan.
Officers sent a drone in through the window of the house when the man stopped communicating with them. SWAT officers then entered the home and learned the man was deceased from an apparent self-inflicted gunshot wound.
Kennesaw Police Chief Bill Westenberger released a statement saying "While we may never understand what led to this tragic circumstance, it is important to remember there are surviving family members and friends. Please keep them in your thoughts".
"The neighbors were concerned because you don't know what's going on," said Debbie Watt who lives in the neighborhood.
Police responding to a barricaded person in the Kentmere at Legacy Park neighborhood.
For hours people in the neighborhood wondered what was happening in their quiet community and prayed everything would be okay.  Now they're praying for a family.
"I'm real sad for the family, I think everyone in the neighborhood is praying for them," said Watt.
Police also wanted to remind us all, if you're struggling or know someone who is, the 988 Suicide and Crisis Lifeline is available 24 hours a day. All you have to do is dial 988.
Officials have not released the identity of the person inside the home.