'Hugging Dogs' t-shirt supports famous rescued pets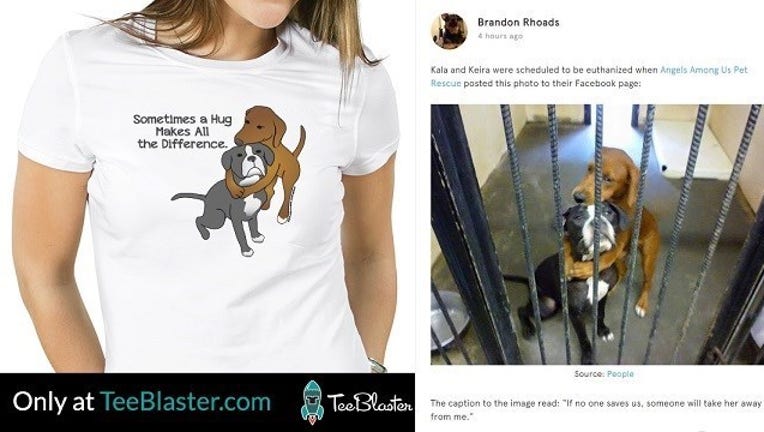 article
"Sometimes a hug makes all the difference." It's the sentiment on a new shirt made in honor and selling in support of a pair of dogs, who became an internet sensation after a picture surfaced of them hugging.
Etowah County Humane Society pups Kala and Keira have a story that started similar to thousands of dogs in need of a forever home at shelters across the country. They were facing euthanasia because of overcrowding and too little funding, but a one-in-a-million opportunity at fame gave them a second chance at a new life. 
It was a simple picture, Kala had her paws wrapped around Keira's neck in a tight hug offering support in a tough environment. Add in a compelling, first person narrative from the dogs point of view written by a volunteer with Angels Among Us Pet Rescue.
Within hours the pups post on the Angels Among Us Facebook page was off in the webesphere - being shared thousands upon thousands of times and a foster stepped forward offering to take the pair in. But their internet fame was still growing by the minute. LuAnn Farrell Co-founder of Angels Among Us says this not only speaks to the importance of social media but helps rescue groups everywhere.
However most people don't know Kala and Keira aren't long term friends. They didn't start off as best buddies. They came into the shelter independently of each other but were put into a kennel together and became instant friends. They have been inseparable ever since. 
Angels Among Us teamed up with TeeBlaster.com to create a limited edition t-shirt print. Now through August 18th, anyone can purchase the "Hugging Dogs" t-shirt for $20. The non-profit pet rescue said that 100 percent of the final proceeds from the shirts' sales will go directly to Angels Among Us. 
App users click here for more images