How Ray Kroc movie 'The Founder' replicated suburban sites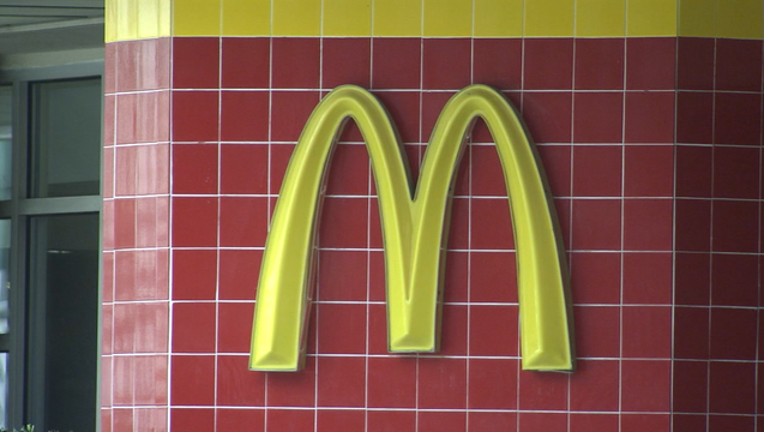 ARLINGTON HEIGHTS, Ill. (AP) - In John Lee Hancock's bio-drama "The Founder," Northwest suburban businessman Ray Kroc, played by Michael Keaton, beholds an empty tract of land on Lee Street in Des Plaines that will become the site for the first franchised McDonald's restaurant.
The movie, opening Friday, also shows us Kroc's brick home in the Scarsdale subdivision of Arlington Heights, the village where he hobnobs with the social elite at the Rolling Green Country Club.
These locations, along with the first McDonald's restaurants in Schaumburg, Waukegan, Milwaukee and other Midwestern places, look as if they've been photographed at their original sites.
Nope. It's all Hollywood sleight-of-eye magic.
All those key settings in "The Founder" were built or photographed in the state of Georgia, where tax incentives, milder weather and less expensive labor attracted the budget-conscious producers.
The film, the true story of how struggling salesman Kroc created a multibillion-dollar hamburger empire, opens Friday.
Michael Corenblith, a two-time Oscar-nominated production designer, found old photographs to help him reconstruct Kroc's first franchised McDonald's, built in 1955 in Des Plaines. (A replica building now stands on Lee Street near the original restaurant's site.)
Because of their limited budget and ultrafast 34-day shooting schedule, the filmmakers had to be resourceful in showing McDonald's restaurants all over the United States, without actually leaving Georgia.
So, they repurposed their "Des Plaines" building.
"When you see Schaumburg, when you see Minneapolis, when you see all the McDonald's from around the country, those are subtle reworkings of only one set," Corenblith said.
"Just by changing the parking lot stripes configuration, it was a very subtle way to tell the audience that, no, this isn't the place you just saw because the cars are now parked perpendicularly and not diagonally or parallel."
Corenblith's eye for authentic detail fooled even Keaton. He assumed the crew had found an old McDonald's restaurant and rehabbed it for the film shoot.
"We gave him a tour, backstage as it were, to show him that we had built this structure from the ground up," Corenblith said.
He searched carefully for a Georgia house that could serve as Kroc's brick colonial in Arlington Heights, complete with deciduous trees native to the Northwest suburbs but less common in Georgia. He found what he was looking for in the Atlanta suburb of Avondale Estates, though the house has little resemblance to the Arlington Heights original.
"I felt I had a pretty good sense of what that regional architecture felt like in Chicago," Corenblith said.
That's because he had already worked in Chicago on Walter Hill's 1988 buddy-cop movie "Red Heat." Every weekend, he bolted over to Oak Park to see examples of Frank Lloyd Wright's architecture and noted how the suburbs looked.
An owner of Kroc's actual Arlington Heights house for the last 45 years says she'll watch the movie this weekend to make sure the stand-in lives up to her home.
"I tell people when they find out this was Ray Kroc's house not to be too impressed," Gina Kenney said. "It's not a mega-mansion. It's been a warm and wonderful house and a great place for me to raise my children. But it is kind of exciting to live in the house where Ray Kroc lived when he created McDonald's."
Scenes at Arlington Heights' Rolling Green Country Club, where Kroc and his wife, Ethel, were members, were filmed at East Lake Golf Club in Atlanta. Kroc, in the film, doesn't feel a part of the country club world. But it's at Rolling Green that he signs up fellow members as his first investors in McDonald's franchises.
The actual Rolling Green Country Club has a board room named for Kroc.
One of the goals Corenblith had for "The Founder" was to dramatize the conflict between the old, very first McDonald's restaurant in San Bernadino, California, emblematic of pre-World War II roadside architecture, and the golden arches franchise version, emblematic of the space-age optimism of the post-World War II era.
The original script for "The Founder" called for all restaurant shots to be during the daytime. Cinematographer John Schwartzman lobbied to do some at night, so that the lighted building resembled a jewel box.
"These (early restaurants) represented the crown jewels of this empire," Corenblith said. "We wanted to present them in a very archivally correct way, but also in a dramatically enhanced way."
When Keaton, as Kroc, sees his first set of golden arches illuminated against a night sky, he looks stunned, as if witnessing the landing of an alien spacecraft.
But Corenblith's first priority was to make his settings not alien but everyday, even for viewers from the suburbs where Kroc lived and worked. He wanted to create a convincing environment that's all the better if audiences don't notice it, he said. "If I can do this and not leave my fingerprints on it, it's kind of like pulling off a great bank job."
___
Source: (Arlington Heights) Daily Herald, http://bit.ly/2j957fN
___
Information from: Daily Herald, http://www.dailyherald.com
This is an Illinois Exchange story shared by the (Arlington Heights) Daily Herald.