Has the dark side invaded Baltimore?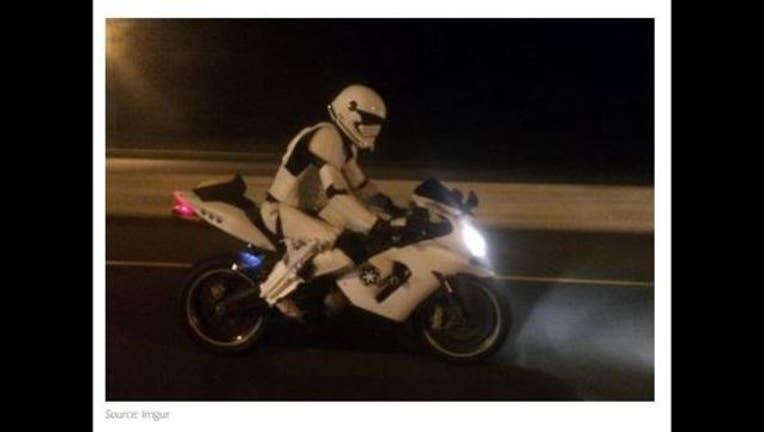 article
Earlier this week a Stormtrooper was spotted on a motorcycle speeding down Interstate 695, also known as the Baltimore Beltway. He was a lone trooper, no Vader was around, but he was in full battle garb and with a matching motorcycle.
The pic was snapped by Reddit user Wolfman3 and posted to the Star Wars subreddit — under the heading "First Order trooper doing recon in our galaxy." Well it didn't take long for Wolfman3 to find the man beneath the helmet. 
The person who claims to be the man on the motorcycle has a Reddit name of Trooper636. Upon seeing the image, Trooper636 and a person who claims to be the Stormtrooper's brother have shared additional images and video of the white leather suit in action. They also talked about the custom helmet which makes the whole outfit legal to bike in.
While Trooper636 was at it, they also appealed for help on an IndieGoGo campaign to save their local Hackerspace in Baltimore. That space is a community workshop that allows techies and other creatives to work on a project under the theory that two or more heads are better than one. 
Despite interest in the story, the campaign is only nine per cent funded with 29 days to go – but perhaps the promise of a Stormtrooper visit for a mere $60 donation could turn things around.
If you would like to help this Stormtrooper achieve his mission and save his Hackerspace you can find more information here