Governor focuses on salary changes as budget hearings begin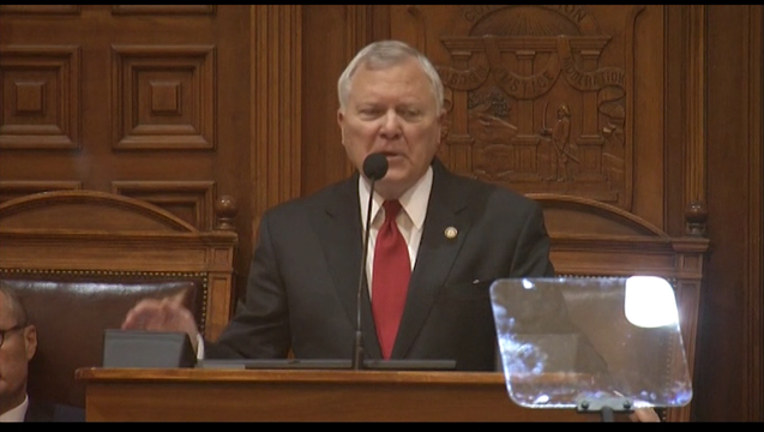 ATLANTA (AP) - Gov. Nathan Deal highlighted his request for higher salaries for some state employees, including teachers, as Georgia lawmakers began hearings Tuesday on the governor's $49.3 billion spending plan.
Deal's plan for the coming fiscal year, which starts July 1, would increase base salary for teachers and some school staff by 2 percent while state employees who handle child welfare cases will see a 19 percent raise. The proposal also continues previously announced 20 percent raises for state law enforcement, including those with the Georgia State Patrol and Bureau of Investigation.
Deal gave no hints about his broader goals for schools during a brief appearance before members of the General Assembly's budget-writing committees after asking them to support a new plan aimed at low-performing schools during last week's State of the State address.
Deal pushed a constitutional amendment last year to allow the state to take over schools dubbed "chronically failing," but voters rejected it in November amid opposition from teacher unions and other education groups in the state. Opponents often argued that state cutbacks on education spending during the recession harmed those schools and communities more than others.
Deal didn't mention a new approach to low-performing schools on Tuesday but did ask that the budget include $2.7 million for a new center focused on better training for teachers to help students learn to read. Students learn in different ways, he said, and teachers in Georgia's pre-kindergarten facilities and K-12 schools need better training in those methods to ensure all students have necessary reading skills.
"I want to predict to you that if you will fund this and we all support its efforts, we may see this as the transformational piece of reforming the skill level of our children," Deal said. "And it will be more than worth the money that this budget provides."
Asked for more detail about how teachers will receive the training, Deal said the program still is being developed.
Deal also urged lawmakers on Tuesday to leave the state's so-called "rainy day fund" intact as they work on the budget. That account is up to $2 billion, and some supporters of tax cuts argue that's a sign the state can afford such policies. Deal said the state's economy is strong but warned that reserve funds can disappear quickly in emergencies, particularly as the state's population keeps growing.
According to Georgia's fiscal economist, Kenneth Heaghney, the reserve fund totaled $1.6 billion before the Great Recession. Two years later, the state reported only $103 million in reserves.
"While $2 billion sounds like a lot of money, we know from past experience that we can go through that quickly if times are bad enough," Heaghney said.
Lawmakers also heard from agency heads on schools, higher education and health care on Tuesday. Wednesday's hearings will focus on social services and transportation.