Global markets sink again as tech and retail stocks drop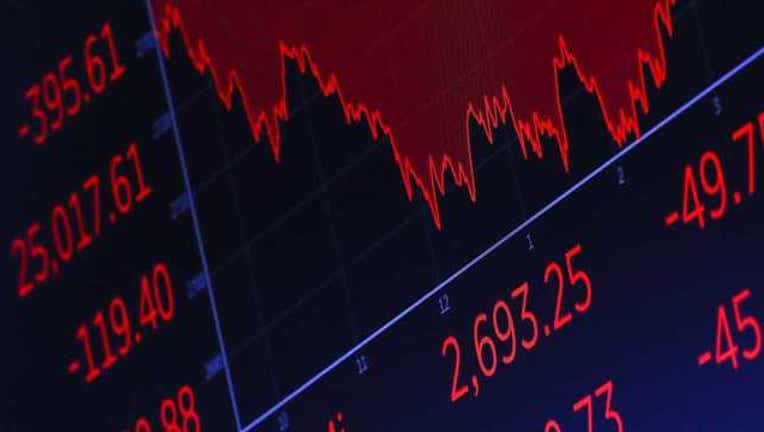 article
NEW YORK (AP) - Stocks are skidding Tuesday morning as weak results from retailers and mounting losses for big technology companies push the market back into the red for the year.
Energy companies are slumping because of a 5 percent drop in the price of oil. Industrial companies are also dropping as the downward momentum in stocks builds after steep losses Monday.
The S&P 500 index lost 36 points, or 1.4 percent, to 2,654 as of 11:19 a.m. Eastern time. The benchmark index is now 9.4 percent below the peak it reached in late September.
The Dow Jones Industrial Average sank 427 points, or 1.7 percent, to 24,590. It was down as much as 596 earlier.
Investors lately have been quick to bail out of companies that show rising costs are eating into profits and that was the case with retailers Tuesday. Target plunged after reporting earnings that missed Wall Street's estimates due to higher expenses. Ross Stores, TJX and Kohl's also fell on disappointing forecasts.
Investors continued to flee the technology giants that have led the stock market higher in years past. Apple fell 3.4 percent to $179.62 and is down 22.8 percent from the peak it reached October 3, though it's still up for the year. Microsoft lost 2.5 percent to $102.
Tech stocks were among the biggest losers in Europe, too. Nokia and Ericsson, two top suppliers of telecom networks, each fell more than 3 percent. SAP, which provides business software and cloud computing services, was down over 2 percent. Chip maker Infineon Technologies fell about 3 percent.
The tech-heavy Nasdaq composite lost 88 points, or 1.2 percent, to 6,940. The Russell 2000 index of smaller-company stocks shed 15 points, or 1 percent, to 1,481.
Target skidded 9 percent to $70.22 after it said its growing investments in its online business and in stores are bringing in shoppers, but are affecting its profits. Department store Kohl's gave up 9.8 percent to $64.01 and TJX, the parent of TJ Maxx, fell 2.1 percent to $47.88. Discount chain Ross Stores slid 4.4 percent to $87.18.
Benchmark U.S. crude lost 4.7 percent to $54.47 a barrel in New York. Brent crude, used to price international oils, fell 3.8 percent to $64.28 per barrel in London. Oil prices were little changed Monday, but they've plunged since early October.
Investors looked for safer options. Utility companies managed small gains and bond prices edged higher. The yield on the 10-year Treasury note fell to 3.05 percent from 3.06 percent.
In Europe, Germany's DAX index lost 1.4 percent and France's CAC 40 shed 1.1 percent. London's FTSE 100 retreated 0.7 percent.
Tokyo's Nikkei 225 lost 1.1 percent and Hong Kong's Hang Seng shed 2 percent while Seoul's Kospi retreated 0.9 percent.
Nissan fell over 5 percent in Asia as traders there got their first chance to react to the news that its chairman, Carlos Ghosn, who engineered a turnaround at the automaker, was arrested on charges he underreported his income and misused company funds and will be fired.
Nissan said Ghosn and another senior executive, Greg Kelly, were accused of offenses discovered during an investigation set off by a whistleblower. Kelly also was arrested. The Renault-Nissan-Mitsubishi alliance sold 10.6 million cars last year, more than any other manufacturer. Renault shares dropped 8.4 percent on Monday and another 2.5 percent Tuesday.
Stocks sank Monday as investors focused on simmering trade tension between Washington and Beijing after the two governments clashed at a weekend conference. The two countries have raised tariffs on billions of dollars of each other's goods in a fight over China's technology policy.
Presidents Donald Trump and Xi Jinping are due to meet this month at a gathering of the Group of 20 major economies. Investors didn't react much as the trade dispute ramped up, but more recently they've gotten concerned it will drag on and hinder global economic growth.
The dollar fell to 112.40 yen from 112.54 yen. The euro fell to $1.14 from $1.1453.
____
AP Markets Writer Marley Jay can be reached at http://twitter.com/MarleyJayAP