Georgia's Teacher of the Year didn't plan to be a teacher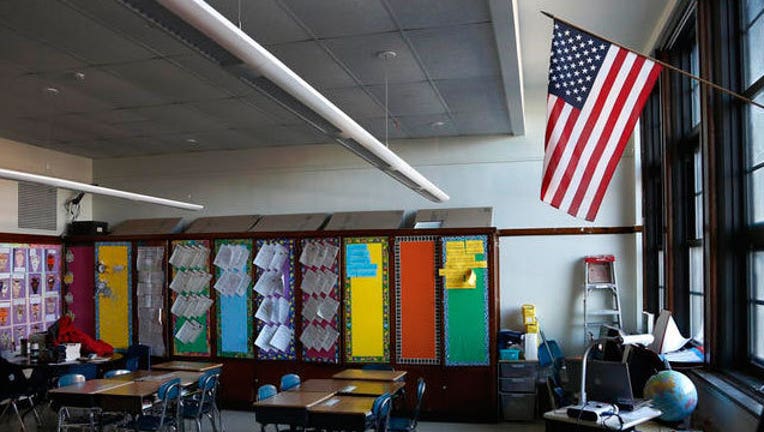 DOUGLASVILLE, Ga. (AP) - Georgia's 2017 Teacher of the Year didn't plan to be a teacher, but he is urging everyone in the state who is involved in education to help make the profession more attractive for more students to plan to be teachers.
Casey Bethel, an AP Physics, AP Biology and physical science teacher at New Manchester High School in Douglasville, was named the 2017 Georgia Teacher of the Year in May. He is on leave this school year, traveling as an ambassador for Georgia's teachers and speaking to various groups.
One of those groups was at the Georgia Partnership for Excellence in Education symposium last month at the Georgia Public Broadcasting headquarters in Atlanta.
Bethel said he was raised by a single mother in an impoverished neighborhood, "but it was made very clear to me that learning and knowledge is how you progress."
As a high school student, Bethel excelled at math and science. He worked hard and studied a lot. No wonder folks told him he should be a doctor, and he accepted that as his career goal.
So he earned a bachelor's degree in biology from Fort Valley State University and a master's degree in agronomy from the University of Georgia and spent five years conducting experimental research in the Center for Applied Genetic Technologies in Athens.
Bethel had original papers published in peer-reviewed science journals. He was good at his job, he said, but he didn't enjoy it. He realized, "I'm doing this to make my mom proud, but it's not really what I want to do."
Then he decided, "Let me teach for a year while I figure out what I should be doing."
"That was the best decision for my whole life," he said. "In that one year of teaching, I realized that's what I should have been doing the whole time."
Bethel taught at Martin Luther King Jr. High School in DeKalb County from 2005-13 before moving to New Manchester. He acknowledges his work experience as a scientist has made him a better science teacher, but he regrets not starting his career as a teacher.
"We need to make teaching such an attractive profession that the best and the brightest people want to be teachers," he said. "Whether we're honest enough to admit it or not, smart kids are given the message that you can do something better than teaching. And that's wrong."
Part of the problem, Bethel contends, is how society talks about teaching. Too much of the conversation is about education's problems and not enough is about education's successes, he insists.
"Most people don't know the SAT and ACT scores for Georgia are higher than the nation," he said. "Do those types of things, as well as improve teacher compensation to make people want to join this profession and feel secure that, 'if I do that, I can still pay my bills and meet my responsibilities.' That combination of things will improve teacher morale, will improve community buy-in, and that's what's going to make teaching attractive again."
Bethel likened the situation to his quest to lose weight. He works out with a trainer each day at 6 a.m.
"If he keeps reminding me, 'Hey, you've got to lose 20 pounds. Hey, you've got to lose 20 pounds' but he doesn't tell me every once in a while, 'Hey, I've noticed you're down 2 pounds,' . I'm eventually going to quit,'" Bethel said. "Let's not forget the end goal, but let's not miss the chance to celebrate our incremental successes along the way in a way that will sustain our teacher morale."
Bethel is part of the Georgia Intern Fellowship for Teachers, the Georgia Tech program that provides paid summer internships in industry workplaces and university laboratories for K-12 STEM teachers (science, technology, engineering and math). For the past five summers, he has conducted biochemistry research to find cures for glaucoma and Alzheimer's disease. Georgia Tech honored him with the Paul A. Duke Award for the lessons he designed and had published in the Journal of Chemical Education.
At New Manchester, Bethel has sponsored a male mentoring club called Project Manhood. Each Tuesday, as many as 50 male students dress professionally to meet and discuss issues. With the motto "Succeed at School, Succeed in Life," the club also works on school and community service projects.
Other reasons to celebrate the state's progress in public education, Bethel said, are that Georgia beat the national average in the 2016 proportion of students who enrolled in Advanced Placement courses and scored high enough on those AP exams to earn college credit. Georgia serves as a model for other states looking to create or improve early-childhood, pre-kindergarten and career, technical and agricultural education, he said. And last year, Bethel said, the state's average score on the Georgia Milestones Assessment System showed "significant improvement" on 25 out of the 32 subject tests.
"The K-12 education system of Georgia is doing well," he said. "I know that's a strong statement to begin with, and it may come as a surprise to some because much of the conversation about education in Georgia tends to center on the pockets and the areas of places where we're not doing as well, while some of our greatest strengths and proudest moments go unnoticed, go unmentioned."
Bethel said he also is encouraged by what sees while visiting schools throughout the state.
"From Valdosta to Rome, from Athens to Columbus, I've had the chance to see that a great many of Georgia's teachers are doing an impressive job of providing a quality education, especially with the tools and the resources and the clientele that they have," he said. "I'm personally confident in the direction that we're headed. I just wish more people knew about the good things that are happening."
As for areas that need improvement, Bethel mentioned literacy for elementary school students and math for middle school students. But what he called "the loudest question" is how to help chronically failing schools.
"I, for one, think we can be honest about admitting that some of our teachers and some of our schools need help, without pointing the finger or denigrating them," he said. "For failing schools, something must be done. Even one student failing is one too many. I think we all can agree on that."
And the solution starts outside the schools, Bethel emphasized. "The healthiest schools happen in the healthiest communities," he said.
At MLK High in DeKalb County, he said, "We had an extremely talented staff of teachers at that school, but most of the problems came from the problems, the challenges, the mindsets of the neighborhoods around the schools. To help Georgia get better, let's build up all of our communities so that students come to school cared for, provided for and excited about learning. Let's get kids believing that through education they can go on and be better than their parents. That should still be a notion for every child everywhere in the state. But I'll tell you, many of the students that entered the school I mentioned didn't bring that with them. They were stuck in the cycle of poverty."
Bethel noted that the state's system of grading schools is a relatively new concept.
"One or two generations ago, you simply went to the school you went to because you lived in that neighborhood," he said. "Because of that, the parents were more invested in that school because they knew, 'This is where my kid has to go, and I'm not going to allow failure to even be an option.'
"Now, because we provide this data to the parents and everybody has the ability to evaluate every school without really fully knowing how the evaluation is tabulated, it's created this mass confusion, I think. How can this information be more helpful than creating outcomes that we don't want?"
One of those unwanted outcomes, Bethel asserted, is what he called a "black cloud" hanging over chronically failing schools.
"Even the struggling school I worked at was producing remarkable outcomes for most of the students that were there," he said, "and we had that low score. The teachers worked tirelessly, all the time, and told the parents in the neighborhood, 'That score doesn't really represent what we're doing. Come visit our school, sit in my classroom or talk to the kids about what they're learning. Or look at the kids that I've taught, who have gone on now to be dentists or accountants, and then you will know that, as a teacher, I'm still doing the best job I can, and I'm doing a good job at it.'"
If more communities improve their support for their schools, Bethel said, "I promise you, on behalf of all of Georgia's teachers, we won't let you down."
___
Information from: Columbus Ledger-Enquirer, http://ledger-enquirer.com