WEATHER LIVE BLOG: Clear skies ahead after severe storms roll through, cleanup underway
ATLANTA - 11:15 A.M. UPDATE: The sun is shining in the City of Atlanta. It will be unseasonably warm this afternoon with a possible high of 77 degrees. The pollen count will also be extremely high. A Wind Advisory remains in place until 11 p.m. 
Cleanup is underway in several areas, including Rome where a large tree fell on a home on Crescent Avenue.
Large tree falls on home in Rome. Photo courtesy of FOX 5 Atlanta viewer Gene Godfrey. 
10:03 A.M. UPDATE: Conditions are improving north of Interstate 20 but still tracking strong storms south of I-20.
South Cherokee Baseball in Woodstock is reporting they were hit and there is substantial damage. It's a volunteer park and they are requesting help if possible from the community to help clean up. 
Baseball fields in Woodstock. Courtesy of Brent Cheshire,
9:30 A.M. UPDATE: Rapid rotation formed and dissipated just as fast near Fayetteville. We are receiving reports of minor damage in various locations. It will be sunny and warm this afternoon. A Wind Advisory remains in effect until 11 p.m. 
Let us know if you have damage in your neighborhood. Send information and photos/video to newstipsatlanta@fox.com.
9:15 A.M. UPDATE: A Tornado Warning has been issued for Clayton, Fayette and Henry counties until 9:30 a.m. 
9:09 A.M. UPDATE: A Flash Flood Warning has been issued for Fulton, DeKalb and Gwinnett counties. It is in effect until 12:15 p.m. 
8:55 A.M. UPDATE: A Severe Thunderstorm Warning is in effect for Clarke, Walton, Oconee, Barrow, Gwinnett and Jackson counties until 9:30 a.m. 
Authorities in Floyd County are reporting there are 9 trees down on houses, including the house of an elderly woman on Flannery Road. There are also 10 reports of trees across roads in the area. 
8 A.M. UPDATE: A severe line of storms is now moving through the metro Atlanta area.
7:45 A.M. UPDATE: A line of storms are moving through Cherokee County and starting to show signs of weak rotation.  A Severe Thunderstorm Warning is in effect for Cherokee, North Fulton and South Forsyth counties.
7 A.M. UPDATE: There is a Severe Thunderstorm Warning in effect for Floyd County until 7:15 a.m. 
There have been more than 160 lightning strikes over the last 10 minutes in Rome.
Scattered storms are also moving through north metro Atlanta.
6 A.M. UPDATE: The stormy weather is beginning to move into North Georgia. Meteorologist Ryan Beesley has the latest information on Good Day Atlanta. You can watch here or download the FREE FOX 5 Storm Team app for the latest alerts and warnings. 
A powerful storm system began making its way across the country on Friday and eventually to Georgia on Saturday morning.
A tornado plowed through Little Rock and surrounding areas on Friday afternoon, reducing rooftops to splinters, toppling vehicles and tossing debris on roadways as people raced for shelter.
A Tornado Watch is in effect until 9 a.m. Saturday for several north Georgia counties.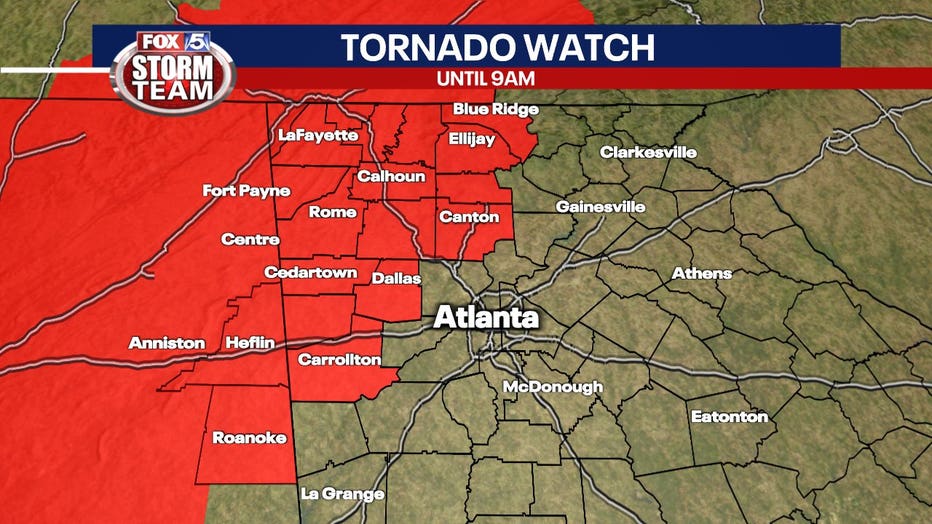 Keep up with the latest by downloading the FREE FOX 5 Storm Team app and following @FOX5StormTeam on Twitter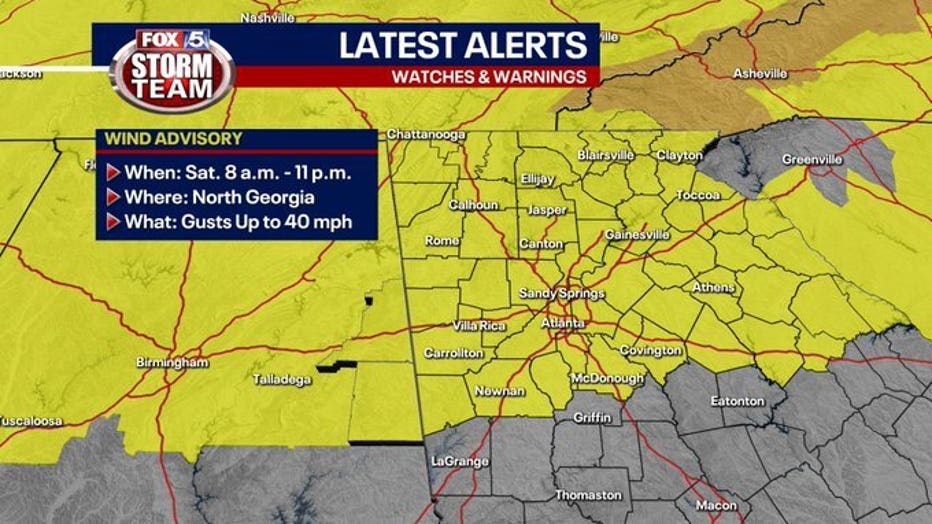 A Wind Advisory will be in effect for all of north Georgia, including metro Atlanta from 8 a.m. to 11 p.m. Saturday. 
Winds will be out of the west from 15 to 25 mph with gust up to 40 mph for areas mostly north of Interstate 20.
Wind gusts could be greater in higher elevations.
The winds could down trees and power lines, could pick up loose debris, and damage unsecured items.
There is a level 3 or enhanced risk for severs storms in that areas, but closer to Atlanta, the northwest corner of Georgia will be under a risk 1 or marginal risk for severe weather.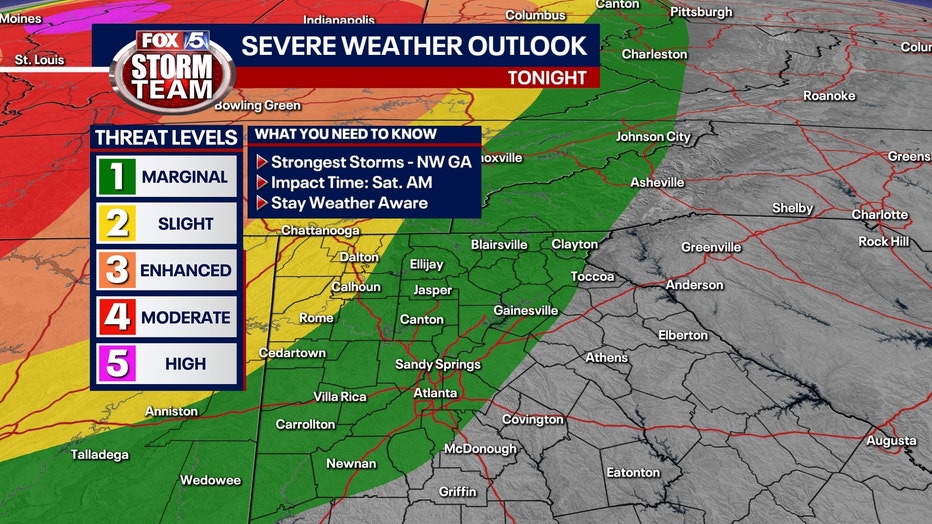 The greatest threat in Georgia will be from damaging winds, but a brief tornado cannot be ruled out.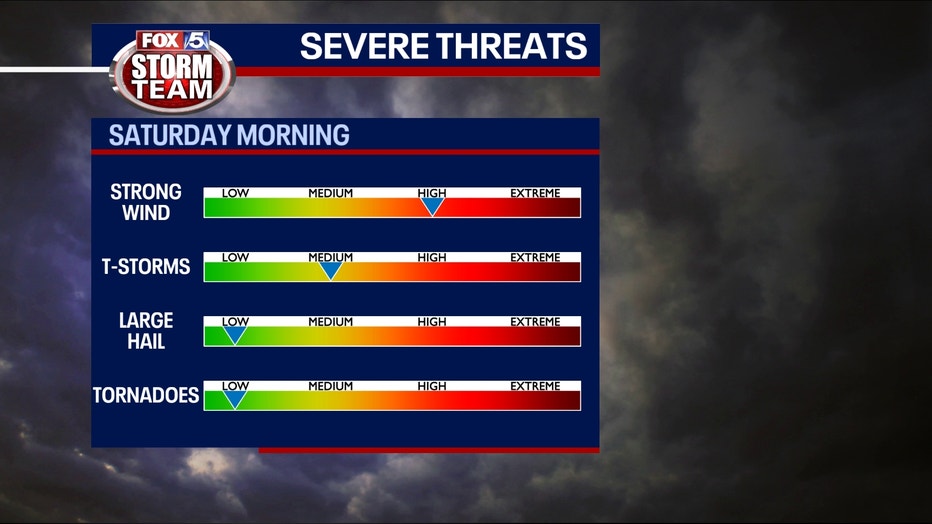 The tornado risk will remain north and west of the metro Atlanta area Friday into Saturday.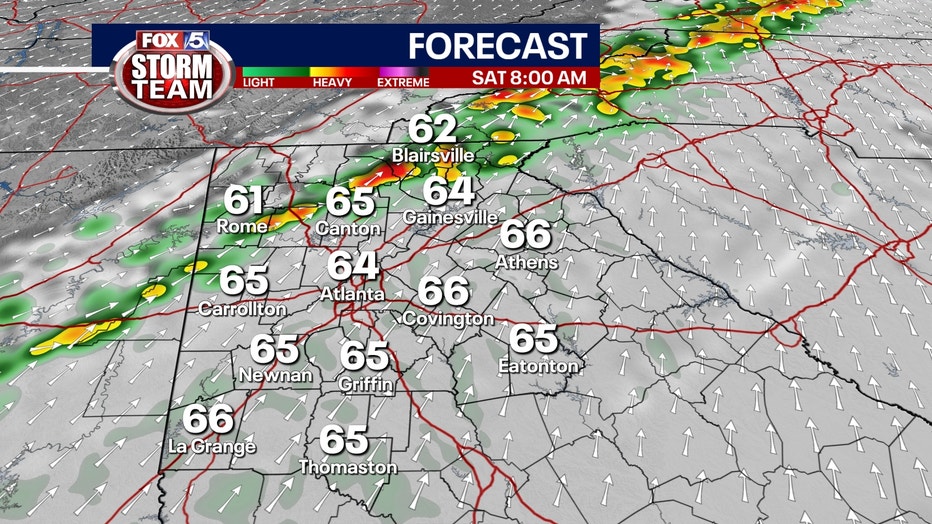 Right now, the severe weather threat will remain at just a marginal risk.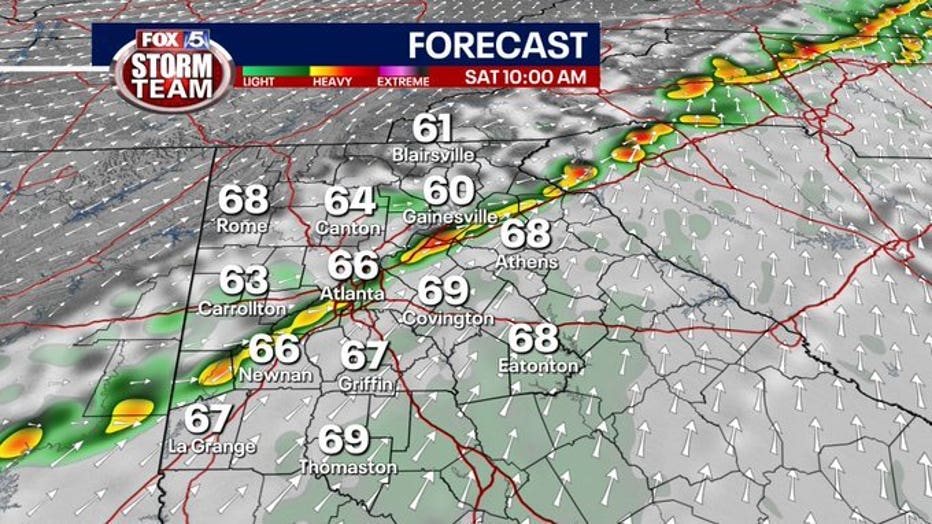 Once the storms move on, the rest of the weekend will be a bit cooler with mostly to party sunny skies.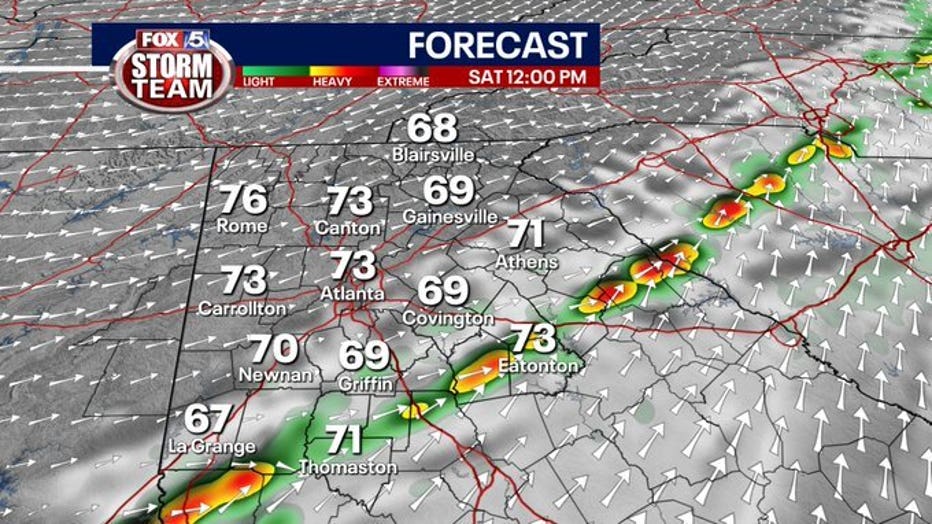 Portions of northeast Georgia could also see some frost.
Another round of storms is possible early next week.
This is a developing weather system. Check back for updates and changes to the forecast as they become available.