Georgia Tech's 'FIDO Vest' gives service dogs a voice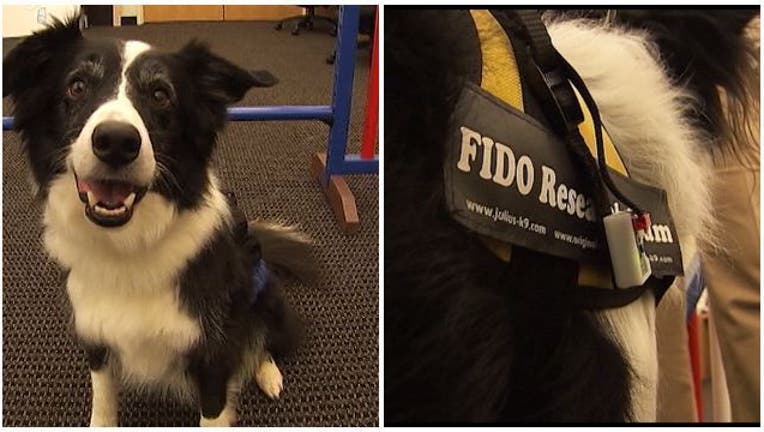 article
Georgia Tech researchers have tackled a rather odd-sounding project.  They want to help dogs "speak."  In particular, they want to give working dogs, like service dogs who assist the disabled, a better way to communicate with the people who need them most, their partners.
 
Barbara Currier's service dog Blitz is her early warning system.  She's hypoglycemic, so if her blood sugar suddenly drops, she'll pass out.  Currier says, "He notices it (her blood sugar) plummeting about 30 minutes before I have any episode at all.  So, if I'II eat whenever her starts alerting,  I never have an episode."
 
But if Currier, a Forsyth County dog agility trainer, loses consciousness, Blitz had no way of alerting someone, until now.
 
The border collie rescue is the "test pilot" for Georgia Tech's FIDO Project.  In a computer lab on the Tech campus, he practices pulling a tab on the vest he's wearing.  Each time he pulls it, a recorded voice says, "Excuse me, my owner needs your attention."
 
The FIDO vest is the brainchild of Tech computer scientist Dr. Melody Jackson and her lab partner, who helped develop the wearable technology system "Google Glass."  For 20 years, Jackson has been a volunteer puppy raiser for Canine Companions for Independence, the country's largest and oldest service dog provider.
 
Jackson says the dogs like CCI service dogs are well-trained and incredibly smart.  But, they can't speak.  She says, "The dogs know what's happening. They have no way to tell you." 
 
So, for the last two years, Jackson's team at Tech has been working on wearable technology that would help working dogs to better communicate with their partners.  The vests could be used by service dogs, military and police canines and search and rescue dogs.
 
Jackson says,  "They can tell the difference between this explosive and that explosive.  They (hearing dogs) can tell the difference between an alarm and a doorbell.   But they have no means of expressing themselves. So, we're just giving them a voice."
 
That "voice" is the FIDO vest Blitz is testing.  The dog reaches around and pulls a tab on the side of the vest to active a sensor.  That sensor relays a message.  So, in a medical emergency, Jackson says, a service dog could pull a tab that automatically calls 911.   Or, if a severe storm is approaching, a hearing dog could pull a tab and send its deaf handler a warning text.  Jackson says it might read, "A tornado siren just went off. We need to get to the basement.'
The FIDO vest is still a work in progress. One of the big challenges is finding wearable technology sturdy enough to hold up to a dog's life.  Jackson says "They do lie down. They shake.  They itch. They move, and they jump in and out of cars."
 
But if dogs could use the FIDO vest to "speak," Jackson says the potential is huge.  Blitz, she hopes, is just the beginning.  Jackson says, "This could change the game for a lot of people.  And make a lot of lives better. And could even save lives."
 
To read more about the FIDO Project, go to fido.gatech.edu.