Fulton, DeKalb complete retally audit earlier than anticipated
ATLANTA - Fulton and DeKalb counties have wrapped up retallying votes from the statewide audit for the presidential race. Both counties said they finished sooner than expected.
"We are finishing in record time," said Robb Pitts, Fulton County Commission Chairman.
At one point, the task of recounting the votes for an election audit by hand seemed daunting to Fulton County election officials.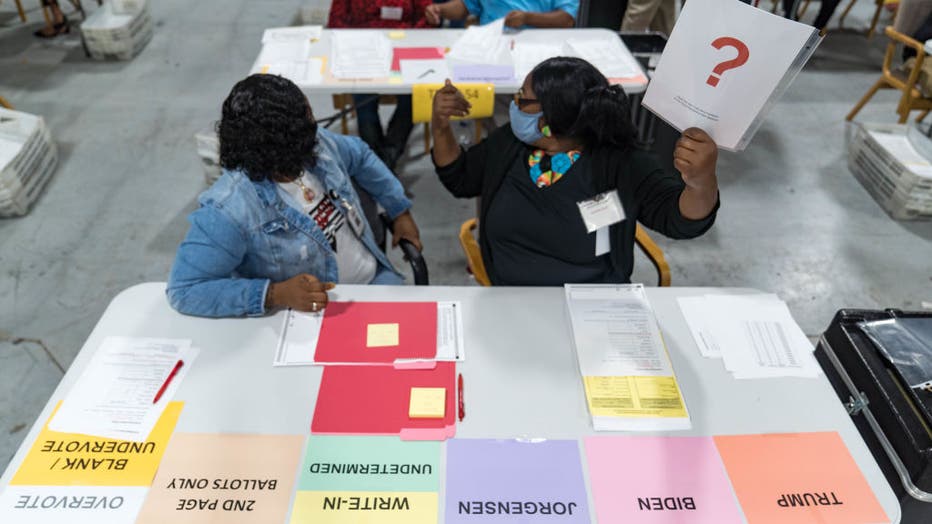 Two Gwinnett county workers raise a card that lets the officials know they have a question as they begin their recount of the ballots.
GET MORE 2020 YOU DECIDE COVERAGE
"Fulton County has once again risen to the top and completed the assignment we were given, the unexpected assignment that we were given by the Secretary of State to become involved in this manual recount of all votes that were cast on November 3," said Pitts.
On Sunday afternoon, recount teams made up of two people finished the last of the ballots in Fulton County. Officials said as many as 340 people were working on the recount at the same time throughout the weekend.
"To put it together that quickly was onerous, but we were able to through the help of the county get this facility and get it organized and make sure it happened," said Richard Barron, Fulton County Director of Registrations and Elections.
The tally numbers will then be uploaded into a computer for the Secretary of State's Office.
"I expect that the hand count is going to come out different than the machine count. It's just the nature of the way this works," said Barron.
MORE: For the first time ever the Carter Center will monitor an American election
In DeKalb County, election officials had about 9,000 votes left to count by Sunday afternoon. The county finished up later Sunday evening.
"We're standing at the last couple of thousand ballots that remain, plus our review panel is looking at the ones that need to be adjudicated," said Erica Hamilton, DeKalb County Director of Elections and Voter Registration.
The recount process is continuing in Gwinnett and Cobb counties. Cobb County election officials said they've gone through at least half of their ballots. Gwinnett County will start its count again on Monday.
WATCH: FOX 5 Atlanta live news coverage
On Twitter Saturday, Trump called the recounting a "waste of time," writing that there is "tremendous evidence of widespread voter fraud in that there is irrefutable proof that our Republican poll watchers and observers were not allowed to be present in poll counting rooms," something that Georgia's Republican leadership has repeatedly discounted.
"We have not found any widespread voter fraud," Secretary of State Brad Raffensperger said.
Download the FOX 5 Atlanta app for breaking news and weather alerts.